Dolly Parton Announces A Surprising New Project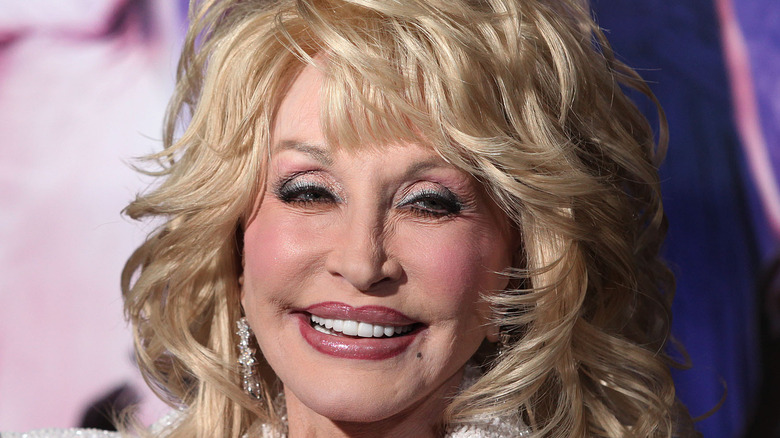 Shutterstock
During her decades-long career, Dolly Parton has proved her many talents over and over again. She was a trailblazer for women in country music, and helped bridge the genres of country and pop. She's a long-time ally of the LGBTQ+ community and founder of a popular Tennessee theme park. Then there's her long list of charitable works, most significantly her funding of COVID vaccine research and her Imagination Library, which donates books to children in underserved communities.
To celebrate National Book Day on August 10, Parton posted a pic to her Instagram feed touting the power of reading. Then she added, "I dream of writing my own novel one day," with a wink emoji. Turns out that little wink was a big hint: Less than 24 hours later, she announced that her dream has actually come true. She and bestselling author James Patterson have collaborated on a thriller called "Run, Rose, Run," which be released next spring. Parton has also recorded a CD based on the plot and characters, which will drop at the same time (via New York Times).
"I cannot be more excited about the release of my very first novel 'Run Rose Run' with [Patterson]," she wrote. "I hope you enjoy the book and the songs as much as we've enjoyed putting it together." Patterson put in a promo for the book on his own account, echoing, "I am delighted to team up with America's most beloved superstar."
Music meets mystery in Dolly Parton's co-authored book
While Parton has written two nonfiction books and two children's books based on her songs (via her website), this is her first venture into adult fiction. The novel combines Parton's musical heritage with Patterson's talent for crafting nail-biting thrillers. As described by publisher Little, Brown and Company, "Run, Rose, Run" is the tale of a young country singer-songwriter "on the rise and on the run." Fleeing from a difficult past, the musician heads to Nashville in hopes of finding both safety and stardom — but "the darkness she's fled might find her. And destroy her." Will she survive to see her dreams come true? We'll have to wait to find out — but knowing Dolly's gift for staying positive, we're predicting a happy ending.
The companion album, from Parton's label Butterfly Records, will feature 12 songs tied in to the novel. Both will be released on March 7, 2022, but the book is available for pre-order via the publisher's website. The hardcover book will go for $30, while the ebook edition will be downloadable for $15.99.
Parton's fans may not be able to wait that long. Comments on her Insta announcement included tons of heart, fire, and clap emojis, along with comments like these: "Songteller turns storyteller. I'm so excited for this!!!" and "You just don't stop. You inspire me ... Way to shine!"