Of All Of Lady Gaga's Looks - This Stands Above The Rest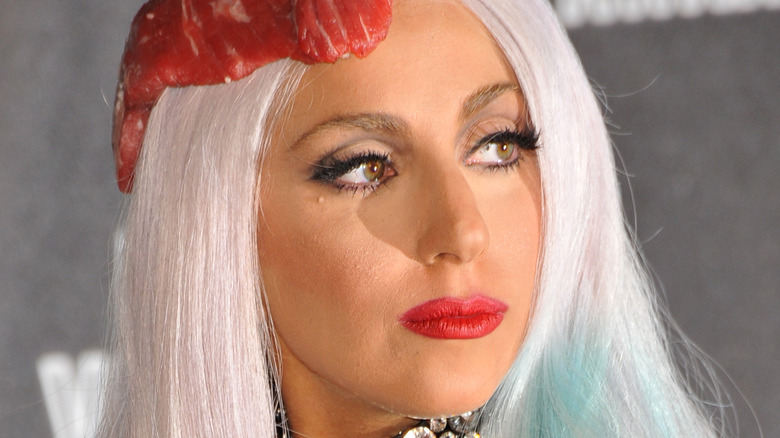 Shutterstock
Lady Gaga has never been afraid to break the mold when it comes to fashion. Over the years, her fashion transformations can be broken down by which era her career was in, per Vogue. "After getting otherworldly for 'Born This Way,' turning into a rhinestone cowgirl during the promotion of 'Joanne,' and pulling out museum-worthy conceptual pieces for 'Artpop,' she's worn nearly every look imaginable," the magazine said. 
One of Gaga's most notable looks was her famous meat dress, which she wore to the 2010 MTV Video Music Awards. She described this look as a form of social commentary, per Billboard, during a period in her career where she felt like a piece of meat to the media. Of course, her sense of style has drastically changed since then.
Gaga's ever-changing fashion choices keep fans excited and engaged, as noted by Bustle. She's not afraid to challenge the fashion norms we've come to expect from celebrities and her confidence in her sense of style has inspired many of her fans to find their own. While she has brought so many exciting and unique looks to the table, you might be surprised to see which one stands out above them all.
Lady Gaga's stunning inauguration dress ranks supreme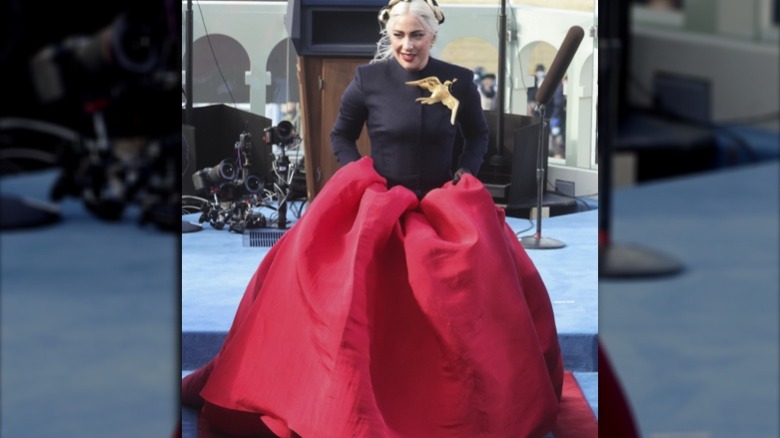 Pool/Getty Images
Lady Gaga is best known for some of her more outlandish fashion choices. However, it is the elegant look she showcased at the presidential inauguration of Joe Biden that stood out amongst her long list of iconic looks. She performed the National Anthem that historic morning, but her singing voice wasn't the only thing that wowed fans. Her beautiful "custom Schiaparelli Haute Couture look" was also a focal point, per Harper's Bazaar.
When it came to the gown and the large, golden bird brooch attached to it, fans started speculating about its meaning. Some thought the navy blue was a nod to the Democratic party. However, according to WWD, the designer behind it had a different take. "As far as the political part, like the colors, I think that was more a reference to the flag than to the party colors. For me, the message was one of healing," Daniel Roseberry, artistic director of Schiaparelli, said.
With her Inauguration Day look, Gaga proved she is the queen of shocking and fun fashion. While her fans have come to love the interesting looks she serves, it was a change of pace to see her bring a full-glamour look to Washington, D.C.