Eminem's Adopted Child Opens Up About Their Gender Identity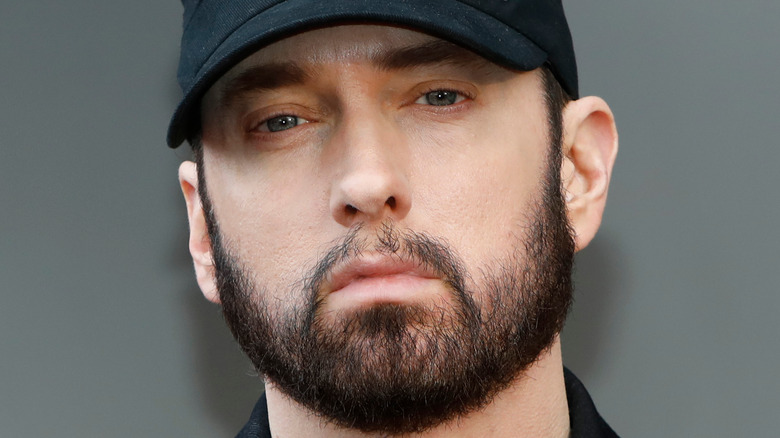 Shutterstock
Eminem's adopted 19-year-old child has come out as non-binary. According to The Daily Mail, the teen shared the announcement in a recent TikTok video, during which they asked followers to now refer to them as "Stevie (they/she/he)." 
Throughout the TikTok clip, Stevie shares older photographs of themselves as Whitney — the name they had previously gone by along with she/her pronouns before coming out as non-binary. In some accompanying captions, Stevie wrote, "Watch me become more comfortable with myself" and "forever growing and changing." Toward the end of the clip, Stevie revealed their new name and announced they will be using "all pronouns."
As The Metro reported, fans were quick to praise Stevie for being so open about their non-binary journey, and speaking in the comments, Stevie explained how they landed on their new name. "I spent a long time trying to pick a name I felt uncomfortable with and the first name I felt comfortable with is Stevie," they explained to followers. 
Stevie also previously came out as bisexual
Per The Sun, the teen was referred to as their new name Stevie in their late grandmother's obituary in July 2021. "Kathleen was a exceptional mom to her two daughters; Kim and Dawn; and was overjoyed to become a grandmother to her grandchildren; Alaina, Adam, Hailie, Stevie, P.J., and Parker," the obituary read. 
As The Daily Mail reported, Stevie also came out as bisexual back in 2017. Speaking in a since-deleted Instagram post at the time, they wrote, "Happy national coming out day!' I am bisexual???? I would like to say you're perfect the way you are and that love is love!?????????? be yourself!"
According to The Metro, rap superstar Eminem legally adopted Stevie back in 2005, shortly after getting back together with Stevie's mother, Kim Scott.
Scott and the "Slim Shady" hitmaker first tied the knot in 1999 and broke up just two years later with a messy divorce. In early 2006, the pair remarried before splitting up again in April that same year. Stevie's biological father, Eric Hartter, passed away from a  suspected drug overdose in 2019.