The Best Hammocks On Amazon In 2022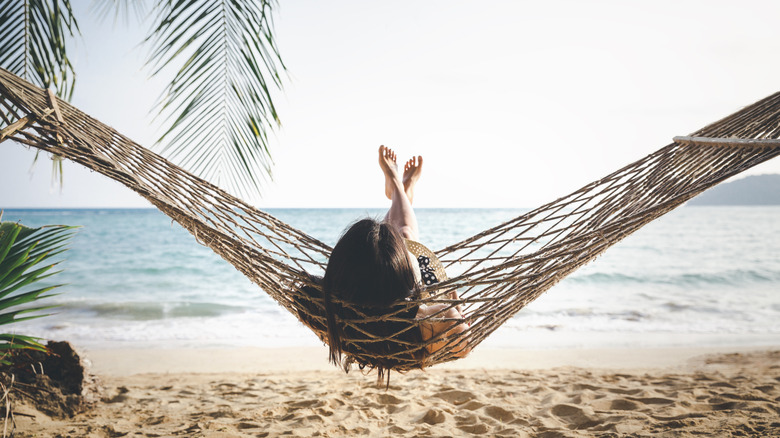 Shutterstock
We may receive a commission on purchases made from links.
Whether you're hiking in the mountains or lounging in your backyard, chances are you will always find a use for a hammock, once you have one. Hammocks never seem to go out of style, and with good reason. They're perfect for the traveler who wants to keep their backpack light and doesn't want to waste time pitching an entire tent. Plus, nothing beats the relaxation of that swinging sensation, helping you gently drift off and enjoy the beautiful outdoors. But what makes for a good hammock? How do you know which one to buy?
There are several key components that you should look for before buying a hammock: Durability, weight, the weight limit of the hammock, and rip resistance (via REI and Bob Vila). You will also need to consider the quality of the extra equipment that usually comes with your purchase, such as carabiners, straps, or metal frames for standing hammocks. Plastic carabiners are a no-go, and a simple assembling process will keep you headache-free. 
If you're ready to skip the extensive research process and find the best products on Amazon, check out these top suggestions.
How we selected the hammocks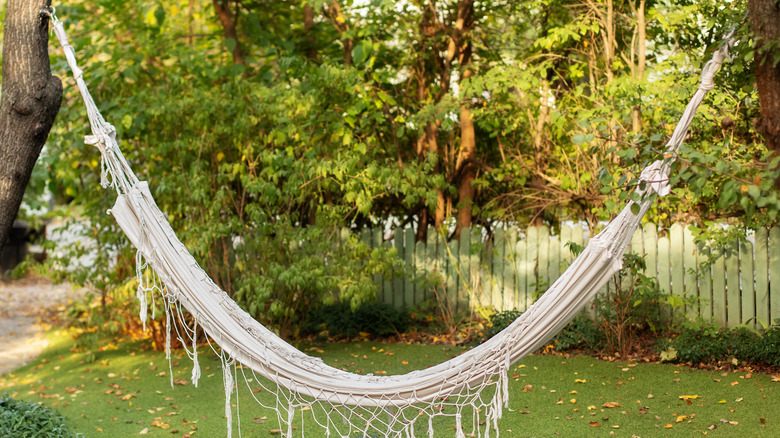 stock_studio/Shutterstock
To find the best hammocks in all the land, we took to the Internet to find ones that were stylish in some cases, practical in others, and, in the best possible scenario, both. Naturally, we collected and analyzed customer reviewers and overall point ratings across Amazon, taking into account everyone's pros and cons. We also looked at the price of each hammock. Is it practical but too pricey? If so, it might not be the best option.
We also divided and examined the hammocks by their intended use. While some hammocks are preferred for camping in the woods, others are sleeker and better used in the park or even at your home. In this way, we also had to consider if you'd be traveling with the hammock. Even still, some of our favorite hammocks may have to be ones that come in multiple colors and/or styles, so that each consumer can somewhat personalize the hammock journey on which they're about to depart.
After using this guide to the best hammocks on Amazon, you're going to be left wanting to spend far more time outside.
Best overall hammock for outdoors
It may come as no surprise that Wise Owl Outfitters is listed as a top hammock seller on Amazon. The company offers high-quality products at affordable prices, starting with its classic portable camping hammock. Featuring smooth, tear-resistant nylon fabric, the Wise Owl hammock can hold up to 500 pounds. It also comes with metal carabiners and nine-foot-long straps with five loops on either side, so you can adjust the height of the hammock with ease. Whether you choose a large or medium size, this hammock comes in a variety of colors.
Purchase the Wise Owl Camping Hammock on Amazon for $29.95.
Best hammock for keeping your backpack light
For the outdoor adventurer, a lightweight hammock is a huge plus. Long hikes usually mean that you have to carry a heavy load, and having lightweight equipment can make the difference between a good and a bad day on the trail.
The Wise Owl lightweight version of the company's classic hammock weighs a mere 15.5 ounces, which includes the weight of the straps. As an added benefit, they can scrunch down more tightly in a backpack, and the fabric is more breathable and dries more quickly. The only downside is that the maximum weight is at 400 pounds as opposed to the standard 500, and some reviewers note that it may be less durable than other standard hammocks.
Purchase the Wise Owl Ultralight Camping Hammock on Amazon for $26.95.
Best hammocks for sitting and swinging
Have you ever wished that you could sit upright in your hammock? Fortunately, Wise Owl also makes upright versions of their classic hammocks that will help you stay engaged in conversation with your friends and family, all while remaining comfortable. For a classic, outdoor hiking style chair, we recommend the outdoor swing seat, which comes with removable seam cushions and two adjustable strap-pulls that wrap around trees.
For a style that resembles indoor furniture, you may consider the Wise Owl indoor and outdoor hanging chair, which is made with woven cotton and seat cushions. Just remember that this hanging chair needs to be installed with a steel connector, which is included.
Purchase the Wise Owl Outdoor Swing Seat Chair on Amazon for $29.95.
Purchase the Indoor and Outdoor Cotton Hammock Seat on Amazon for $39.95.
Best hammock for avoiding mosquitos
Camping overnight in the wilderness requires an extra level of preparedness against bugs. As the most experienced campers already know, you could wake up in the morning covered in itchy mosquito bites if you don't take necessary precautions.
For a well-designed, spacious hammock that comes with a fully-enclosed mosquito net, the Covacure camping hammock with a mosquito net is an excellent choice. The netting is transparent, yet dense and durable, so it can withstand wear and tear. When you don't need it, you can simply turn the hammock over and use the other side. Better yet, this product is intended to hold two people, and it can hold a maximum of 440 pounds.
Purchase the Covacure Camping Hammock with a Mosquito Net on Amazon for $25.99.
Best hammocks for two people
If you're looking for simple style, comfort, and an extra spacious interior, the Gold Armour extra large camping hammock is the gold standard. It comes in a variety of color combinations, from black and sea-foam to lemonade pink and yellow. With all the features of a Wise Owl hammock and then some, Gold Armour is a serious contender. It is usually listed at a lower cost, can comfortably house two people, and comes with steel carabiners and 10-foot-long tree straps.
For a double hammock that includes a built-in mosquito net, the Sunyear double camping hammock is another safe bet. It is very similar to the Covacure version, as it can easily be flipped over and used as a net-free hammock in bug-free areas. It is also a complete purchase, and comes with all the carabiners, straps, and net ropes that you'll need.
Purchase the Gold Armour Extra Large Camping Hammock on Amazon for $15.88.
Purchase the Sunyear Double Camping Hammock with Netting on Amazon for $39.99.
Best hammock for someone who doesn't want to set up a hammock
While hammocks are far more simple to set up than the average camping tent, they aren't always the fastest product to set up on the market, especially if they come with mosquito nets. That's where the Wekapo inflatable lounge sofa comes in. This couch-like, cushiony seat inflates in seconds when you hold it in the wind and let air flow into the opening. The company also uses anti-deflation technology to help your seat stay inflated for five to six hours. Overall, this lounge sofa is perfect for a windy beach day and can even be used as a pool floatie. Just remember that it will be harder to inflate on days with no wind.
Purchase the Wekapo Inflatable Lounge Sofa on Amazon for $39.98.
Best standing hammock that doesn't take up too much space
Are you on the hunt for that classic, poolside hammock lounger? The Vivere double cotton hammock will give your yard that relaxed, vacation-ready feel, without taking up a ton of space. The heavy-duty steel frame requires no extra tools to set up, and sits underneath the hammock. As an extra bonus, this cotton hammock comes in a wide variety of color combinations, including brown-and-black plaid, and coral-colored stripes.
Purchase the Vivere Double Cotton Backyard Hammock on Amazon for $99.99.
Best classic hammocks for the backyard
If taking up space isn't your concern, you ought to consider the PNAEUT traditional rope hammock. This classic-style hammock features a wide steel frame for stability and a rectangular-shaped seat that comfortably fits two people. Two rectangular, wooden poles on either side help the hammock maintain its shape, so the netting doesn't scrunch together, and a small pillow is included.
Another high-quality option is the Y-STOP traditional rope hammock with chains. This hammock also features a rope pattern made out of cotton and a rectangular-shaped seat. And though the setup may be a little more work, because two tree hooks need to be embedded into two trees, it can be swung more freely with less risk of tipping over.
Purchase the PNAEUT Traditional Rope Hammock on Amazon for $119.99.
Purchase the Y-STOP Traditional Rope Hammock with Chains on Amazon for $80.99.
Best standing hammock chair
The PIRNY standing hammock chair is a great option for anyone who wants to assemble a backyard chair only once, but still be able to move it around. With a strong, weather-resistant metal frame that prevents tipping and takes a short amount of time to set up, this swinging chair could easily replace a bulky rocker. The frame covers just 1.09 square meters, making it easy to fit on your porch or deck. Though the swing comes in only two colors, dark blue or white, it matches most outdoor furniture that you may already have. The seat is also made with padding on the bottom for extra comfort.
Purchase the PIRNY Standing Hammock Chair on Amazon $129.98.
Best hammocks for cold weather
Craving an adventure during the colder months of the year? You may want to seriously consider investing in an insulated hammock. Most hammocks are designed to create some airflow during warmer months, which also means that they aren't the best at trapping heat during cold weather.
This is where the Snugpak hammock cocoon and the Ayamaya underquilt hammock come in. The Snugpak uses a two-piece insulation system, which consists of a hammock quilt that lays over you, and an underblanket that traps heat underneath your body. Plus, the fabric reduces windchill and is made with antibacterial material.
If you tend to feel a little claustrophobic in enclosed spaces or plan to use the hammock with one other person, the Ayamaya is a good alternative. This hammock comes in a single or double size, and uses an underquilt to trap heat from below. You would have to travel with your own top blanket or sleeping bag, but you wouldn't have to worry about losing heat to intense gusts of winds.
Purchase the Snugpak Hammock Cocoon on Amazon for $89.95.
Purchase the Ayamaya Underquilt Hammock on Amazon for $54.99.
Best decorative backyard hammock
If you're looking to show off your bohemian style, the OnCloud fringe double deluxe hammock is the perfect choice. Made of a cotton and polyester blend, this hammock can hold two people, and the thickness and woven pattern of the material prevents the hammock from ripping. Plus, how could you say no to the macrame rope-and-fringe design on the exterior? The elegant look of this hammock is perfect for big parties where you want to provide your guests with some added comfort and great photo ops. As an extra benefit, this OnCloud product comes with a matching backpack to hold the hammock when you're on the go.
Purchase the OnCloud Fringe Double Deluxe Hammock on Amazon for $36.59.
Best overall outdoor hammock for kids
Is your child begging you to join in on the hammock fun? If so, Wise Owl has a toddler-friendly option, which comes in a compact size and bright, pink-and-purple colors. And because this hammock is compact, it weighs in at just 13 ounces, making it easy for your child to carry on their own.
Just like the adult-sized hammock, the child version comes with carabiners, two full straps, and a nylon carrying bag sewn to the side of the hammock, so it never gets lost.
Purchase the Wise Owl Outdoor Kids Hammock on Amazon for $25.95.