Here's What Sasha Obama Studied In School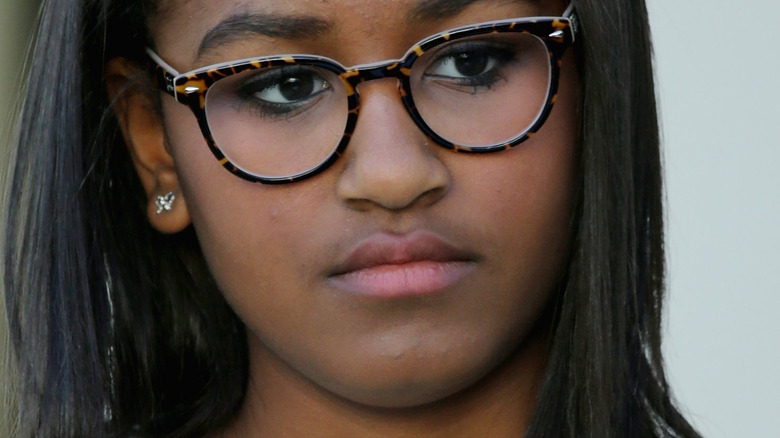 Chip Somodevilla/Getty Images
It seems like only yesterday when a young Malia and Sasha Obama were standing alongside their mother Michelle and their father Barack on the night of Barack Obama's historic presidential election win in 2008. Today, the Obama daughters are all grown up and appear to have inherited their parents' high educational and career aspirations. Malia attended Harvard University, while Sasha chose the University of Michigan. As for Sasha, what are her plans for the future, and what did she study at U of M? 
According to Distractify, Sasha enrolled at the University of Michigan in the fall of 2019. As it stands, there isn't much public information relating to Sasha's time at college, and it appears that she prefers to keep her personal life out of the spotlight. When asked about Sasha's enrollment at the university back in 2019, a U of M spokesperson refused to comment, telling the Chicago Tribune at the time, "we cannot confirm the enrollment of any student." Further, she may be undeclared at this time, as she has only attended for a year or so before the pandemic disrupted her studies.
Speaking to The Detroit News in 2019, students on the University of Michigan campus confirmed that the former president's daughter was indeed attending the institution. "I was walking by pushing a vacuum and she walked out right in front of me," one college student revealed to the publication, adding, "It was a crowded hallway with her and some Secret Service dudes."
Barack and Michelle Obama got emotional when Sasha left for college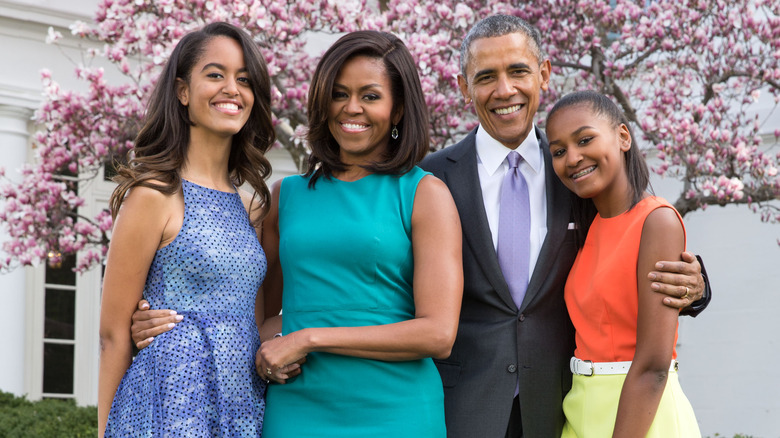 Handout/Getty Images
During an interview with People back in December 2019, Michelle and Barack Obama opened up about the day Sasha left for college and began the next major chapter of her life. 
"Time just goes so fast. But like so many experiences in the last 10 years, we wanted to make it feel as normal as possible, given our family's circumstances," the former first lady revealed, adding that it was "of course a little emotional" when she and Barack dropped their daughter Sasha off at university. "We were there, just like most parents, helping her unpack and make her dorm room feel like home," she said. 
Speaking previously at a charity reception, the former president also discussed the emotional experience of witnessing his daughters leaving for college. "I dropped off Malia at college, and I was saying to Joe and Jill (Biden) that it was a little bit like open-heart surgery, and I was proud that I did not cry in front of her." Barack continued, "But on the way back, the Secret Service was off, looking straight ahead, pretending they weren't hearing me as I sniffled and blew my nose. It was rough" (via USA Today).