The Exact Beauty Products Viola Davis Wore As Annalise Keating On How To Get Away With Murder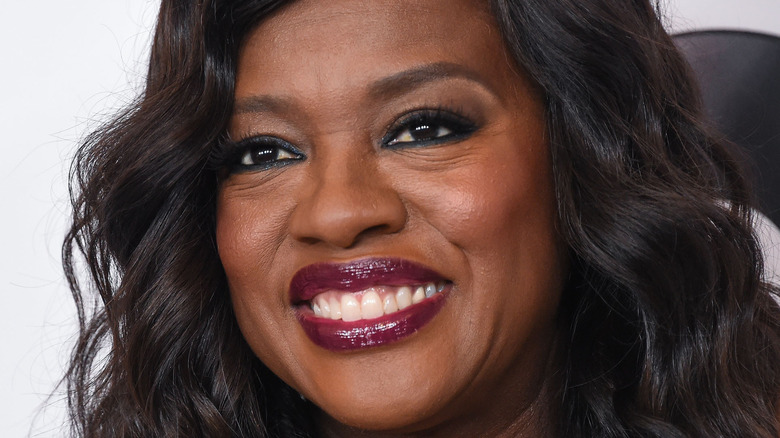 Shutterstock
The look of a high-powered and badass lawyer sounds difficult to achieve, doesn't it? And yet, Viola Davis effortlessly hit the nail on the head when she played Annalise Keating on the hit ABC show "How to Get Away with Murder." The show ran from 2014 to 2020, and for six seasons (in between iconic moments like the wig removal scene, per The Cut), Davis' character had gorgeous look after look with the perfect makeup to match every time.
That's all thanks to "How to Get Away with Murder"'s on-set makeup artist, Sergio Lopez-Rivera. "Her makeup pretty much never, ever changes, unless she's taking it off in front of the whole world," Lopez-Rivera said in an interview with Refinery29. "Her whole look was basically a mask, but in the best way possible." 
Davis' Annalise character truly came alive in her makeup look (although additional credit goes to superb acting), and it was all done with only three beauty products.
Strong eyes and neutral lips are the keys to Annalise Keating's signature look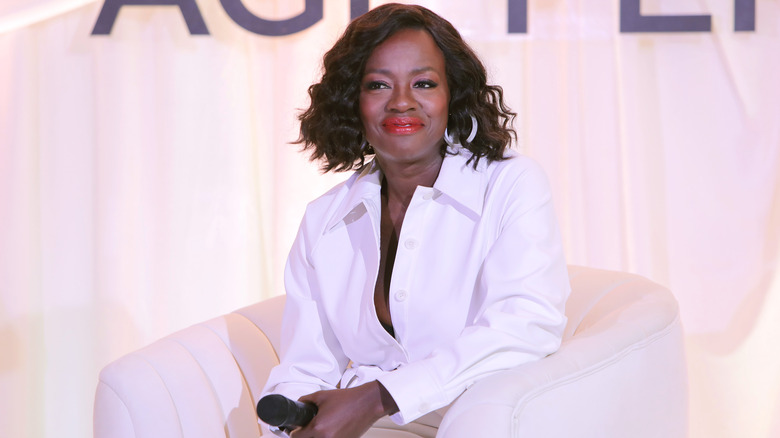 Rachel Murray/Getty Images
To get Annalise's look that oozes boss vibes and mischief, the three staples Sergio Lopez-Rivera uses are the NARS' Dual-Intensity Eyeshadow in Sycorax, Make Up For Ever Aqua Cream in 27 Black, and false lashes — that's it.
To achieve this look he does have a bit of a technique. Strong eyes and cheeks are imperative for Annalise Keating's character and a subtle, neutral lip balances everything out. For a smokey eye, he first adds Make Up For Ever Aqua Cream in the matte, leather-like color, and quickly blends in the NARS Dual-Intensity Eyeshadow only to her crease (via Style Caster).
To add a little oomph to the already boldly dark eyes, Lopez-Rivera adds a deep-bronze powder onto the lid and tops it off with beauty-supply brand lashes (via Refinery29). No name brand lashes necessary here! Just make sure not to curl them, which is a technique the Hollywood makeup artist uses to keep the Annalise-effect of the lashes.
A good skincare routine is Viola Davis' first step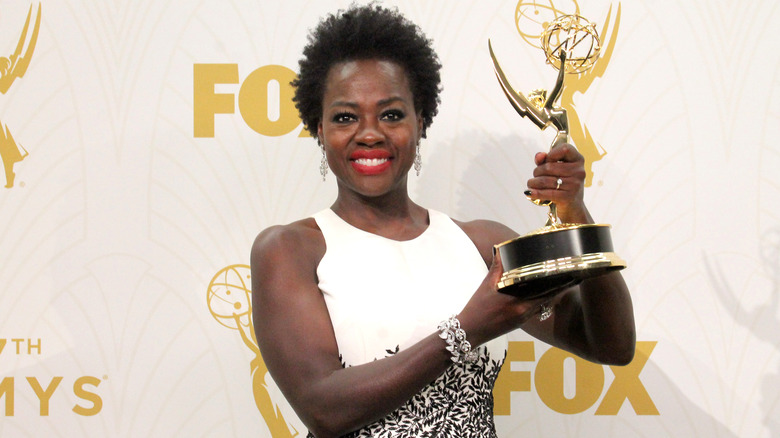 Shutterstock
If makeup is the meat to beauty, skincare is definitely the bones. Without it a good skincare routine, you can forget about long-lasting, non-creasing, or non-greasy makeup. 
Viola Davis' glowing skin is a huge factor in Annalise Keating's signature beauty look. Luckily, Davis shared some of her favorite go-to skincare products: a nice steam shower and an acid peel! 
In an interview with New Beauty, Davis mentioned how much she loves to stimulate skin-cell growth with both. "Besides Alkaline water — which I try to drink all the time — I love steam. I have a shower that is a steam shower and then I'll do an acid peel," Davis said. "Kinara has a red-carpet facial kit that includes an acid peel and it completely smooths out my skin," she added.
Between all of the eyeshadow, lashes, and Kinara Red Carpet Facial Kit (which has since been rebranded as Olga Lorencin Skin Care), it sounds like we have a few new beauty products to buy this weekend!