Here's What Disney Star Jason Dolley Looks Like Today
Valerie Macon/Getty Images
If you saw either of the Disney Channel hit sitcoms "Cory in the House" or "Good Luck Charlie" during the late 2000s or early 2010s, you will probably recognize the face above. That's right: Jason Dolley had pretty big roles in both shows, playing the titular character's friend Newt Livingston in the former and PJ Duncan, one of Charlie's brothers, in the latter. Not only that, but he played Pete in the Disney film "Hatching Pete" in 2009, Virgil in 2008's "Minutemen," and had a couple of other minor roles in various Disney projects around the same time, per IMDb.
When "Cory in the House" first aired way back in 2007 — nearly 15 years ago — Dolley was a baby-faced teenager. Now he's in his thirties, but his looks have unsurprisingly changed very little since his Disney days. Keep scrolling to see what former Disney heartthrob Jason Dolley looks like today. 
Jason Dolley keeps in touch with his old Disney co-stars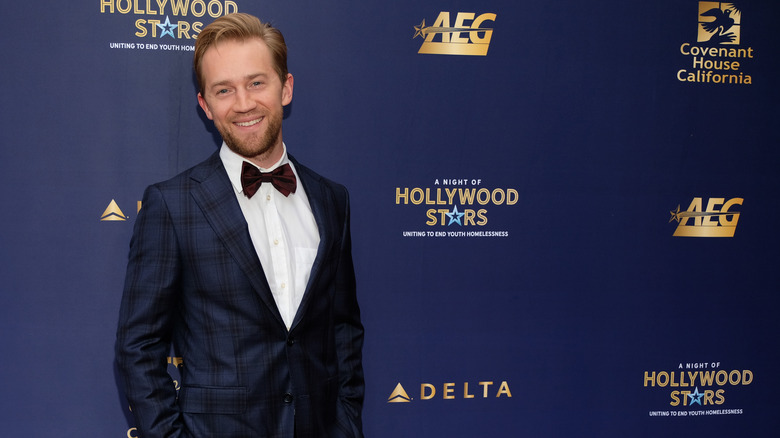 Sarah Morris/Getty Images
Post-"Good Luck Charlie," Jason Dolley hasn't been quite as busy as some of his former co-stars, but he has continued to act. While he might be best known for portraying PJ in the show, he also enjoyed a four-episode stint on "American Housewife" from 2018 to 2019 as Kevin, and guest-starred in episodes of "Major Crimes" and "The Ranch," too. Per IMDb, he also starred in the thriller "Good Morning Murder" as Jake and in the family movie "Secret Agent Dingledorf and His Trusty Dog Splat" as Wing Nut. 
Dolley is still in touch with his "Good Luck Charlie" family. When his on-screen sister Bridgit Mendler got married in 2019, he shared a few photos from the event on Instagram with the caption, "Your big brother's always here for you, B. Love you, and wish you all the best. Congratulations!" His on-screen brother Bradley Steven Perry appears in a number of his Instagram snaps, too. 
Dolley appears to be in a serious relationship now, and posts photos of himself with actor Mia Hulen frequently. She returns the favor on her own Instagram profile. We don't know too much about the couple, but it's safe to say they've been together for at least two years, as they went Instagram official in July 2019. According to IMDb, Hulen was born in 1996, making her about five years younger than her boyfriend, and has appeared in TV shows like "Dear White People" and "Chicago Fire."