Inside Jen Psaki's Relationship With Fox News Reporter Peter Doocy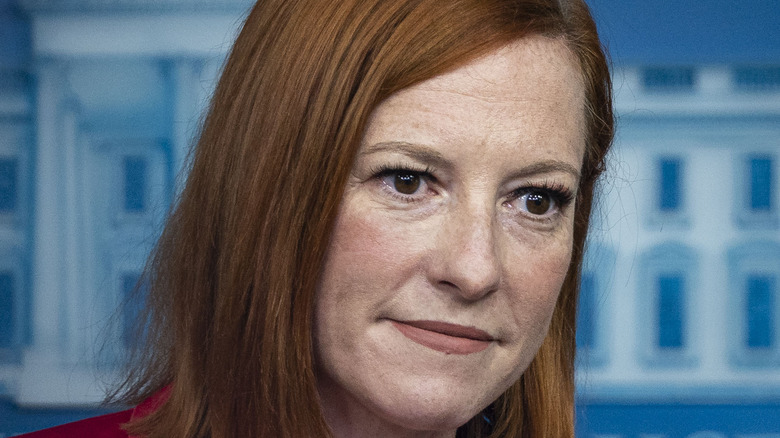 Bloomberg/Getty Images
While there are those among us who will tune in faithfully to watch White House press briefings on a regular basis, there are others who will admit to tuning in just to watch White House press secretary Jen Psaki and Fox News correspondent Peter Doocy duke it out over the issues of the day. As one Twitter user put it, "Checks watch. Time to check Twitter for @PressSec daily smack down of Peter Doocy." Another said, "I will NEVER get tired of watching Jen Psaki humiliating Peter Doocy. I think in some way he must like it," while a third guessed, "Not gonna like (sic), I think @pdoocy gets kind of a thrill from being stuffed in a locker by Jen Psaki @presssec on the daily."
And if wishes came true for this member of the Twitterverse, who said, "I really hope that there's a compilation someday with all of the times @PressSec has dropped her #PsakiBomb on @pdoocy. How fun would that be to watch?" there is a next-best-thing, because The Washington Post has done a "best of" guide to some of the most memorable exchanges between Psaki and Doocy. 
So do the two snarl at each other off-camera as much as they do during a White House press briefing?
Jen Psaki admitted that there's a 'performative component' of on-camera briefs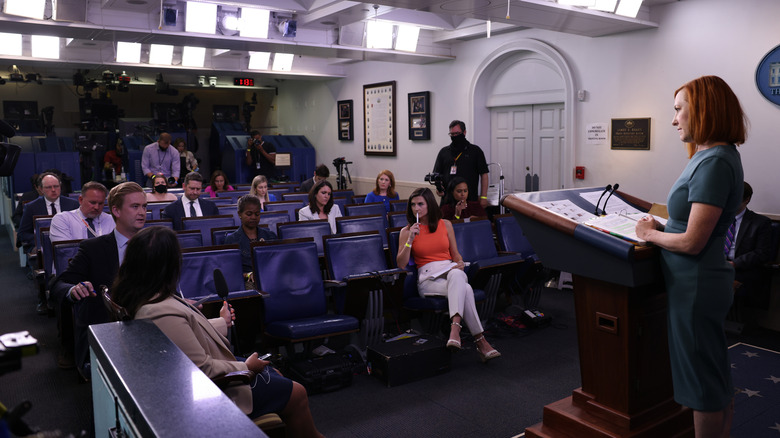 Anna Moneymaker/Getty Images
It appears that the relationship between Jen Psaki and Peter Doocy is a lot more cordial than either would have us mere mortals believe, because during an interview with Mediaite, Psaki admitted that things weren't really what they seemed. "People don't always see this, but outside the briefing room, it is entirely professional and entirely, hopefully, responsive. There's a performative component from the TV side of the briefing room," she said.
Psaki said she is under no illusions about the slant that Fox News has, saying, "I'm very clear eyed about the view of Fox News, of me, of the president, of many people who work here. Right. Peter Doocy is a correspondent for Fox News. But I have also found my engagements with him to be entirely professional. He's somebody who engages with our staff, obviously, in the briefing room, but also beyond the briefing room as well."
One thing the White House press secretary is clear about is her role in ensuring that the right information is being disseminated at all times. "[I'm] not going to allow propaganda to go unnoticed, right? And I'm not going to let misinformation brew and boil in there," she said. "I'm not going to be silent if there is misinformation that is being shared because that briefing room is really for the American people so they can get information and know what's happening."
Which means we can count on hearing more #psakibombs for some time to come.