The Truth About Danny DeVito And Michael Douglas' Time As Roommates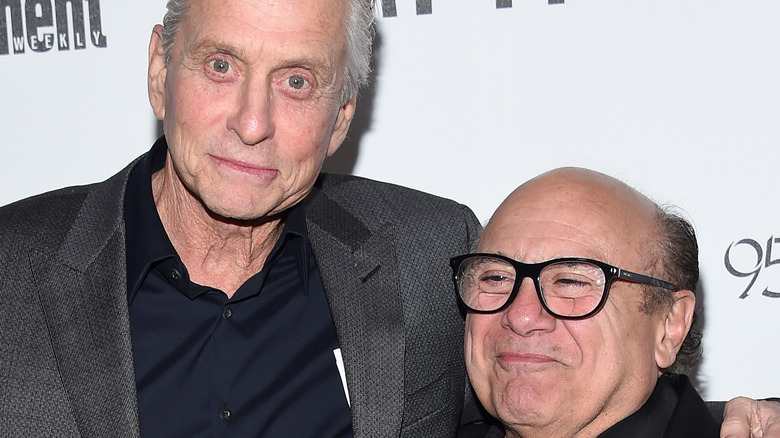 DFree/Shutterstock
Hollywood can be a brutal, cutthroat place, where tales of sabotage are the norm, not the exception. But everyone has to start somewhere, and before actors make it to the big-time, they often form lifelong bonds with their peers; after all, who else can better understand the plight of chasing fame and fortune? One such friendship is between Michael Douglas and Danny DeVito, two actors who have had extremely disparate career paths but share a special bond that began when each of them was starting their careers in New York City back in the 1960s.
Douglas is most famous for his dramatic, leading man roles in films like "Fatal Attraction," "Wall Street," and "Basic Instinct," whereas DeVito made a name for himself starring in comedies, most notably with the television show "Taxi" and — more recently — "It's Always Sunny In Philadelphia," in addition to his film work in "Matilda," "Twins," "Get Shorty," and more.
While a friendship between the two might seem unlikely based on their respective careers, the pair have maintained their relationship for decades, with Douglas saying his pal — whom he calls "Danny D" is — his "oldest friend in the business" (via the Mirror). The two have even found opportunities to collaborate onscreen, with "Romancing the Stone," "Jewel of the Nile," and "War of the Roses," later reuniting again on "The Kominsky Method," in which Douglas stars.
So what was Douglas and DeVito's friendship meet cute? It all started with a joint and the Long Island Sound.
A tale of two besties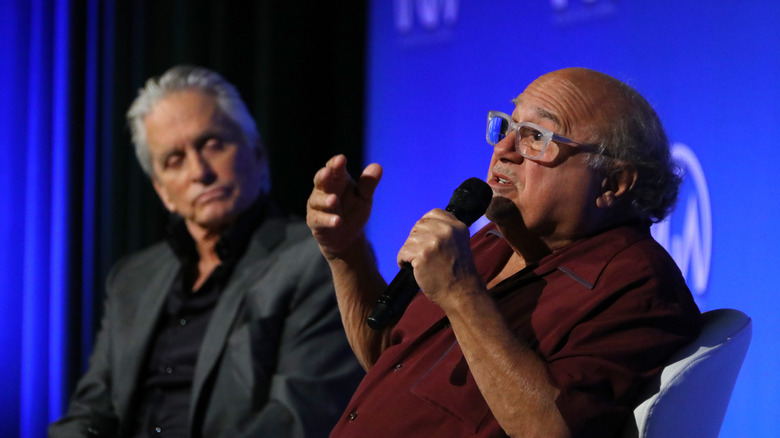 Jc Olivera/Getty Images
The year was 1967 when Michael Douglas first made Danny DeVito's acquaintance. "I was on the beach, looking out at the Long Island Sound and this guy walks up to me, with this long head of hair, if you can imagine. He says 'You get high?'" Douglas told Cigar Aficionado (via Page Six).  "We were both 1967 potheads, so we smoked a joint and that was the beginning of a long, long friendship."
From there, the two became fast friends — and roommates, moving in together on west 89th street. "Michael did the laundry," DeVito shared with the Daily News, to which Douglas chimed in, "Did he tell you I was a slob? Danny was sloppy. No, really, he was a great roommate. It was a magical time. We were getting paid to act."
DeVito, at the time, was already dating future wife Rhea Pearlman, but Douglas did have his fair share of women to entertain. "Well, it was a magical time," he said. "You put a sock on the door."
If it sounds like the two pals would do anything for each other, it's because they would. DeVito once revealed that when Douglas was bitten by a snake on the set of "Romancing of the Stone," it was DeVito himself who sucked the poison out of Douglas's arm (via People).
Based on their friendship, it sounds like we could all use a Danny DeVito or a Michael Douglas in our lives!