The Truth About Estelle Getty's Age On Golden Girls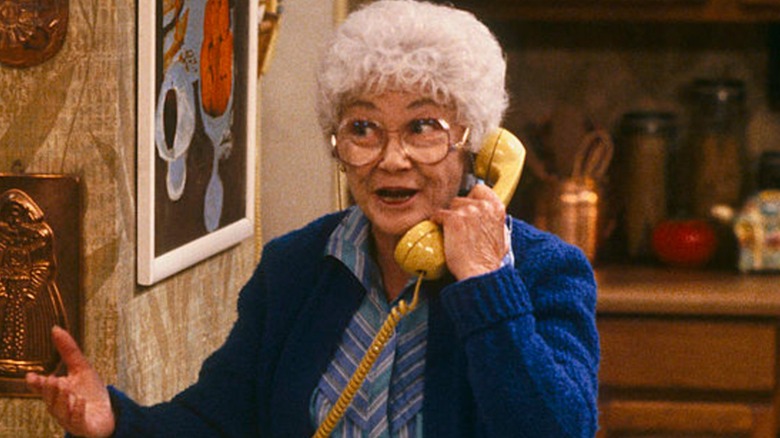 NBC
Sophia Petrillo was the oldest of "The Golden Girls" on the classic NBC Saturday sitcom that aired from 1985-1992. After all, she was Dorothy's mother, with Dorothy being a retired teacher who was still substituting during her more mature years enjoying the sunshine life in Florida. In fact, Sophia was living in a nursing home before moving in with Dorothy, Blanche, and Rose, but the retirement home burnt down on the series' first episode, per IMDb, making her one of the golden roommates for the entire run of the show, with Estelle Getty playing her to perfection.
Who can forget the white curls atop her head, large glasses, comfortable floral house dresses, cardigan sweaters, handheld straw purse, and orthopedic shoes — and, of course, that sharp, acerbic wit? Sophia was the most golden of those girls, but it turns out, Getty was most certainly not. In fact, those white curls were nothing but a wig, and Getty was not nearly as old as the character she hilariously portrayed for seven seasons.
Estelle Getty was one of the younger Golden Girls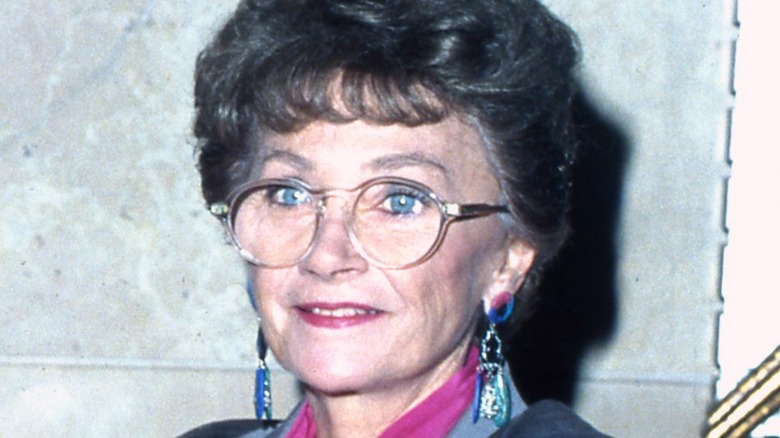 Donaldson Collection/Getty Images
Believe it or not, Estelle Getty was one year younger than Beatrice Arthur, who played Sophia's daughter, Dorothy. When "The Golden Girls" first began, Getty was 62 years old and Arthur was 63, according to Good Housekeeping. Betty White, who played Rose, was also 63 at the time, with the youngest of the ladies being Rue McClanahan, who played Blanche. McClanahan was 52 years old when the series premiered (via Parade).
Getty may have been only 62, but she wanted the role of the much older Sophia so badly that she made sure to look the part at her audition. According to The New York Times, Getty showed up for the audition looking like "a little old lady" (via ABC News). She even had that famous straw purse with her. Getty found that iconic purse while shopping around in the Fairfax District of Los Angeles before she went in to read for the role and that purse made it through the series' entire seven-season run (via The New York Post).
Sadly, Getty was the first of the four lead "Golden Girls" actresses to pass away. She died at the age of 84 from Lewy body dementia in 2008. The next year, Arthur died from cancer at age 86, and the year after that, McClanahan died from a stroke in 2010. As of this writing, White, is the only Golden Girl still living.