What Jessica Simpson Looks Like Underneath All That Makeup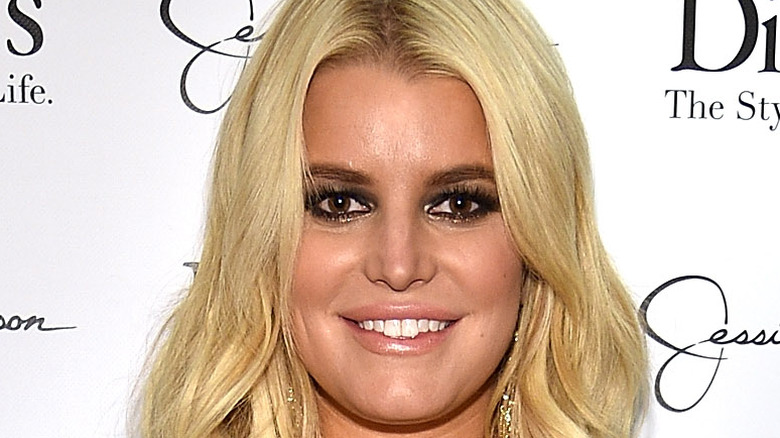 Kevin Mazur/Getty Images
Jessica Simpson has lived much of her life in the public eye, enduring a devastating divorce exacerbated by a reality show, harsh judgment over her weight loss and gain, and plenty more besides. As a Glamour profile notes, Simpson has worn several different hats over the course of her lengthy — and by all means incredibly successful — career. Among other things, the proud Texan has been a pop star, reality TV star, and shoe mogul. The release of her no-holds-barred memoir, "Open Book," cracked her, well, wide open.
Simpson revealed to Glamour, "I didn't do the book until I was sober. I had always had a book deal in the works, but I never went forward with it." The singer acknowledged that she's not exactly well known for having troubles with alcohol, or suffering through abuse both personal and writ large from the media and public alike. On her reasoning for finally sharing her story, Simpson opined, "We can slip up here and there, but to have had to reveal such deep life-changing moments ... I think it only makes people more willing to listen."
Embracing a low-key approach to beauty suits the busy working mother
Jessica Simpson took to Instagram to wish her followers a "good morning" while also sharing a vanity-free shot of herself, head laying on the pillow — apparently still wearing her retainer too, by the looks of it. Fans flooded the comments with messages about how much the "Newlyweds" star was "glowing" from within, with several demanding to know Simpson's skincare secrets. Thankfully, she's an open book in all senses. Simpson is happy to share how she continues looking so gorgeous, as a mother of three in her forties, telling Refinery29, "I'm very into embracing my natural beauty. I'm embracing all of it." 
Simpson frequently discusses her struggles with eczema, too, giving fans further insight into the hard work she puts in behind the scenes. For instance, the singer told PopSugar, "I've used eye cream since I got in the business, so I was about seventeen years old." Self-care is a big part of Simpson's routine, whether it's ensuring she gets a good night's sleep, taking some time out to write, or simply practicing gratitude. Her skincare routine is all about taking care of herself, too. "Otherwise, I take it one day and one moment at a time," she revealed, adding, "There's power in knowing I made it through."