What Cindy Crawford Looks Like Underneath All That Makeup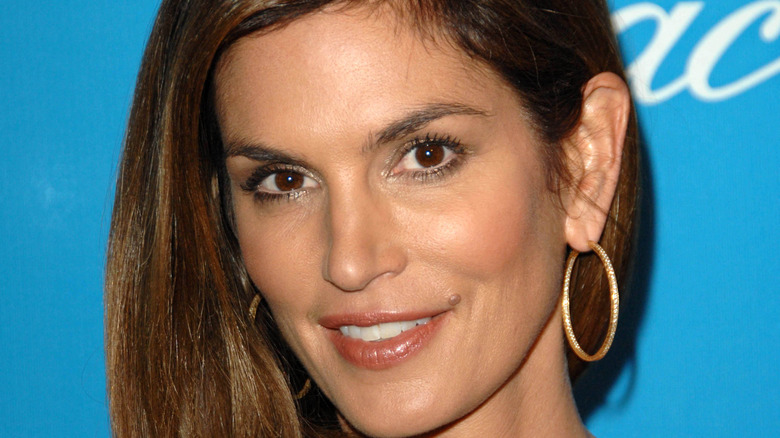 s_bukley/Shutterstock
Cindy Crawford is undisputedly one of the most beautiful women in the world. Her name is synonymous with the word "supermodel," which really says everything. In fact, as Town and Country noted in a 2018 profile, Crawford's decades-long career is untouchable to the extent she's now passing on her vast knowledge of the industry to the next generation of models, including daughter Kaia Gerber. "When I was in my late twenties I thought my career would last about 10 years, tops," Crawford admitted. She added, "And yet somehow here I am." 
Though predominantly known as a supermodel, Crawford owes much of her success to the smart diversifying she did at a pivotal point in her career. DuJour reports the model became an entertainment mainstay thanks in part to a Pepsi campaign, fronting MTV's "House of Style," releasing a fitness video, and following that up with her own furniture line. These days, Crawford has her own beauty company too. Nobody survives in the cutthroat fashion world this long without knowing their stuff. In Crawford's case, it helps that that face is just as impressive without makeup.
The legendary supermodel is just as gorgeous without makeup
Supermodel Cindy Crawford shared a shot to Instagram of her snuggling up with her adorable dog, hilariously captioning it, "Puppy pillow." What's most striking about the photo, however, is just how stunning she looks seemingly without a shred of makeup on. Crawford is realistic about ageing, admitting to DuJour, "I don't want to spend my fifties trying to get back to where I was in my thirties. Even though, yes, maybe I would like my skin or my waistline to be the same, I've worked hard and evolved into this person." 
She's also open about the work that goes into keeping her looking fabulous, memorably telling Redbook, "Even I don't wake up looking like Cindy Crawford!" In keeping with her model matriarch persona, the legendary beauty is happy to share her beauty secrets with other women, explaining to Byrdie that exercise and skincare go hand in hand since, to see results, you have to put the time and effort in. Likewise, she made it clear it's "never too early, and never too late, to start taking care of your skin."