Vanessa Hudgens' Tattoos: A Complete Guide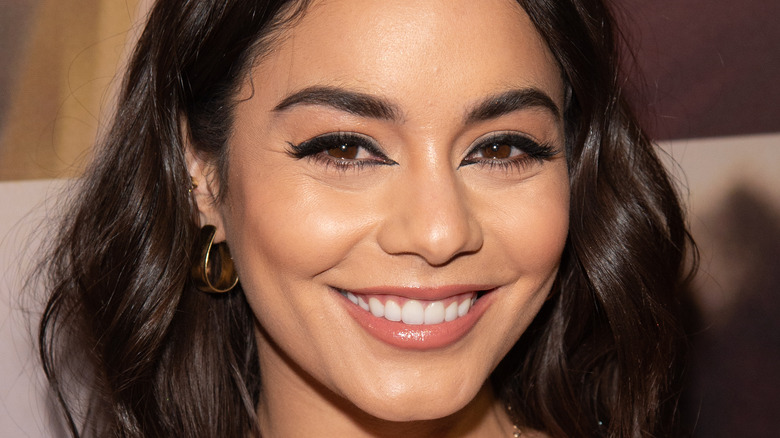 Ron Adar/Shutterstock
Vanessa Hudgens, a star known for her work in films such as "The Princess Switch," "Spring Breakers," and "High School Musical," is now up to 10 tattoos. These small and creative works of art are truly representative of Hudgens as a person, and they make us want to head to a tattoo parlor ourselves! Keep reading to learn about all of the ink she has.
According to PopSugar, her first tat came about in 2011 – a butterfly on her neck. Butterflies are common when it comes to permanently inking one's body, but this is an extra special choice for Hudgens, as "Vanessa" means "butterfly" or "queen of the butterflies" in Greek. The same year, she got the symbol for OM on the side of her hand. She even had company when she visited Bang Bang Tattoo: Her "HSM" co-star Ashley Tisdale was there!
In early 2020, Hudgens added a sunflower to her side. On Instagram, she wrote, "My mom called me her little sunflower."
One of Vanessa's tattoos is even inspired by an upcoming movie
In 2020, Vanessa Hudgens took another trip to Bang Bang Tattoo, to get an angel on the right side of her body. In November of that same year, this actress inked "cages or wings" on her shoulder. It's a reference to an upcoming project with Lin-Manuel Miranda titled "tick, tick...BOOM!" which is an adaptation of Jonathan Larson's musical. The new film will be available on Netflix (via Deadline). The tattoo is inspired by the song "Louder Than Words," as seen on Genius.
Mr. K, a tattoo artist in New York, is responsible for four tattoos Hudgens received in May 2021: a sparkle in her ear, a heart on her left pointer finger, a diamond design on her right middle finger, and the number "22" on the side of her wrist. 
Finally, while back with Dragon, her go-to artist in New York, she added a boa constrictor on the inside of her left ankle, as reported by PopSugar. She shared this "lucky #10" on Instagram, saying, "I love the feeling of a tattoo."