Here's What A Christmas Story Star Peter Billingsley Looks Like Today
Peter Billingsley will forever be the spectacle-wearing, blond little boy with the bright blue eyes that nearly shot his eye out in the classic "A Christmas Story."
Billingsley's portrayal of Ralphie increased his celebrity status, although he was already an established actor before the movie premiered. The New York native launched his acting career at age 7 in commercials before going on to appear in shows and made for TV movies (via Good Housekeeping). Out of all those early jobs, Billingsley was best known for his role as "Messy Marvin" in the Hershey Chocolate Syrup commercials, according to Biography.
Now he's known for his friendship with Jon Favreau of "Swingers" fame. In fact, he directed the "Wedding Crashers" actor and director of "Iron Man" and "Iron Man 2" in the movie "Couples Retreat" (via A Christmas Story House and Museum). Not to mention the many director and producer credits he's racked up since starring in the 1983 film (via IMDb).
These days the child actor may spend more time behind the camera, but he does act from time to time. He may be all grown up but we'd recognize those crystal blue anywhere. Here's what "A Christmas Story" star Peter Billingsley looks like today.
Peter Billingsley is a director and producer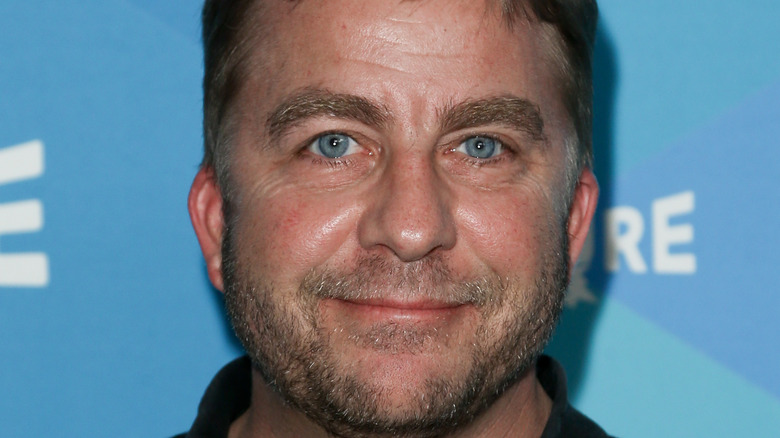 Debby Wong/Shutterstock
Peter Billingsley is almost unrecognizable these days, having outgrown the boyish haircut and round cheeks. If it wasn't for those piercing blue eyes it may be difficult to convince people that he is in fact, Ralphie Parker, the same kid who sulked down the stairs in a pink rabbit costume on Christmas morning. 
He's proved that there's more to the actor than his most famous role as the boy who wanted a Red Ryder BB gun as he's broken into directing and producing. The celebrity has been in several films since "A Christmas Story," including producing the animated Netflix series,"F is For Family" (per IMDb). Although he did resemble an older version of Ralphie in the movie "Elf," where he took on the role of an elf with glasses and rosy cheeks, Billingsley today is a far cry from the young boy he portrayed in the holiday film.
In addition to acting, Billingsley served as executive director and appeared in "The Break-Up" and "Iron Man." Other notable films he's appeared in include "Spiderman: Far from Home," and "Four Christmases" (via IMDb). 
He's come a long way from the kid who was warned, "You'll shoot your eye out, kid!"