The Iconic Rom-Com That Almost Starred Connie Britton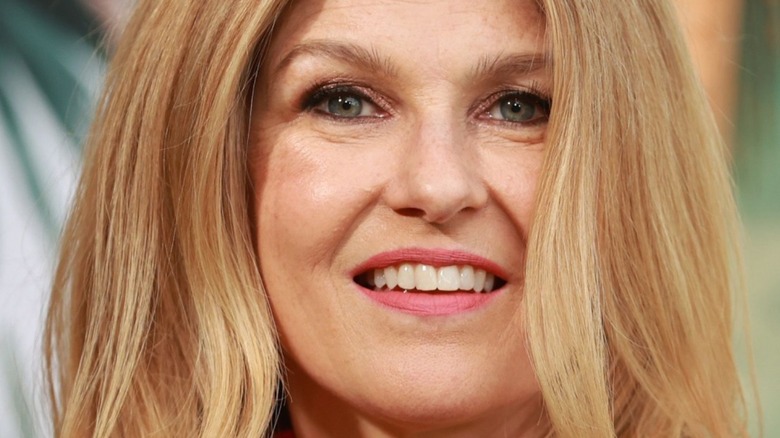 Emma Mcintyre/Getty Images
When director Cameron Crowe's romantic comedy "Jerry Maguire" came out in 1996, no one could predict its staying power. Rom-coms often get a bad rap for featuring over-the-top storylines or focusing on superficial, sometimes problematic, relationships. But the best ones subvert these tropes or smartly use them to send a message. "Jerry Maguire" is one of those films.
Bustle rightfully billed "Jerry Maguire" as one of the greatest romantic comedies because of how it depicts human connection. Acting legends Renée Zellweger and Tom Cruise shine as the romantic leads, and per Vogue, the film accurately shows the growth of a relationship beyond the honeymoon phase. The film's impact on pop culture is still felt today. So many iconic and romantic one-liners can be attributed to the cult classic, including "You complete me" and "You had me at hello" (via Screen Rant).
Zellweger's honest portrayal of single mom and accountant Dorothy Boyd catapulted her career, and landed her the Critics' Choice Award for Breakthrough Performer (via TV Guide) and her first SAG nomination for supporting actress (via Screen Actors Guild Awards). But in spite of her phenomenal performance, another equally talented actress was almost the Dorothy to Cruise's Jerry.
Connie Britton was almost cast as the romantic lead of Jerry Maguire
In an interview with The New York Times, Connie Britton revealed that she almost played Dorothy Boyd in "Jerry Maguire." Close friend and director Edward Burns shared the script with her over dinner and told her she would be perfect for the part. Britton fell in love with the role of Dorothy and started prepping immediately. "I was blown away. I loved the script, the role — I was like, 'Oh, my gosh, this is incredible.' And I walked into my brand-new agent's office the next day, and I put the script down on his desk, and I was like, 'I have two words for you: Jerry Maguire.'"
Though director Cameron Crowe loved Britton's interpretation of the iconic character, and she did a screen test with Tom Cruise, she ultimately lost out on the role to Renée Zellweger (via ET). On August 4, 2021, Britton appeared on Netflix's talk show "Off Camera With Sam Jones" (via YouTube), and got candid about her experience during the screen test. "I think I was just so, had no idea what I was doing and I'd never done a screen test before," she admitted. "And it was Tom Cruise, you know, and I mean I knew that material backwards and forwards but I feel like when I got in front of the camera, it was just, I knew I did not represent the material in the way that I knew that I could."
Lucky for us, the four-time Emmy nominated actress (via Emmys) did not let this rejection dissuade her, and went on to star in other career-defining roles in "Friday Night Lights" and "Nashville" (via IMDb).