The Truth About Salma Hayek's Dating History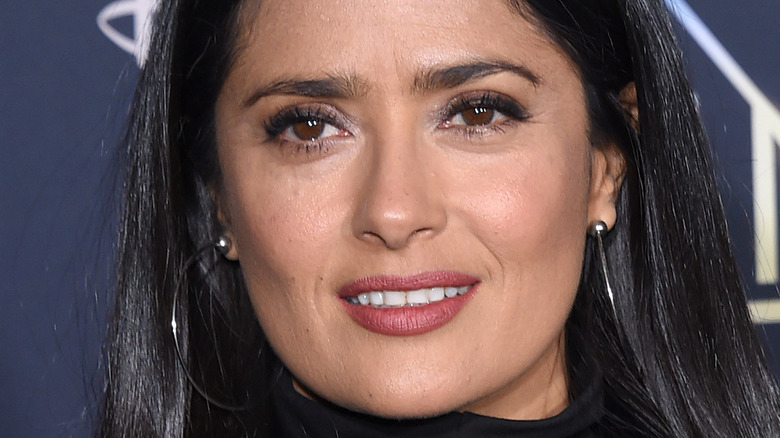 Shutterstock
Born in Coatzacoalcos, Veracruz, Mexico in 1966 (via Biography), Salma Hayek found a love for acting at an early age. She initially started out her career as a telenovela star in Mexico before moving to Los Angeles in 1991. Despite no one thinking she'd make it (via Oprah), Hayek was determined to get her big break.
"I wanted to do films, and at that time in Mexico, a film industry didn't really exist," the actress explained. "So where do you go to do movies? You go to the mecca." It wasn't long before Hayek got her start on television, with her first role outside of Mexico being an episode of "Street Justice" in 1992 (via IMDb). By 1994 she starred in her first TV movie ("Roadracers") before landing a spot in Robert Rodriguez's "From Dusk Till Dawn" starring opposite the likes of George Clooney, Harvey Keitel, and Quentin Tarantino.
Three years later, Hayek started dating British actor Edward Atterton after he moved to the States. The two had an "amicable" break up in 1999 according to Atterton (via Birmingham Post & Mail), who said they remained "good friends" and that they kept in touch as much as they could. By this point, Hayek had started one of Hollywood's highest-profile relationships at the time – with Edward Norton.
Salma and Edward were one of the hottest couples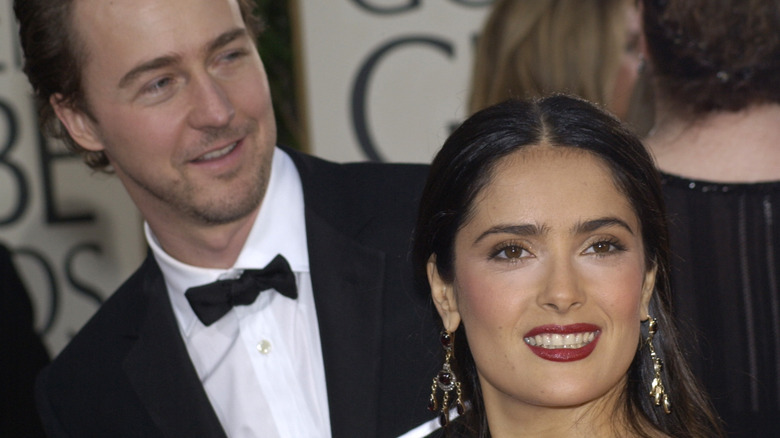 Shutterstock
Selma Hayek and Edward Norton were reportedly set up by a chiropractor in 1999 (via Zimbio) and attended dozens of red carpet events together despite keeping their relationship low-key. "We did thousands of things and nobody knows," Hayek told the Independent more than a decade later. "Most of what is written about me isn't true."
Norton starred and co-produced Hayek's passion project "Frida" in 2002 (via AllVipp), a year before they broke up. Not much is known as to why they split, but like Hayek's relationship with Atterton, it seemed they ended it on good terms. Norton was even a guest at Hayek's wedding to François-Henri Pinault (via CBS News), who she started dating in 2006 (via Ranker).
Prior to Pinault, she dated Josh Lucas in 2003. A year after they broke up, Lucas told People, "We're not still together. I don't really want to talk about it more than that." He would later elaborate about what made their relationship fail, and it was mainly due to conflicting work schedules.
"If both people are working [in this business], it's a problem," he told GQ. "In the case of Salma and I, she was in South Africa doing a movie and I was in Australia making 'Stealth', and with the time that we spent apart, invariably we broke up."
The actress says her husband François-Henri has made her a "much better person"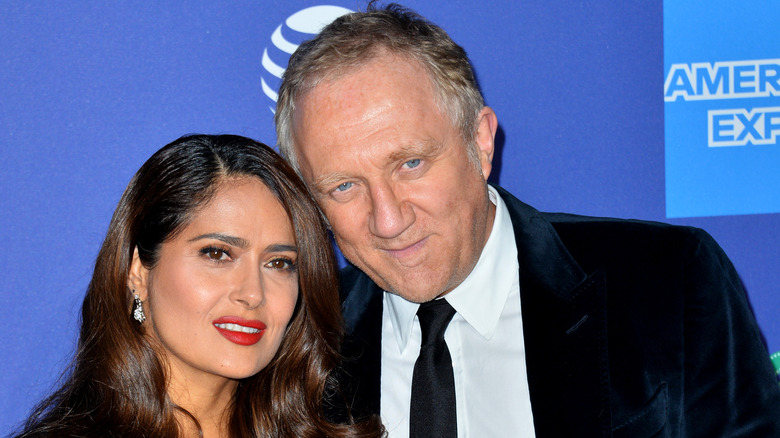 Shutterstock
After that relationship failed, it took some time before Selma Hayek found "the perfect man," as she described to Allure in 2015. "I wish I knew [when I was younger] that I was going to fall crazy in love with the perfect man," the actress explained, saying that while she dated "some pretty good guys" she also started seeing "wonderful things in, like, the wrong guys."
This man was François-Henri Pinault, the CEO of Kering (via Town & Country), a French luxury goods company that owns brands like Gucci, Balenciaga, and Saint Laurent. The couple got engaged in 2007 and shortly after welcomed their daughter Valentina into the world (via Goalcast). Hayek and Pinault eventually tied the knot in 2009, and their marital bond has remained strong.
"He's made me become a much better person," Hayak confessed during an appearance on the "Armchair Expert" podcast (via People). The actress revealed that people thought they had an "arranged marriage" and that she'd "married him for the money". To that, Hayek said people can "think what [they] want," adding, "Fifteen years together, and we are strong in love. And I don't even get offended; I'm like, 'Yeah, whatever."