The Best Hairstyles To Hide The Cowlick In The Front Of Your Hair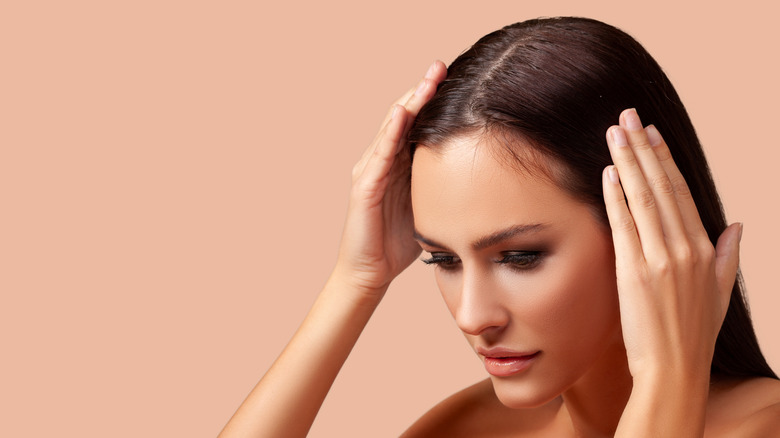 L Julia/Shutterstock
We've all had times when our hair just won't do what we want it to — is there anything more frustrating? Particularly when you have an important meeting or date lined up, it might feel like there's nothing worse, and we definitely understand why. 
Some hair woes are easily manageable. If your hair's too long, you can get it cut shorter. If you want to change up the color, you can do that too. Unfortunately, it's not so easy to sort other things out.
However, no matter how annoying your hair is, or what it looks like, there are still some great haircuts that are sure to suit you. Even if you're trying to manage a cowlick, you can find the perfect haircut without too much difficulty — so what are you waiting for? These are the best hairstyles to hide your cowlick, even if it's at the very front of your hair. 
To hide a cowlick, try a layered cut with a middle part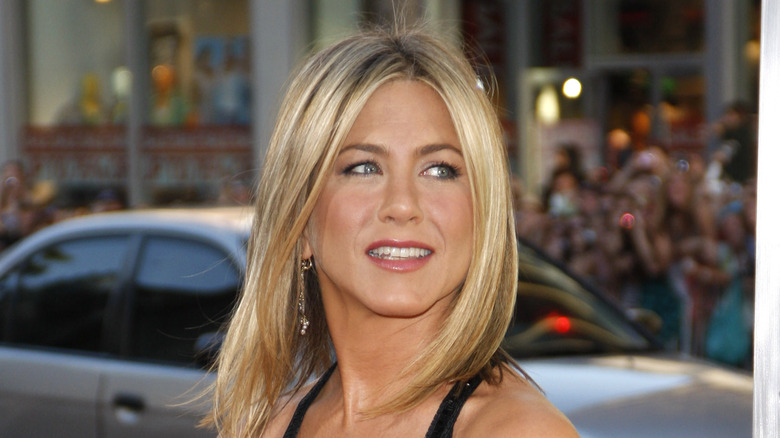 Tinseltown/Shutterstock
The Skin Care Edit recommends a medium-length haircut that's layered and goes down to the collarbone. Then, if your cowlick will permit it, a middle part rounds off the look to make it look great. The layers look good on almost anyone, framing your face and really bringing out your cheekbones, and the middle part balances the cowlicks too. To show off the layers properly, how about finishing with some longer, skinny ends too?
One of the great things about this look is that you can wear it with your hair straight, natural, or curled — the versatile nature of these layers mean that it's entirely up to you! You can also add in a specially formulated product if your cowlick needs some extra taming.  
A similar but longer style to wear your hair in is loose waves. Go for a loose, messy, and wavy vibe to disguise your cowlick perfectly. Being so loose, you don't need to worry about any inadvertent front or back partings, and it'll be weighed down nicely when your hair is shoulder-length (via Byrdie).
You can even rock bangs with a cowlick in the front of your hair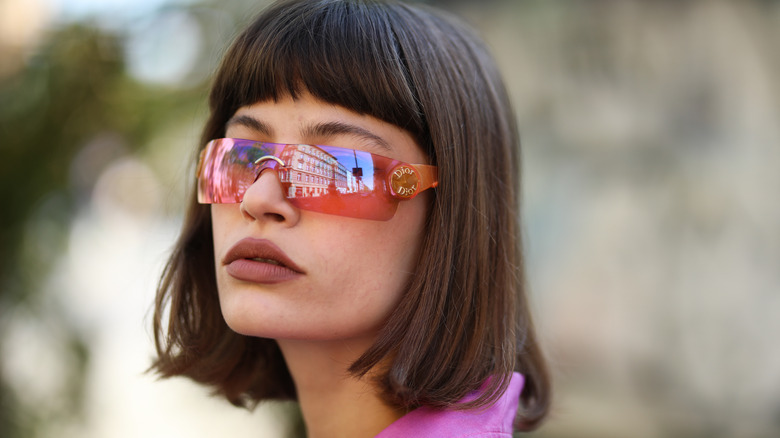 Jeremy Moeller/Getty Images
When it comes to fringes and bangs, you've got a couple of different options. The first is a heavy fringe, which can suit your hair if you've got a cowlick right at the front of your hairline. Like with a messy wave style, your heavy fringe will help to weigh down the cowlick, concealing it should it try to make an appearance. Just ask your hairdresser if they can cut the bangs directly behind the cowlick where they're thickest, and finish with some texture spray (via Byrdie).
If you'd rather try something a little edgier, you could always give baby bangs a go. Make them short, choppy, and dramatic, and use some molding spray to really blend the cowlick into the fringe (via Byrdie). You might want to keep your bangs a little longer at the sides to frame the face a little better, while a de-frizzing product can be just right while your hair's wet, working out cowlicks and letting your hair fall just like you want it to (via Refinery29). Goodbye pesky cowlick, hello trendy hairdo!