The Top 5 Best Polarized Fashion Sunglasses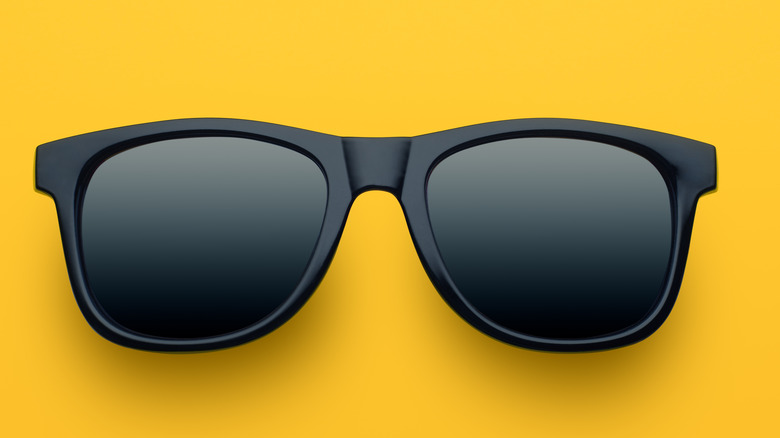 Shutterstock
We may receive a commission on purchases made from links.
Not only are our eyes the windows to our soul, but they are also one of the most important areas on our face, which is why they need to be protected at all times. UV glare from the sun can cause premature aging of the skin, and the eyes themselves can be damaged from the strain, even increasing the risk of cataracts (via Time). 
That's why polarized sunglasses are here to the rescue. The difference between regular sunglasses and polarized sunglasses is that the latter are able to filter out certain light from reaching your eyes (via the American Academy of Ophthalmology). Many worry about forfeiting style for safety, but we are here to assure you that there are plenty of polarized sunglasses out there that still look fashionable. 
Here are the five best polarized fashion sunglasses. And while many of these selections technically fall under the men's category, they can be worn by any gender.
The top 5 best polarized fashion sunglasses to protect your pupils
Nooz's Polarized Sunglasses ($59.50) are slim and weightless for ultimate convenience, as they can be placed in your pocket without you even noticing them. Their rounded shape gives you ultimate John Lennon vibes.
The iconic brand Ray-Ban has its Original Wayfarer Classic ($211) in five colors. There's classic black, one with a green tint, and three brown tints. Plus, the lenses and frames are customizable. This specific design was invented in 1956 and has been worn by the likes of Jack Nicholson, Bob Dylan, Billy Joel, and Cary Grant.
Warby Parker's polarized sunglasses are unique because their lenses, which can also be bought in a prescription version, also block out 100% of UV rays. Their Durand style ($145) comes in 6 distinct styles from jet black, pink, translucent, brown, and a green design that can be selected in narrow, medium, wide, and extra-wide.
At a highly reasonable $11.99, the Sojos Polarized Sunglasses come in 10 whimsical colors from leopard, black, pink, red, brown, clear, green, and more. And more than 19,000 people on Amazon agree — they're totally reliable.
The Suncloud Aviator Polarized Metal Sunglasses ($49.95) were originally made for aviators for the ultimate protection up in the sky, but can be used by the general public. These glasses are tougher than average because they are constructed with polycarbonate and silicone padding.