Of All Cher's Looks - This Stands Above The Rest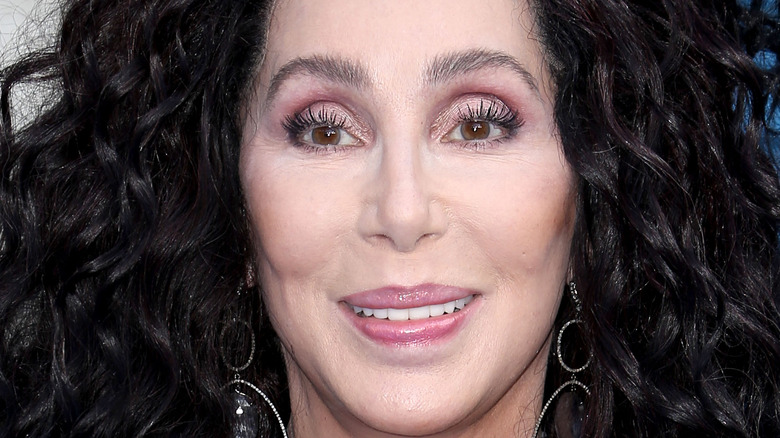 Cubankite/Shutterstock
Cher has been wowing us since the '60s, not only with her folk rock and dance pop music, but her daring outfits that were way ahead of her time. Complemented with her signature sleek long black hair, Cher was no stranger to challenging the status quo by showing as much skin as she wanted without shame. "I've spent pretty much all my time naked," she told Vogue on YouTube.
In fact, Cher has always been so comfortable with herself, that she was one of the first women to show their bellybutton on television (via MeTV). She also frequently collaborated with legendary designer Bob Mackie, who has worked with many other stars including Elton John, Tina Turner, Diana Ross, and many more (via Vogue).
Mackie's work with Cher is burned into the memory of the American fashion zeitgeist. From embellished gowns, crystalized bodysuits, fur coats, two piece sets, and many more, there is one unforgettable Cher and Bob Mackie look that stands out above the rest.
Cher's 1988 Oscar dress was a significant moment in fashion history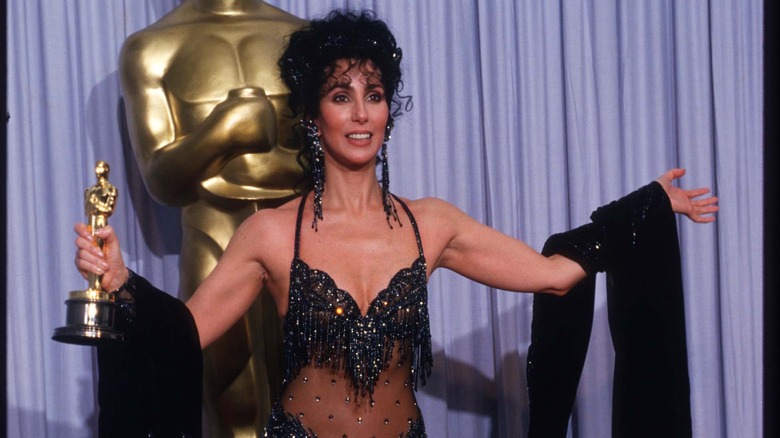 John T. Barr/Getty Images
If there's one thing to note about Cher, is that she is certainly not camera shy. Although she was mainly known for her music, she dabbled extensively in the acting world as well. Her most iconic role was as Loretta in the critically acclaimed comedy drama "Moonstruck," which garnered her an Oscar win in 1988 for Best Actress, even beating Meryl Streep (via Huffington Post).
However, her acting talents are not what most people associate Cher and the 1988 Oscars with. Her two piece, see-through sequined long black gown fully exposed her stomach and legs, turning heads from a mile away and stirring controversy that Cher was clearly not afraid to provoke.
Although this look is now well received and praised today, the '80s were a much different time. "The moment Cher stepped out of the limousine and into the spotlight, it wasn't instantly known that what she was going to wear was going to be acceptable and not laughed at," Fashion Institute of Design and Merchandising curator Kevin Jones told CR Fashion Book.
However, there is no doubt that this specific look has aged well. Overall, Cher's 1988 Oscar dress took the world by storm and solidified her as one of today's most innovative fashion icons.