Alan Alda Reveals The True Moment He Fell In Love With His Wife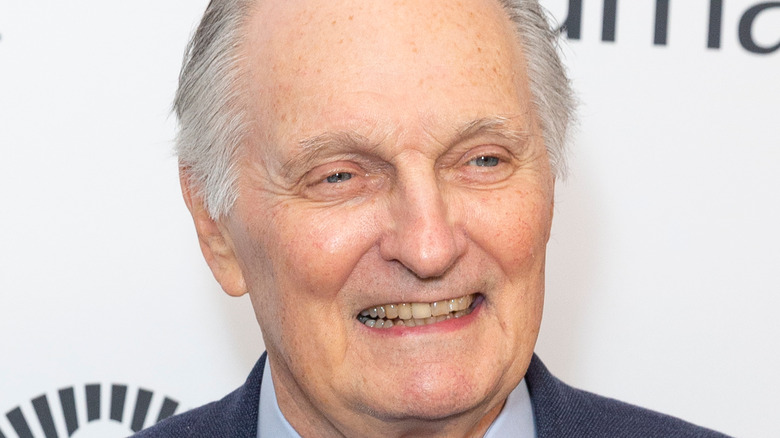 lev radin/Shutterstock
As Hawkeye Pierce in the classic sitcom "M*A*S*H," Alan Alda was an unapologetic womanizer. When he wasn't wisecracking, patching up wounded soldiers, brewing moonshine, or pranking his tentmates, he was propositioning nurses in the O.R. and meeting them after hours. Offscreen, Alda still loves wisecracking, but he's anything but a ladies' man. In the 1970s, he was almost as famous for his feminism as his acting; he testified before Congress in support of the Equal Rights Amendment, and even appeared on the cover of Ms. magazine (via Vanity Fair). 
Unlike Hawkeye, Alda is anything but commitment-phobic. For the last 64 years, he's been the devoted husband of Arlene Weiss Alda, his childhood (well, college-hood) sweetheart. A gifted clarinetist, Arlene once played in the Houston Symphony with the legendary Leopold Stokowski as conductor. She later switched gears and went on to a successful career as an author and photographer. Together, the couple have three daughters and eight grandchildren (via Arlene Alda's website).
The Aldas also have one of the best meet-cute stories in Hollywood history — and Alan just revealed a never-before-shared detail of the tale.
The cake introduced them; the laughs bonded them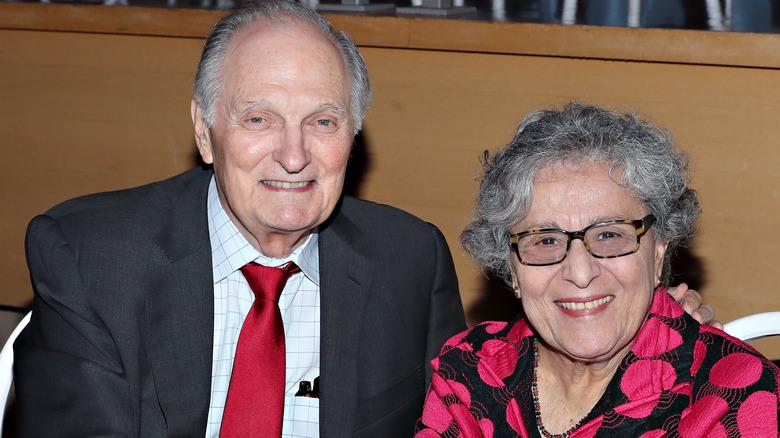 Cindy Ord/Getty Images
Alan Alda has recounted his meeting with Arlene Weiss many times over the years, including to The Washington Post. As New York City college students — he at Fordham, she at Hunter College — they happened to be invited to two dinner parties by the same mutual friend. At the first one, Alda was too tongue-tied to say much. At the second dinner a few weeks later, the host had made a rum cake and stored it on top of the refrigerator. The cake somehow tumbled off its perch; while the other guests wrote it off as a loss, the Aldas just grabbed spoons and ate it where it lay.
A fan on Twitter recently posted a screenshot from Wikipedia that described the incident, saying, "Head empty, only thinking about how Alan Alda met his wife." Alda (who knows his way around social media at 85, thank you) retweeted the post and added his own take. "We did eat the rum cake off the floor and were inseparable after that," he recalled. "But I was captivated by her even earlier in the meal when I heard her at the end of the table laughing at my jokes. She had me at Ha."
That memory got more than 100,000 likes and thousands of ferklempt replies. One follower sighed, "Seriously, how could this man up the awww factor of his already wonderful story AGAIN??" 
Another summed it up nicely: "We all just want someone to eat floor cake with."