Sha'Carri Richardson Has Something To Say About Her Last Place Finish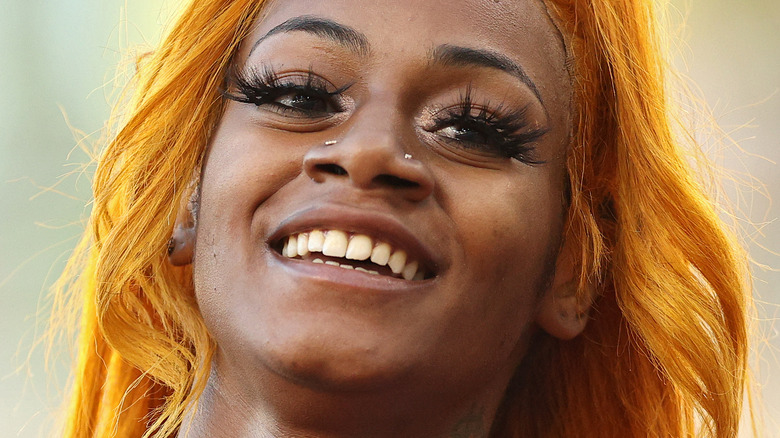 Patrick Smith/Getty Images
After a long and arduous road back to the sport she loves, Sha'Carri Richardson has something to say about her last place finish in the Prefontaine Classic. Despite winning the 100-meter dash, Richardson was not permitted to compete in the Tokyo Olympics after a failed drug test. She soon had her opportunity to compete against Olympians in the classic. And, while she did not win the race, she says that she is "not done." 
Richardson came in last place against eight other runners in the Prefontaine Classic's 100-meter race and withdrew from the 200-meter, (per ESPN). Her time in the 100-meter was 11.14 seconds, as opposed to Jamaican winner and Olympic gold medalist Elaine Thompson, who finished in 10.54 seconds — the second-fastest women's time in history.
Despite not taking home gold, Richardson assured the world that she is just getting started. "It was a great return back to the sport," she told NBC in an interview after the race (via ESPN). "I wanted to be able to come and perform having a month off. ... Not upset at myself at all. This is one race. I'm not done. You know what I'm capable of. Count me out if you want to. Talk all the s**t you want, 'cause I'm here to stay. I'm not done." She added, "I'm the sixth-fastest woman in this game, ever. And can't nobody ever take that from me. Congratulations to the winners. Congratulations to the people that won, but they're not done seeing me yet. Period."
Inside Sha'Carri Richardson's return to racing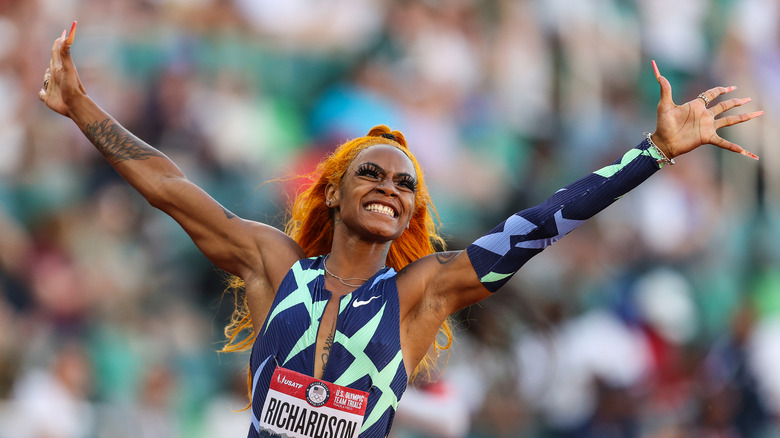 Patrick Smith/Getty Images
Sha'Carri Richardson was famously omitted from the USA Track and Field roster released for the Tokyo Olympics despite placing first in the 100-meter dash at the Olympic Trials (per NPR). She received a 30-day suspension for testing positive for THC, the compound found in marijuana. The suspension overlapped with the Olympics, forcing her to sit out the event. Speaking about the failed drug test with NBC's "TODAY," she explained that she used THC to cope with "emotional panic" following the death of her mother. "I know what I'm not allowed to do and I still made that decision," she said at the time. "[I'm] not making an excuse or looking for any empathy."
Richardson's suspension raised eyebrows around the world due to the fact that marijuana is legal in many states, including the Olympic trials' home state of Oregon. However, the ruling was upheld, as THC is banned by the World Anti-Doing Agency, which sets the standard for the Olympics. 
She also sent out a tweet to her followers explaining that she would return for the following year's World Athletics Championships. "I'm sorry, I can't be y'all Olympic Champ this year but I promise I'll be your World Champ next year," she wrote. Richardson's setbacks have been numerous, but her fans have remained supportive and she is back to competing. Despite her last place finish, the 21-year-old remains one of the fastest women in the world and has no plans of slowing down any time soon.