What We Know About Barron Trump's New School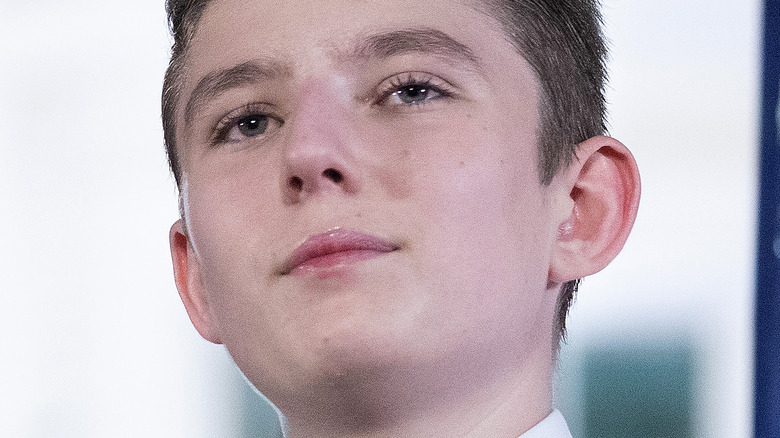 Chip Somodevilla/Getty Images
Donald Trump has a reputation for speaking his mind, but one topic he has famously kept mum about was his youngest son. He and wife Melania were careful to preserve the privacy of Barron Trump, who was only 10 years old when his father took office. Even now that the Trumps have resumed life as private citizens in their Mar-a-Lago resort home, they have diligently kept their teen out of the spotlight. But, at least one personal detail about Barron was recently made public: per The Washington Post, the former first son will begin his sophomore year at the Oxbridge Academy, a private school in West Palm Beach, on August 23. 
Oxbridge Academy is a relative newcomer to the prep school world. Per its website, the school was founded in 2011 and serves students from 7th grade through high school. The small 500-student school sits on a 54-acre campus, and promises to develop "young adults into learners, thinkers, and problem solvers" who are "prepared to meet the world boldly with initiative and kindness." The school boasts a diverse student body, with a third identifying as individuals of color. The ThunderWolves also have a number of regional and state championships to their credit in sports such as basketball, swimming, track, and golf.
In its decade-long history, Oxbridge graduates have gone on to prestigious colleges such as Yale, Dartmouth, University of Virginia, Vanderbilt, and Ohio State.
Barron Trump's school has connections to his father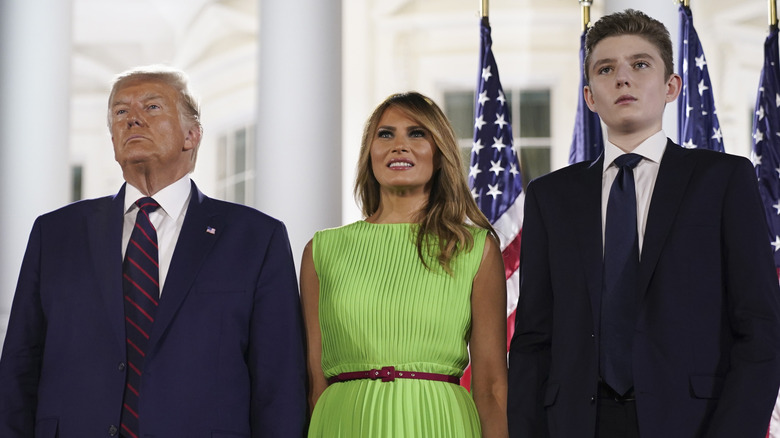 Bloomberg/Getty Images
During his father's tenure in the Oval Office, Barron Trump attended St. Andrew's Episcopal School, a private academy in Potomac, Maryland. The school serves preschoolers through high school, so Barron was able to transition directly from middle school to his freshman year, and presumably his first-year credits will transfer to his Oxbridge education.
At Oxbridge, Barron will be required to take a typical course load of classes in English, math, science, and social studies, and will choose from Spanish, French, Chinese, or American Sign Language for the language requirement. After school, Barron can choose from a number of activities, ranging from the brainy (National Honor Society, Model U.N.), to the just plain fun (Ukulele and Guitar Club, Rock Paper Scissors League).
Although the admissions process at Oxbridge is fairly rigorous — applicants have to submit a student statement, three years' worth of school transcripts, and recommendations from their current math and English teachers — it would have been surprising if Barron had not made the cut. Oxbridge was founded by William I. Koch, a member of the influential Koch family. While Charles and the late David Koch were critical of Trump during his administration, brother Bill stood by the president, holding a huge fundraising dinner in 2020 for the reelection campaign (via Politico). But the other brothers are still staunch conservatives who are united in their efforts to block the proposed expansion of voter rights, which would limit the so-called "dark money" secret political donations from billionaires such as themselves (via The New Yorker).
Barron Trump won't need to do this while at school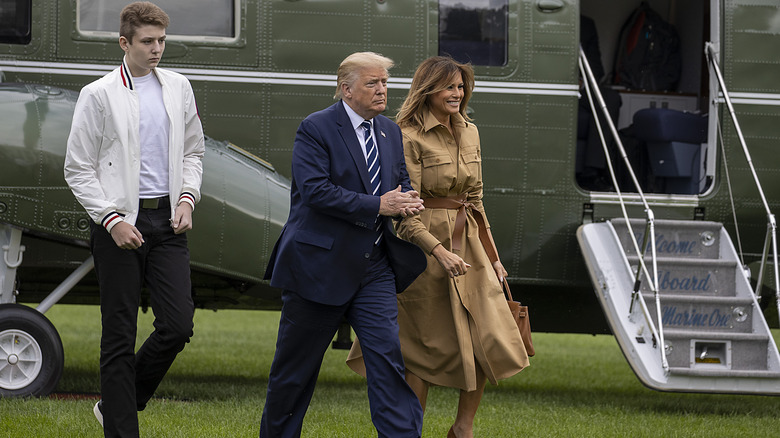 Tasos Katopodis/Getty Images
Per The Washington Post, Barron Trump will be accompanied by a small group of Secret Service agents while at school. This is the first time Oxbridge has dealt with this particular situation, but the school's head said in a statement, "We are working directly with the Secret Service to ensure that logistics and security work smoothly and discreetly with little impact on students, faculty, staff, or day-to-day operations." A spokesperson also told the news outlet that only a few parents have commented on the famous new student, though "most of [the feedback was] positive."
As one might expect, an elite education comes with an equally elite price tag. The 2021-22 school year tuition is $34,800, plus an annual fee of $2,000. New students like Barron need to pay a one-time enrollment fee of $1,250. Yet another expense: the Apple laptop required for all students, which can be either a standard model or a higher-end one for students in advanced tech or graphic design courses. About 40% of Oxbridge students receive financial aid to make the fee more affordable — but a child whose former address was 1600 Pennsylvania Avenue probably won't be among them.
As of this writing, Oxbridge's website has no mention of any COVID-19 protocols, such as illness policies or vaccination requirements. What's fairly certain, though, is that Barron won't have to worry about maskne. Per WFIX, Palm Beach County schools are not considering a mask mandate for county students.