The Bleak Warning This Royal Expert Has For Meghan And Harry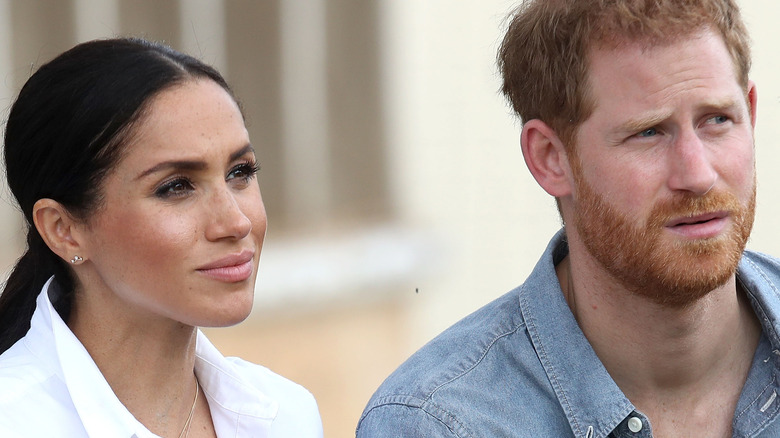 Chris Jackson/Getty Images
When Prince Harry and Meghan Markle stepped back from their royal duties in 2020, they probably assumed their problems were, if not over, then at least coming to an end. The famous couple memorably shared with Oprah Winfrey, during a groundbreaking interview, how tough their time in the U.K. had been, from dealing with allegedly racist family members to being relentlessly picked apart by the press wherever they went (via Insider). And yet, speaking up about their experience and moving to the States has only placed Meghan and Harry further under the microscope. 
Between scoring high-profile deals with the likes of Spotify and Netflix (via BBC) and writing books from their own unique perspectives (via Vanity Fair), no matter what the Duke and Duchess of Sussex do, somebody is always waiting in the wings to criticize them for it. In fact, although Meghan and Harry were condemned for complaining about their lack of security after giving up their royal status, they've also been criticized for trying to earn their own money to pay for it. It seems like the two can't win and, if this expert is to be believed, the worst might be yet to come for them. 
Meghan and Harry need to pay attention to history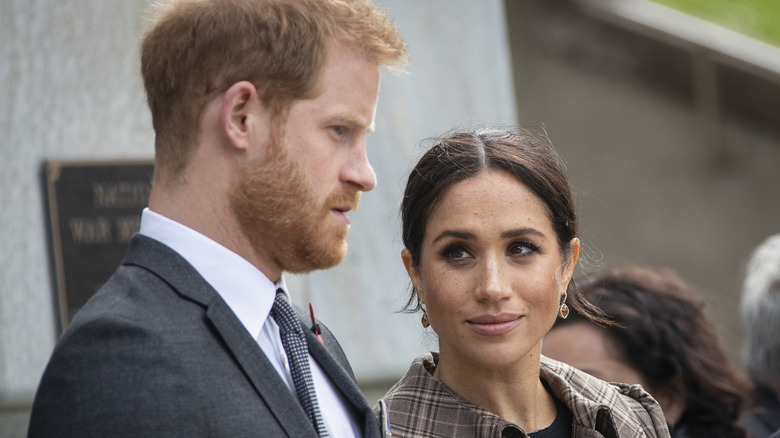 Pool/Getty Images
As People reports, Prince Harry's great-great-uncle Edward VIII published a tell-all memoir after infamously abdicating the throne to marry American socialite and, much like Meghan Markle, divorcee Wallis Simpson. After being cut off by the royal family, they struggled to make ends meet. The proceeds from his ghost-written biography helped fund the couple's second life, in France, while in 1970 they conducted a groundbreaking televised interview. "It's fascinating when you draw the parallels between the two," royal expert Nick Bullen acknowledged to Fox News. In fact, Edward even had a similar rivalry with his own brother, Bertie, but they never managed to fix things. Likewise, Edward's book was a major moment, representing "the first time a senior member of the royal family had written such a book." 
Bullen elaborated, "And he was paid a fortune at the time ... It had a tremendous impact. So, what kind of impact will Harry now have?" Bullen has been working on a documentary about the Duke and Duchess of Windsor, and reckons it should serve as a warning to Meghan and Harry about how their future could turn out since Edward and Wallis eventually "faded into obscurity and became bit players on the world stage." As the royal commentator asked, "How long will Harry and Meghan Markle's value stay at such a high level?"  Bullen's comments echo those from fellow royal expert Katie Nicholl, who previously warned  that Meghan and Harry's currency might be running out.