How To Wear Jackie Kennedy's Favorite Sandals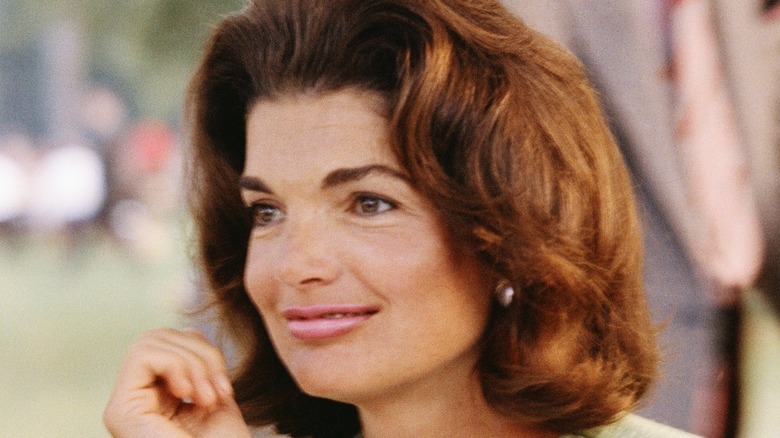 Michael Ochs Archives/Getty Images
Former First Lady Jacqueline Kennedy Onassis was one of the most influential style icons of the 20th century. From her chic Chanel suits, her unforgettable pillbox hats, and strapless gowns, she was the epitome of class.
"Jacqueline Kennedy is one of history's great style icons," Hamish Bowels, Editor in Chief of European Vogue told The Metropolitan Museum of Art regarding a 2001 exhibit honoring Mrs. Kennedy's prolific fashion choices. "Her profound influence on the way an entire generation wanted to look, dress, and behave cannot be overestimated."
While everyone knows about her elegant dresses, something that often goes overlooked in her iconic outfits was her great taste in footwear. "I had never seen such a dazzling selection of shoes! London-look boots, pumps in every color, spotless sneakers for morning jogs around the reservoir," Kathy McKeon, Jackie Kennedy's former personal assistant wrote in her memoir "Jackie's Girl" (via People).
Although there are many shoes out there that attempt to replicate Mrs. Kennedy's personal style, there is one specific Jackie Kennedy-inspired shoe design that you need to have in your wardrobe if you want to capture the grace and essence of the former first lady.
Jack Roger's Jack Flat Sandals will give you ultimate First Lady vibes
Jack Rogers
The Jacks Flat Sandals from Jack Rogers are unique, because they were actually commissioned by Jackie Kennedy herself. After a trip to Capri, Italy in the '60s, she brought a pair back to her cobbler in Palm Beach so they could replicate the style (via Jack Rogers), and the rest, as they say, is history, as Jackie Kennedy tended to have an immense effect on fashion trends at the time. Women flocked to this style to try to resemble Mrs. Kennedy's elegance, because what woman didn't want to look like Jackie Kennedy back in the '60s?
This brand's signature flat sandal has been a classic for over 60 years. With supple, whipstitched leather comes in nine unique patterns from classic black, white, and shiny platinum and silver, to a slightly more bold variation of reds, blues, and greens. Perfect for warm weather, these preppy shoes can be paired with practically any outfit, from denim jeans, a maxi dress, or button down and slacks for that extra Jackie Kennedy flair.