What Lady Gaga Really Looks Like Underneath All That Makeup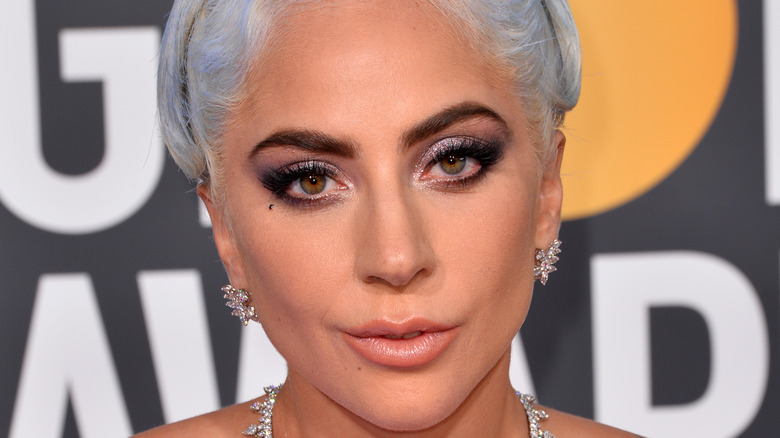 Featureflash Photo Agency/Shutterstock
Lady Gaga is one of the most glamorous pop stars in the music industry. She is famous for her iconic (and ever-changing) fashion, her outrageous options, and her gorgeous makeup looks. The singer and songwriter loves makeup so much that she even created her own line, Haus Laboratories, according to Allure. 
Though Gaga is naturally beautiful, she uses makeup to uplift her. She told Allure, "Makeup changed my life. I never felt beautiful, and I still have days that I don't feel beautiful. All of the insecurities that I've dealt with my whole life from being bullied when I was younger, they come right back up to bite me. Then I put makeup on, and before I know it, I feel this superhero within. It gives me those wings to fly. I'm not saying that makeup is the only thing that does that, but it did that for me."
With such a powerful connection to makeup, it's not a surprise that we often do not see Gaga out and about without any on.
Lady Gaga isn't afraid to post makeup-free selfies
The mastermind behind hits like "Born This Way" and "Rain On Me" loves to get in glam. It gives her confidence and plays into the larger-than-life character she has created as her persona. "When I became Lady Gaga when I was younger, it was because I discovered makeup and I discovered creating things myself. It means so much to me on a visceral level — the power of makeup to change how you feel when you're at your lowest," she told Allure.
Just because Gaga enjoys wearing makeup doesn't mean she isn't beautiful underneath it all. She has taken to her Instagram to post several makeup-free selfies, according to PureWow. Her fans even get a kick out of seeing her without makeup. In a recent Instagram post featuring a natural face Gaga, a fan commented, "Natural beauty though!," while another wrote, "Omg ur stunning."
The pop star who owns a makeup line loves getting into a full face, but she also looks breathtaking without makeup on!