Stay-Slim Snacks That Will Fulfill Your Craving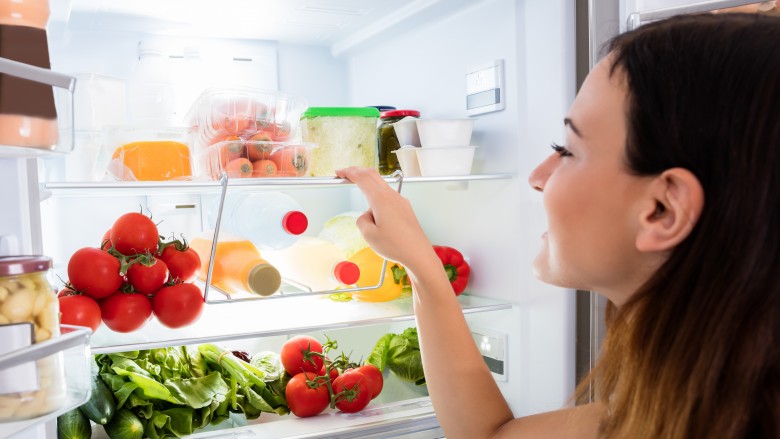 Shutterstock
When it comes to family and friends, I'm often their go-to when they need help finding snacks or meals that are healthy and fulfilling, while still being delicious. If you're new to following a healthy lifestyle, I understand how trying to navigate your way through can be the most daunting aspect to just getting started.
It's safe to say we all get cravings, whether you have a sweet tooth like me or find yourself reaching for and finishing a bag of chips, we all have our kryptonite. Luckily, there are alternatives. Here are the snacks that the experts recommend to fulfill that craving without worrying about being able to zip up your pants the next day.
Sweet potato nachos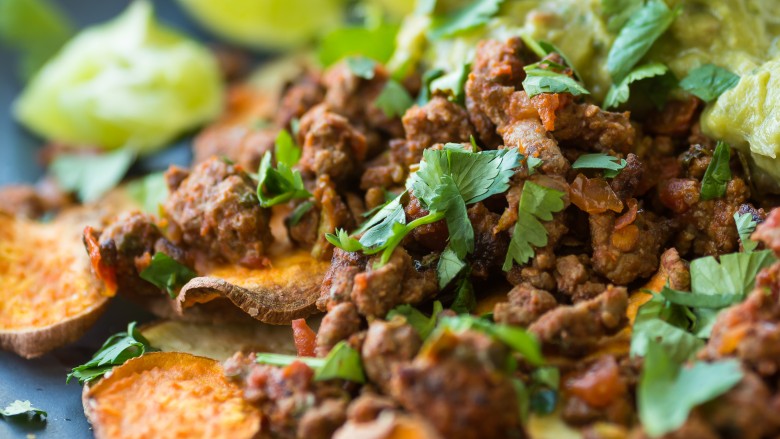 Shutterstock
It wasn't until college that I found a love for nachos. My boyfriend at the time was likely to thank for that. We would pick up a bag of chips, throw them on a plate with some shredded cheese, and toss it in the microwave until the cheese melted, then top with salsa before eating. It was the best we could do while living in the dorms, but once I was in my own apartment my love for nachos grew as I could now make them in the oven and add whatever other toppings I wanted. Jut thinking about it makes my mouth water, but when it comes to healthy foods, nachos aren't the first thing that comes to mind. That is, until now.
Instead of breaking out the big bag of salty chips, you can make your own sweet potato chips. According to Doctor of Natural Medicine and Clinical Nutritionist Josh Axe, "Sweet potatoes are also a great food to help you lose weight because they are: lower in calories, low on the glycemic index (which means that they won't spike your blood sugar), high in fiber, high in potassium."
Since you're making the chips yourself, you get to control the oil and salt used in the process of baking. Once the chips are done, simply top them with ground turkey, fresh veggies, and guacamole for a healthier nacho snack. This balance of carb, protein, and healthy fats means you could also make these nachos for dinner from time to time; it's all about balance after all.
Banana ice cream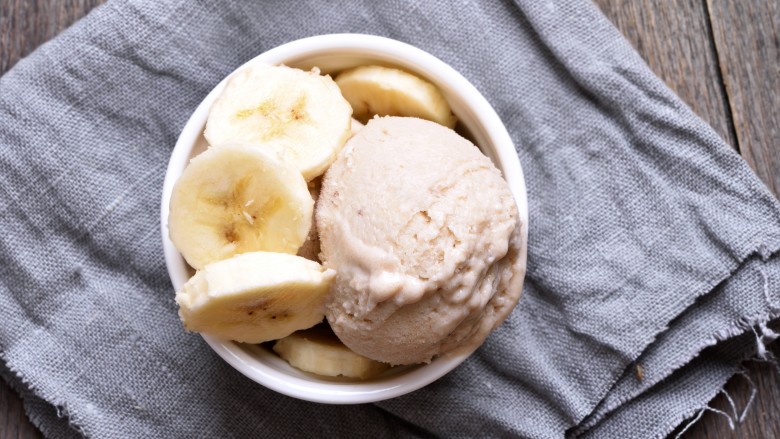 Shutterstock
One of my favorite things growing up was going to my grandma's house over the summer; she always had the best ice cream, cones, and bars hanging out in her freezer and since she loved spoiling her grandkids, she always gave us one. We all know that ice cream isn't the first thing you think of when it comes to healthy snacks, even if you're picking one up from the grocery store made from coconut milk there's still so much added sugar. So how do we get our ice cream fix, especially during those hot and humid summer months? Banana ice cream!
While regular ice creams are packed with heavy cream and added sugar, banana ice cream is just frozen bananas, so while it's cooling you down and easing your sweet tooth, it's also packed with dietary fiber and vitamin C. If that isn't enough reason to make the switch, Dr. Nick Gillitt of Dole's Nutrition Institute says, "Bananas contain resistant starch, whose by-products block conversion of some carbohydrates into fuel, forcing your body to rely on fat stores as well." Point being, when your body is using fat for energy, it's burning fat and keeping you trim.
Banana ice cream is one of the easiest things to make because the only things you need are frozen bananas and a blender or food processor. You blend the bananas until you have a nice creamy consistency and then you can doctor it up however you want, whether stirring in some cacao nibs for a "chocolate chip" variety or blending frozen strawberries with the bananas for a strawberry ice cream.
Hummus and veggies
Shutterstock
Veggies and hummus may not sound like the most crave-filling snack, but you would be surprised! If chips and dip are your thing, then I think you'll find hummus to be the perfect alternative.
Hummus is a traditional Middle Eastern food, but has become a staple in healthy diets across the globe. This is due not only to its delicious flavor, but its many health benefits. According to Dr. Axe, "Foods that help reduce inflammation also help in reducing the chance of arthritis and disease and they help to heal the body. Hummus has both garlic, olive oil, and chick peas which are all known anti-inflammatory foods." Chickpeas are also great when it comes to weight loss as they are packed with protein and B vitamins, which according to One Green Planet, "keep your metabolism humming along all day long."
Hummus comes in all sorts of different flavors and varieties, including classic, roasted garlic, jalapeño, beet, roasted red pepper, and spinach and artichoke, just to name a few. Just go to your local grocery store and you'll be mesmerized by all of the options. While I do often buy hummus, it's just as easy to make your own! My favorite kind to make at home is roasted garlic, in which I then dip carrots, celery, cucumbers, peppers, or plantain chips!
Chocolate peanut butter cookies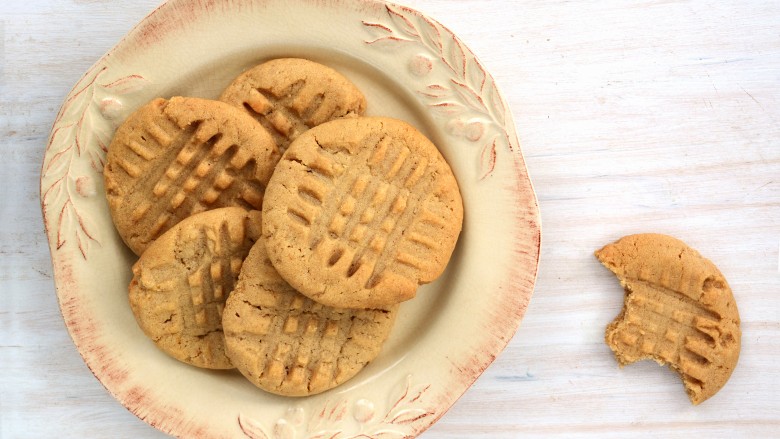 Shutterstock
I can't bring cookies into the house because I will eat every last one until they are gone. Even when I have the best of intentions, I must admit there's a certain point every month when those cookies don't stand a chance with me around. I think this is a fairly common problem for us ladies, so when this happens, I like to make a healthier variety for myself, like these chocolate peanut butter cookies. They have only five ingredients and since they're packed with all natural peanut butter, I am satiated a lot quicker, making it less likely that I'll find myself in an all-out cooke binge especially compared to store bought cookies packed with loads of sugar and questionable ingredients.
Most of us know that peanut butter is high in fat and calories, so we may not always think of it as a slimming food, but according to WebMD "you get a lot of nutrition for your 190-calorie investment. Nuts and nut butters are a great source of protein, fiber, vitamins, minerals, and phytochemicals." The Food and Drug Administration even approved a statement in 2003 that "scientific evidence suggests but does not prove that eating 1.5 ounces per day of most nuts as part of a diet low in saturated fat and cholesterol may reduce the risk of heart disease."
The mix of healthy fat, protein, and fiber will keep you fuller longer, thus making it less likely to ruin your waistline by reaching for an unhealthy snack. Just make sure you're choosing a variety with very few ingredients; I always make sure the peanut butter I'm buying contains peanuts and salt, at most.
Peanut butter banana pops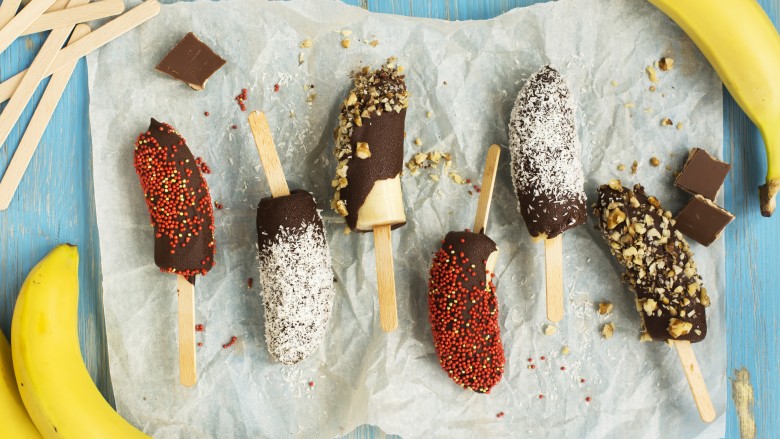 Shutterstock
Another way to get your ice cream fix is with frozen peanut butter banana pops. You simply coat half of a banana with a mixture of melted peanut butter and coconut oil, then roll it in the toppings of your choosing, like chia seeds, cacao nibs, nuts, shredded coconut, or granola. Throw them back in the freezer to set and enjoy on the next hot day when all you need is something cold and sweet to help cool you down.
My favorite topping is shredded coconut. While I get the benefits of the fiber and vitamin C in the banana, I'm also getting a manganese, potassium, phosphorus and electrolyte boost. Mixing the peanut butter with coconut oil is not only to help coat the banana, but it can also keep you slim. "Because of the energy creating abilities of coconut oil, it is no wonder that it is beneficial in losing weight. It helps to burn fat, decrease appetite and it studies it was especially helpful in losing belly fat!" says Dr. Axe.
Don't forget to freeze the banana prior to coating as it will stay on the popsicle stick a lot easier while you dip it in the toppings!
Strawberry shortcake chia pudding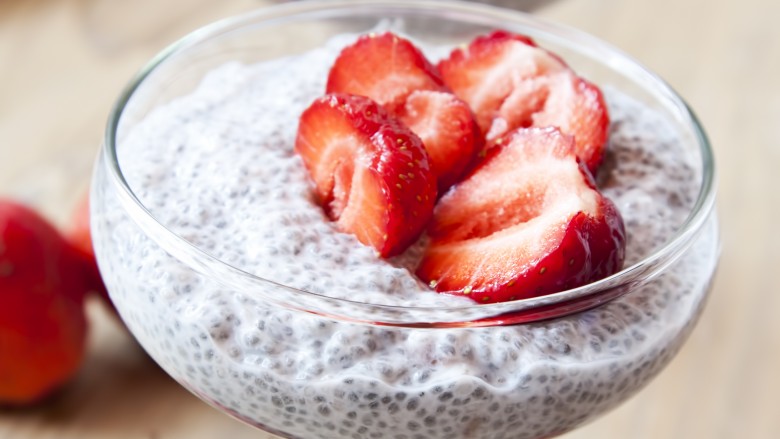 Shutterstock
Growing up, we went strawberry picking at least once every single summer. It was a family tradition that began back when my mom was a kid. We would always come home with baskets and baskets full of strawberries, plop down in front of the TV, watch a movie, and slice the strawberries. My mom and grandma would then prep some for freezing, but there was always a big bowl or two left out for fruit salads or everyone's favorite, strawberry shortcake. I was never a big fan of the shortcake, but piled high with strawberries and whipped cream, I wouldn't complain.
I took myself strawberry picking this past summer and came home with a big basket of strawberries. Just like when I was young, I prepared some for the freezer but then instead of making shortcake I made this strawberry shortcake chia pudding, piled high with fresh strawberries and a dollop of coconut cream. It hit the spot!
If you've never tried chia seeds, I highly suggest adding them to your diet. These little seeds are packed with nutrients and are a great source of plant-based protein. According to Dr. Axe, "By adding a serving of chia seeds a day you can help boost your metabolism and burn belly fat as well! Studies show that the addition of chia seeds to your diet also reduces visceral adipose tissue, a 'belly fat' tissue that effects the metabolism of the body and is a component of obesity!"
Baked beet chips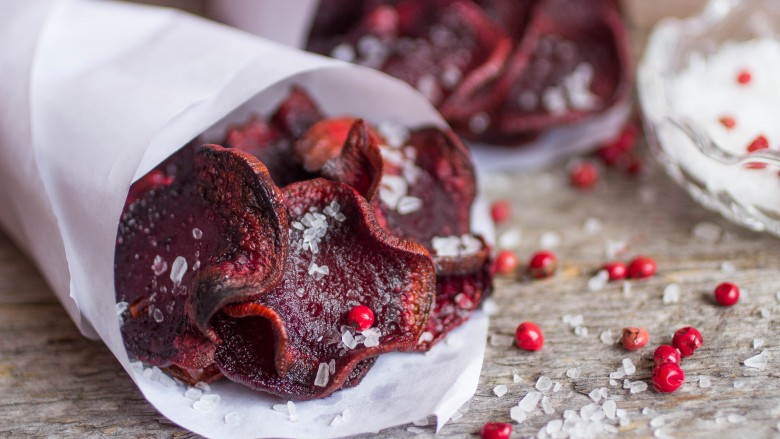 Shutterstock
If you're looking for another way to curb those chip cravings, I highly suggest trying these oven baked beet chips. I have always loved beets for their natural sweetness, but they're also packed with health benefits. According to Osteopathic Physician Joseph Mercola, "Beets are high in immune-boosting vitamin C, fiber, and essential minerals like potassium (essential for healthy nerve and muscle function) and manganese (which is good for your bones, liver, kidneys, and pancreas). Beets also contain the B vitamin folate, which helps reduce the risk of birth defects."
Registered Dietitian Lisa Moscovitz told Women's Health, "Eating salt does not directly increase body fat, but it can increase water retention, which would show up on the scale." By making our own chips, like these beet chips, we're better able to control not only the amount of oil used but also, the amount of salt.
Thinly slice beets, toss in olive oil and sea salt, and bake in the oven for a crunchy, chip-like snack full of healthy benefits!
Cookie bites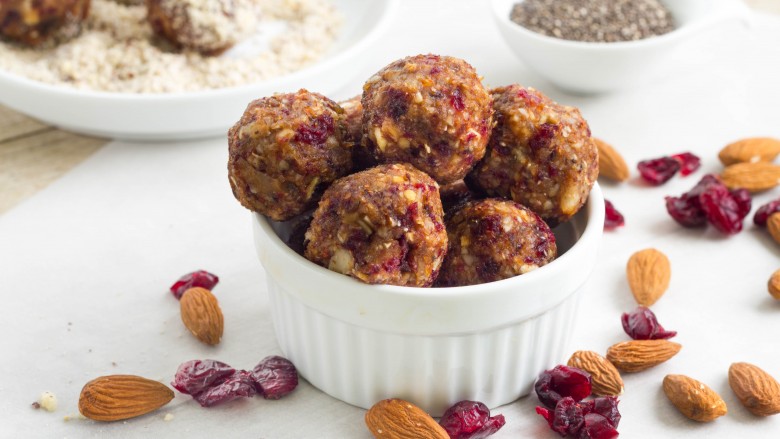 Shutterstock
What if I told you that it only takes three simple ingredients to end up with a healthy treat that tastes just like cookie dough? No baking and no risk of uncooked eggs or raw flour required! These three ingredient cookie bites are just that. Plus, while they're delicious as is, you could always play around with other mix-ins, like dried cherries or cranberries, to help fill whatever craving may be striking you on any particular day.
One of the main ingredients in these cookie bites are cashews. "Cashews and other nuts are often recommended to improve heart health. Cashews are rich in unsaturated fatty acids and numerous other beneficial compounds, including plant-based protein, dietary fiber, minerals like copper, zinc and magnesium, plus antioxidants in the form of phytosterols and phenolic compounds," said Dr. Axe. The most important mineral to note in this case is magnesium, which is "essential for regulating the metabolism of fat and carbohydrates, which may help you lose weight."
If you're not up for making your own, just head to your local grocery store and look for larabars. These real food based bars are made with simple ingredients and I promise, their cookie dough flavor tastes like cookie dough!
Baked stuffed apples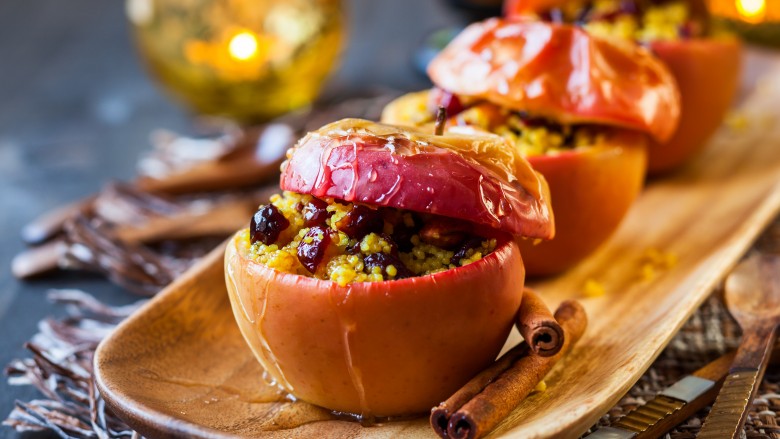 Shutterstock
I'm not someone who often craves pie, but if you've ever had a homemade apple pie with freshly picked apples then you understand the loss when you realize that won't fit into your diet anymore. Thankfully, there's an alternative: baked stuffed apples.
Dr. César A. Lara said it best, "Eating high-fiber, low calorie foods such as apples can help promote healthy weight loss." That's clear enough for me; grab an apple!
These apples are stuffed with oats, walnuts, and dried cranberries which will provide that feeling of a crumbly topping, plus with the soft cinnamon apple, you won't find yourself missing that pie filling. If you like to top your pie with whipped cream or ice cream, you could whip up some coconut cream and put a dollop right on top!
Peanut butter cups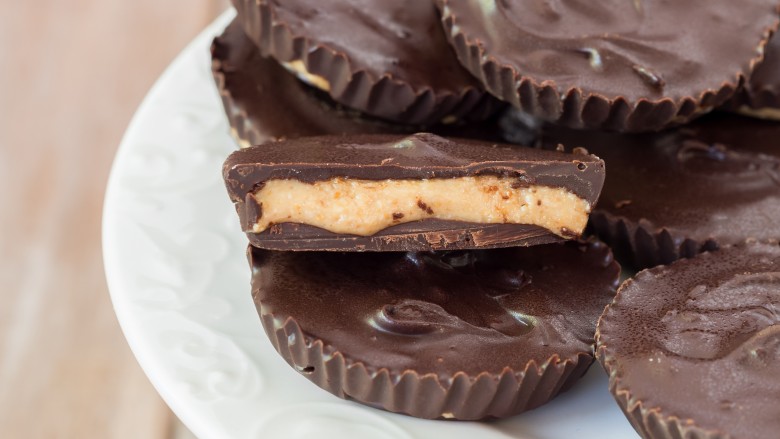 Shutterstock
If you've ever opened a bag of mini peanut butter chocolate cups, then you know the feeling that you can't stop until they're gone. Suddenly the bag is empty and you're trying to destroy the evidence without noticing just how many calories and grams of fat you consumed. They're addictive and delicious in both the best and worst ways possible.
What if I told you you can have chocolate peanut butter cups without the guilt while fulfilling the craving? I swear it's possible with these skinny dark chocolate peanut butter cups. The key here is using dark chocolate, which is packed with antioxidants and may even help lower blood pressure.
Dark chocolate is also great for increasing insulin sensitivity, which will help stabilize blood sugar, reduce sugar cravings and ultimately keep your waistline happy. Run, don't walk to the kitchen to make these!
All things with moderation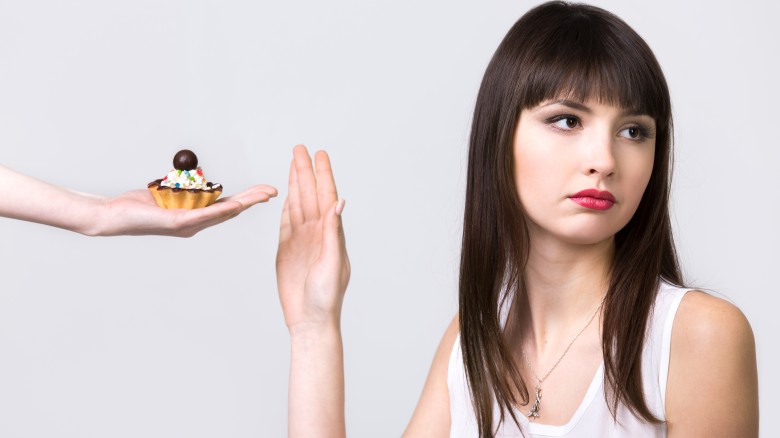 Shutterstock
It's important to note that whether you're reaching for one of these sweet treats, a crunchy and salty alternative, or even just a handful of almonds, you should still be abiding by the idea of moderation. A skinny peanut butter cup may be better for you than a Reese's peanut butter cup, but if you eat ten in one sitting, you're not that much better off.
If you know you're going to have a hard time eating just one or two portions of the healthier version, cut the recipe down so it's a single serving so you can't be tempted to binge on them all. If there's one thing you take away, I hope you realize it is possible to fulfill all of your cravings without sacrificing your healthy lifestyle, waistline or skinny jeans; all it takes is a little planning and a great replacement!