Signs Your Bra Doesn't Fit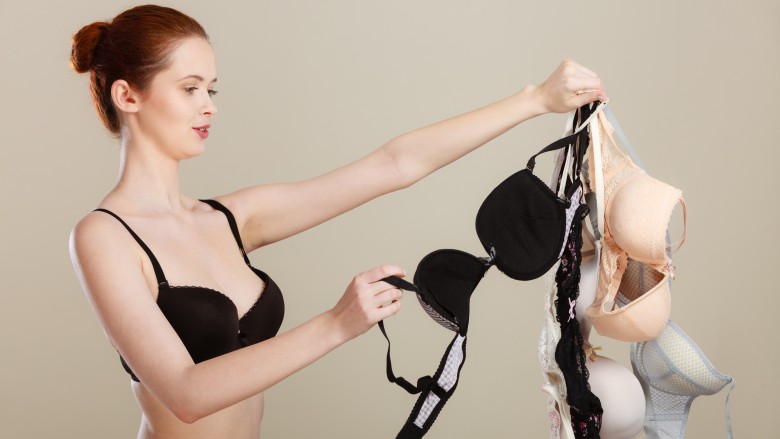 Shutterstock
Bra shopping is one of those activities that I have a love/hate relationship with. On the one hand, it always feels nice to wear brand-new undergarments. But on the other hand, the journey to find the perfect bra is rarely one free of obstacles.
"I think many women dread bra shopping, probably because 80 percent of them are wearing the wrong size," Pilar Quintana, vice president of Yandy.com, a leading online retailer of women's specialty apparel, told me. "A properly fit bra aids in breast support, good posture, and can make or break an outfit."
Here are a few signs it's time to toss your old bra and get your girls into one that fits.
Cup overflow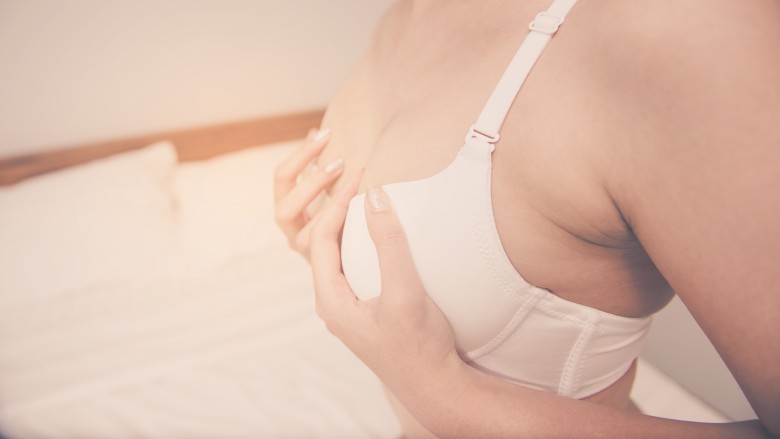 Shutterstock
Spills are never a good thing, including in the world of undergarments. If your breasts are constantly escaping from their cups every time you lean over, you may want to revisit what bra size you're wearing, according to Clare Robertson, head of innovation at Panache: "This creates the dreaded 'quad-boob,' which gives a lumpy and bumpy appearance under clingy tops and tees." She told me that too-small cups are uncomfortable on the breast tissue, too, as "the bra will cut into the bust rather than fully enclose and support it."
Cup overflow from your sports bra can also create a majorly uncomfortable workout, said Sara Moylan, the founder and creator of Shefit. "When you're spilling out of your sports bra — whether from the top or the bottom — you've probably chosen the wrong size," she told me in an interview. "Spillage over the top is a sign your bra is probably a size, or two, too small. And, while showing off a little under-boob might be a go-to look for Rihanna or the Kardashians, it's not a fun surprise in the middle of a workout."
The weight is on your shoulders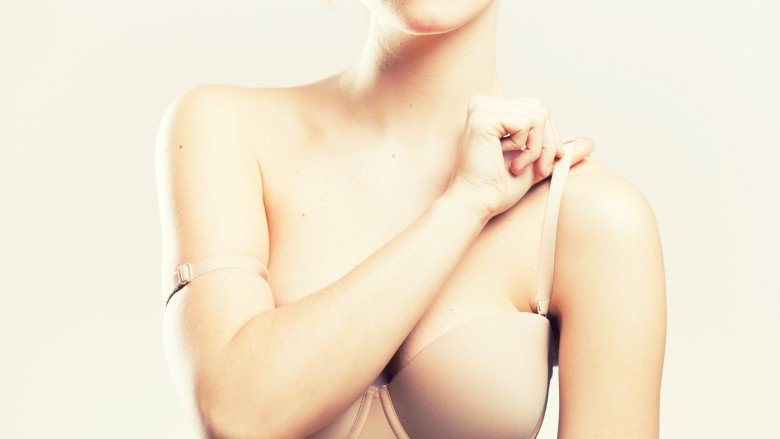 Shutterstock
It's already enough that our shoulders take a beating carrying around heavy purses. Don't let your bra straps make things even worse. "Proper bra support should come from the underband, not the straps," said Robertson. "If the straps are digging into the shoulders, they are supporting too much weight of the breasts. Aesthetically, this could cause a few issues, including lumps on a woman's back if the band is loose enough to shift around." Too much pressure from the straps also leads to slouching, poor posture, and shoulder pain, she noted.
Moylan agreed, saying, "A supportive rib band can act as a shelf for the breast to sit upon rather than putting all the strain on your shoulders. Let your ribs carry some of the bust weight to help give your shoulders a rest." She also stressed, "Shoulder straps should never hurt. Just never."
The band is dancing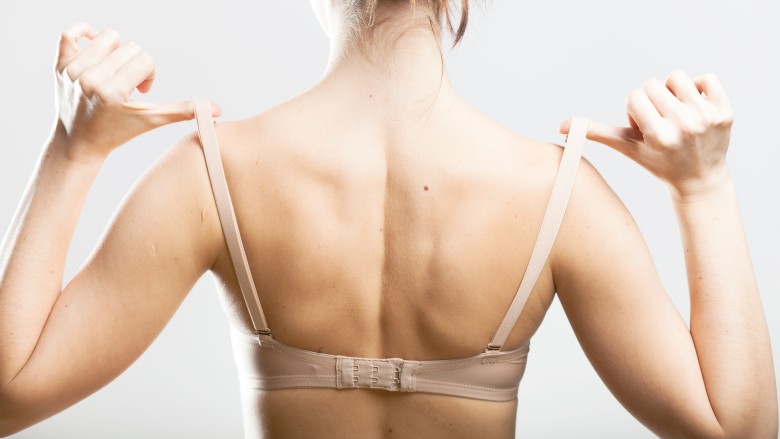 Shutterstock
This may be a good thing if you're at a lively concert. But when it comes to your bra, says Cindy Johnson, proprietor of SOL Lingerie in Denver, Colo., it's a bad sign. "Eighty percent of your support comes from the band staying snug and even around the rib cage," she told me. So if you find that your bra band is constantly dancing up your back, it may be time for an upgrade.
A band that feels like the enemy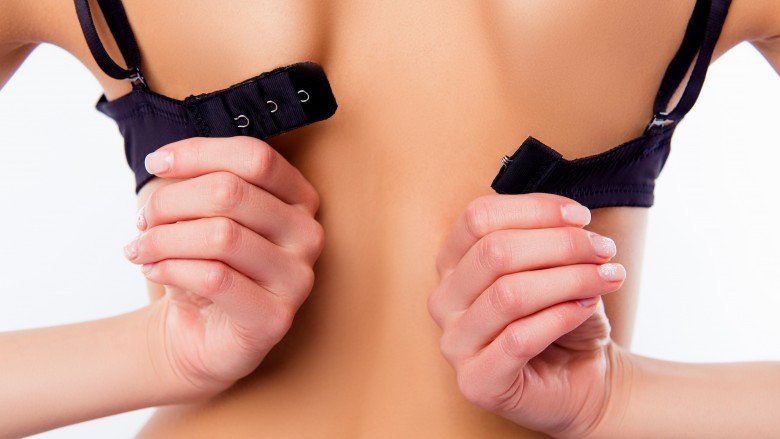 Shutterstock
If you ever feel like you're in a fight with your bra, constantly pulling down the band, or clasping and re-clasping, it could mean you're in the wrong size. "Typically women are wearing the wrong size bra where the band is too loose and the cups are too tight, but we've also seen women with uncomfortably tight bands, too," said Robertson. "The key indicator is if the hook-and-eye clasp is straining and pulling; this means that the back size is too small." She added, "This will lead to a lumpy silhouette under a clingy top, and it also will cause pain in the rib cage area."
Rubbing you the wrong way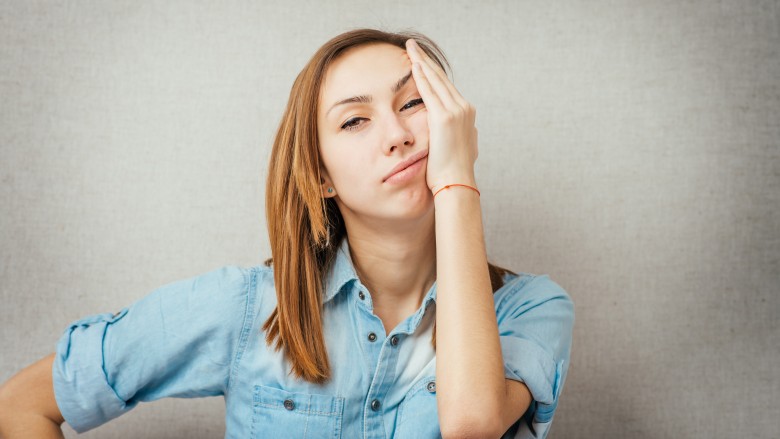 Shutterstock
Wearing something uncomfortable is awful. Wearing something that is straight up painful is the absolute worst. If you've ever been a victim of bra chafing, Moylan said it may be time to break up. "Chafing is caused by sweating and rubbing against the skin. While you can help reduce chafing by staying more hydrated (to help increase sweat production and reduce sweat's salt crystallization), the best solution is to wear proper fitting workout gear. A sports bra that incorporates adjustable sizing in both the rib band and the shoulder straps, like the Shefit Ultimate, can help women customize the fit and minimize rubbing and chafing,"
Runaway straps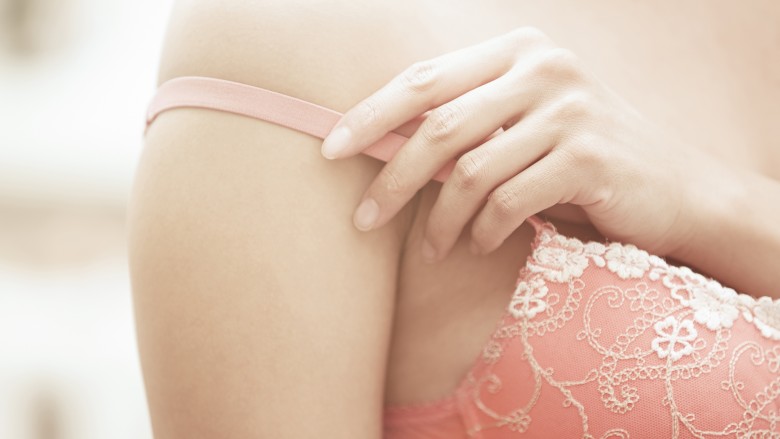 Shutterstock
Are you constantly tightening your bra straps, only to have them continuously fall down? "Straps are only stabilizers," Cynthia Decker, the owner of LiviRae Lingerie in Atlanta, Ga., who also appeared on Lifetime's reality show Double Divas, told me in an interview. "If you are using your straps to try and lift the breast, then your bra is not fitting," she said. "The band needs to stay tight lower than or even with your bust line which allows the straps to pull against, giving some lift and support."
You've lost a bit of weight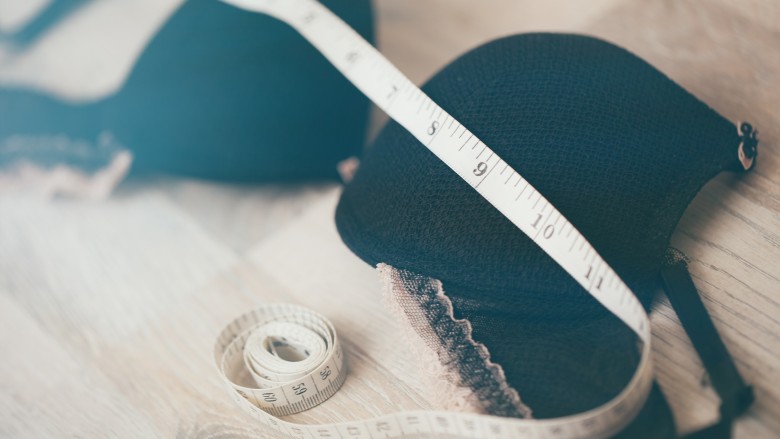 Shutterstock
If you're in the process of losing weight, you'll need to buy more than just a smaller pair of jeans. "Sometimes when we lose weight it's not obvious to us that our bra is too big," said Decker. If you start noticing wrinkles in the top of your cups and more than a finger's width of space, it's time to get re-fitted. "You lose bust weight in the first 10-15 pounds," Decker added. "After that, it is OK to purchase new bras. This will help you look and feel better about your new body."
Uniboob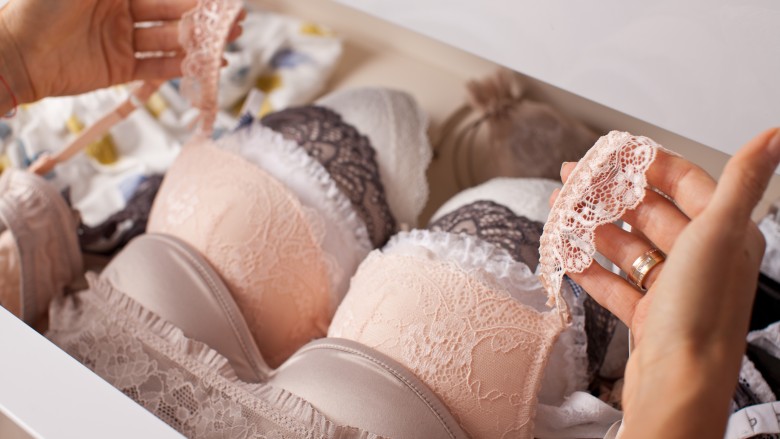 Shutterstock
A good bra will help lift and separate. If it's doing anything else, bra fit expert Dionne Morrison, who owns Baba's Lingerie, says it's not doing it's job. "If the gore (where the underwires meet at the center of your breasts) of your bra doesn't lift and separate your breasts (i.e. lay flat against your chest while lifting the breasts), then the bra is not a perfect fit and will not last as long," she told me. On the other hand, if the bra is a wire-free style and the seams are not meeting, Morrison said the breasts will squeeze together and give the appearance of a "unibreast."
All about comfort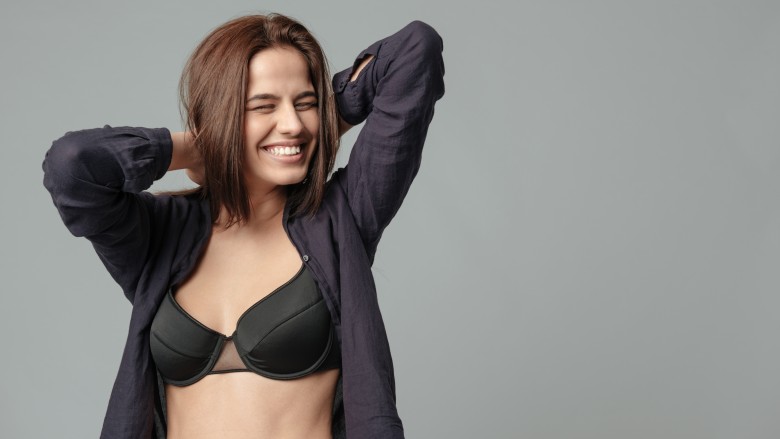 Shutterstock
Whether it's pinching, poking or moving around, a bra that is a hassle is never a good sign. "The telltale sign that your bra doesn't fit is comfort," Orit Hashay, CEO and founder of Brayola, told me. "If you're uncomfortable and moving around all day, picking up the straps, pulling it down, or getting some serious red marks, then your bra definitely doesn't fit right."
Darlene Campbell of specialty shirt line Campbell & Kate agreed, telling me, "If you're even thinking about your bra throughout the day, there's a good chance it doesn't fit."
The same goes for your sports bra, said Moylan. "Honestly, if your bra is not adjustable, there is a good chance it is just not going to fit right," she told me. "Look for a sports bra that is fully adjustable in both the rib band and shoulder straps to ensure you get your most personalized fit and the best level of support. Heck, it's your bra, you should wear it your way!"