Crazy Moments When Celebs Went Undercover To Surprise Their Fans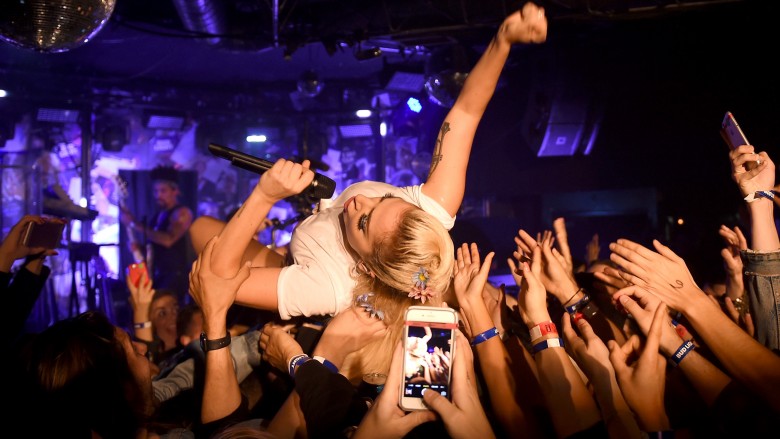 Getty Images
Surprises are fun, but imagine getting one from your favorite celeb? Picture yourself walking down the street, in a ride share program, at a job interview, or simply singing karaoke with your friends when your favorite celebrity unveils themselves!
That's what happened to many unsuspecting victims when these celebs decided to have some ultimate fun, going undercover to surprise their fans.
Adele
When I'm driving, I like to rock my best Adele impression when her songs come on the radio. But some of her fans impersonate her beyond the comfort of their cars. In 2015, a select few of those fans were asked by the BBC to audition for a "secret project" and they jumped on board.
With the help of Graham Norton, Adele went undercover as one of the impersonators. She wore a prosthetic nose, chin, and gloves to cover her tattoos, but the moment she sang the first few lines of "Make You Feel My Love," the fans knew it was her and appropriately freaked out.
David Beckham
Some unsuspecting Target shoppers got the chance to meet David Beckham in 2011 as he posed undercover as an employee, promoting one of his signature fragrances. The prank was set up by joke master Ellen DeGeneres. As she watched from her studio, DeGeneres told Beckham what to say to passersby, through an earpiece.
He was a great sport, saying and doing all the silly things DeGeneres asked, including singing out loud, shouting and spraying customers with the cologne.
Katy Perry
In 2014, Katy Perry crashed five separate birthday parties — in flawless disguise — for her music video for the song "Birthday." With some amazing make-up and a little acting she appeared as five different characters dubbed "the world's worst birthday party entertainers."
Perry loves surprising her fans. According to E!, she shocked fans in London at a secret screening of her documentary Part of Me by working the concessions counter before revealing herself to her fans.
Bon Jovi
In 2016, Bon Jovi went undercover to promote a charity contest by surprising fans at a karaoke bar. He walked around the room posing as the bartender, disguised with a fake beard, hair, glasses, and a cowboy hat.
He waited for the karaoke goers and fans to belt along to his most popular hits before revealing himself to their utter shock and surprise.
Jewel
In 2010, Funny or Die had Jewel surprising fans at a Los Angeles karaoke bar. Wearing a prosthetic nose, wig, and business attire, she played Karen, a quiet and homely looking professional who was nervous to get up and sing on stage.
With the encouragement of the crowd and her planted "coworkers," she got up there and blew the entire audience away singing a couple of her hit songs. She came back moments later, out of her disguise, to perform some more of her songs before revealing to the crowd that she had in fact been "Karen" the whole time.
Channing Tatum
Fans of Channing Tatum got the surprise of their lives when they attended what they thought was a run-of-the-mill advanced screening of Magic Mike XXL. Tatum, with the help of some serious make-up, went from People's Sexiest Man Alive, to a balding, bearded, marketing representative who interviewed the moviegoers about what they thought about the film.
Before the crowd even saw the film they were treated to a group of shirtless male dancers performing an impromptu routine. Many eyebrows were raised when the "marketing rep" joined in on the performance, going so far as to twerk on the lap of a lady in the front row. While she might have been uncomfortable at first, those feelings dissipated when Tatum ripped off his disguise to reveal himself to the crowd of rowdy ladies.
The Kardashians
One day, sisters Khloe, Kylie, and Kendall decided to pull a prank and undergo some major makeovers to make themselves completely unrecognizable. The girls hopped on a Hollywood Tours ride and they captured the adventure on their live-streams and Snapchats. They went unnoticed until fans who saw the videos online caught up with them.
Kim also played a similar prank when she went to an interview to be an assistant for the Kardashians, disguised as a woman named Cynthia. When she finally revealed herself, her sister Kourtney was surprised too, even though she was sitting there the whole time.
Arnold Schwarzenegger
Arnold Schwarzenegger went undercover in his famous role as The Terminator to promote a charity contest to join him at the premiere of the latest installment, Terminator Genisys. He walked down Hollywood Blvd. in full costume, chatting with strangers and fans, and even had a run-in with another Terminator. Later, he posed absolutely still inside Madame Tussaud's Hollywood wax museum before giving some tourists the fright of their life.
But that wasn't the first time he's gone out in disguise to surprise fans for charity. In 2014, he teamed up with Omaze to work undercover at a Gold's gym in Venice to promote health, fitness, and the After-School All-Stars program.
Drake
The night after Drake hosted the ESPYs in 2014, Jimmy Kimmel sent him out on the street dressed in a fake beard, wig and glasses to chat with people to see what they thought about him.
He ran into some people who kind of knew who he was, some who weren't fans at all, and one fan who couldn't handle it when he realized he was about to rap some of Drake's Young Money song "Trophies," to the man himself.
Usher
This 2015 surprise by Usher in Venice Beach was pure gold. Clare, a self-proclaimed superfan of the singer and dancer, flew from England to participate in what she thought was a documentary about him.
To her absolute joy and shock, a golden-clad and fully-covered street performer with Usher-like moves revealed his identity, as the star himself.
U2
Jimmy Fallon took U2 down to NYC's 42nd St. subway station to pull a little prank on some unsuspecting commuters. The band members dressed up in disguise to busk on the subway platform. They played for a few minutes before Fallon revealed them as the real band and the crowd riled up!