Why Bonnie From Big Little Lies Looks So Familiar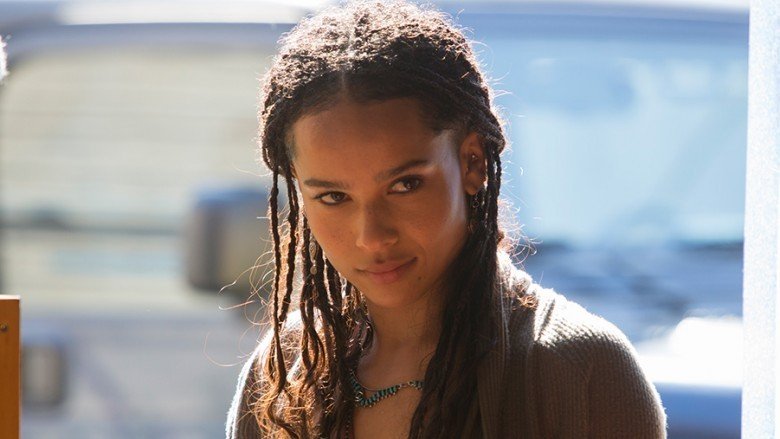 HBO
In 2017, HBO's Big Little Lies started making waves as one in a long line of ground-breaking programs that clearly, from the beginning, wasn't going to be pulling any punches. With big names like Nicole Kidman and Reese Witherspoon front and center, there were other familiar faces, too, including the actress portraying yoga-loving Bonnie. That's Zoe Kravitz, the daughter of Lenny Kravitz and Lisa Bonet, and if you think you've seen her before, you're not wrong. You might not be able to place her, though, as she's taken on a whole list of roles across a variety of genres. It's not just movies you might recognize her from, either, as her talents span almost every area of the entertainment world.
No Reservations and The Brave One (2007)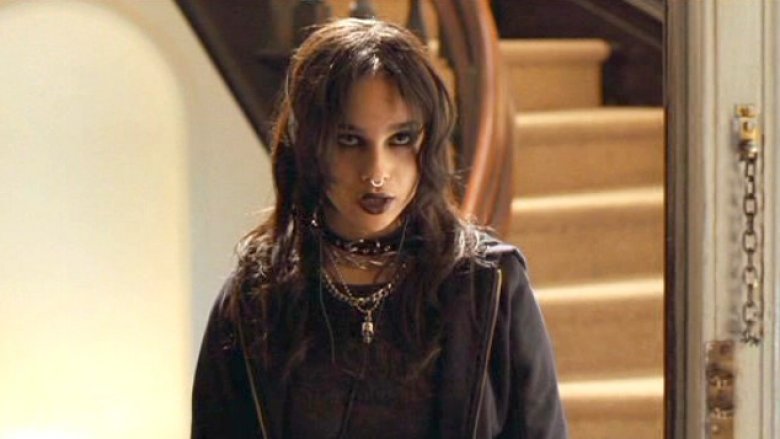 Zoe Kravitz kick-started her acting career in 2007 with No Reservations and The Brave One. She wasn't alone on No Reservations — as a teenager she wasn't allowed to be on set without a guardian. According to The Guardian, that father figure was her actual father: Lenny Kravitz. Her first day on set caused a bit of upheaval when she showed up before him, telling him exactly what she thought of his tardiness and the disruption to filming that his late appearance caused... but he was never late again.
While she was cast as a goth babysitter in No Reservations, her role in The Brave One was a little less traditional, and she would later say that went a long way in helping to set up just how she looked at potential roles. Kravitz played a girl that the movie's hero, a vigilante Jodie Foster, has saved from the clutches of a shady city pimp. According to an interview she did with the Associated Press (via Jezebel), it gave her hopes that Hollywood might look past the color of her skin and see her acting talent — and the possibilities inherent in some roles. "[My role] was written for a blonde, white, Russian girl," she said. "I was like, 'I'll audition for it anyway. It changed [director Neil Jordan's] mind about how he saw the role."
For her, this early experience gave her a whole lot of hope. "I love the fact that there's such an open dialogue right now about women in Hollywood and black women and black men in Hollywood and everything in between. Now, it's about us bringing the change."
Birds of America (2008)
YouTube
Fans of Matthew Perry might recognize Birds of America, a 2008 entry at the Sundance Film Festival. While reviews from The Hollywood Reporter and Variety were less than kind, the film was significant for Kravitz. While she had a supporting role, she was also introduced to Ben Foster on set.
At the time, Foster was 27 and Kravitz was 19, but the relationship wouldn't last. Instead, it would be the first in a few relationships that would develop between Kravitz and her co-stars, and the pair were front and center in another bit of celebrity gossip when in 2011, Kravitz hooked up with X-Men: First Class co-star Michael Fassbender. Not only was there another massive age gap here (Kravitz was 22 and Fassbender was 34), but Us Weekly reported that they had been seen in the company of a group of friends that included Foster. Tabloid fodder? For sure!
Californication (2011)
In 2010, Entertainment Weekly broke the news that Showtime's Californication was going to be getting a six-episode guest star in Kravitz. Although they reported her character's name incorrectly (saying her character was going to be called Zoe) and they were sketchy on the details, the basics were right. Her storyline involved the daughter of David Duchovny's Hank Moody, who moves out on her own in season four in an attempt to get some independence from her father's ways. Because it's what all teen girls in California aspire to, Becca Moody heads off to join an all-girl band fronted by Kravitz's Pearl.
The Los Angeles Times took a look at everything that went into creating Californication's Queens of Dogtown, as the move is one that very easily could have led to the show jumping the shark. Instead of simply casting an actual band, music supervisors said that they scrambled to find actors who were both musicians and actors. "What ended up happening is it became more evident these musicians also needed to know how to act and how to read lines," said music supervisor Budd Carr. "It was more advantageous to put together a band since obviously not all musicians are actors. We had to find a great band... and kids that could act."
While Madeleine Martin (Becca Moody) needed to learn how to play, Kravitz's musical background made her a clear fit. When they found her punk sound and channeled it toward '80s covers, they found something that absolutely worked in the context of the show. It worked so well, in fact, that some of their songs are featured on the Californication soundtrack.
X-Men: First Class (2011)
In a huge departure from her previous punk- and goth-inspired roles, Kravitz was introduced to a whole new genre when she played Angel, the stripper mutant who takes Magneto and Xavier into the back room of a club... to share the truth of their mutant powers.
According to what Kravitz told MTV, she had thought she had so little chance of scoring the role that not only did she not take the audition seriously, but she showed up hungover and dressed in a way she described as "totally not being a sexy X-Men character." They saw something in her, though, and asked her to return. "I went back in and in the next two weeks, I was on plane to London." Once she was involved in the franchise, though, she says that she was totally hooked on the character's backstory, and that she'd had hopes of showing up in future films. "
Playing a character that can fly presented no small set of challenges, and there was a month of planning, prep, and training that went into not just figuring out how the tattoos and wings were going to look, but preparing her to do wire work so she was comfortable enough that flying would look like second nature. They were all so caught up in the mechanics of filming, she said, that it wasn't until after they were done that they got a real look at just how much the franchise — and the film — meant to their fan base. "When the trailer came out, I looked at it on YouTube and there were pages and pages and pages of comments. People were getting heated. And all the blogs — it's crazy! This is really near and dear to a lot of people, so I hope we don't disappoint them!"
Kravitz was also a part of a bit of tabloid gossip regarding not only the movie, but the impressive number of couples who hooked up during filming. According to The Daily Beast, not only did January Jones become mysteriously pregnant during filming, but Kravitz went public with a blossoming romance with Michael Fassbender.
Divergent (2014), Insurgent (2015), and Allegiant (2016)
Starting with 2014's Divergent, Kravitz starred as one of the main characters in the film trilogy inspired by Veronica Roth's dystopian sci-fi series. When it came time to face just how big of an experience it was going to be, she says that while she wasn't wary of the experience, she was all too aware of just how much it had the potential to be life-changing.
"I wasn't hesitant like I didn't want to do it, but I was definitely aware, especially now that we have Twilight and Hunger Games, we've seen how it affects the people's lives that are in it. So I was cautious but I really like the story and I really liked the book, so it wasn't a hard decision," she told Collider.
She hadn't even heard of the books before being cast, but once she read the script and read the books, she said that there was so much about the story that confirmed it was absolutely the right thing to do. "What I like about Christina is her honesty, and me as an actor, I'm trying to be as honest as I can for my performance of her," she said. "So I hope that they feel her authenticity. She's not ashamed of who she is, and that's what I love about her so much. I hope that's what young woman can take away from her, too."
Kravtiz also says that it was during the filming for Insurgent that she discovered that she actually had a pretty massive fear: heights. Those that have seen the movie know that there's some dizzying stunts, and according to what she told Page Six, there were some things that she just couldn't bring herself to do. "My body would not allow me to take that last step," she said. "We're harnessed in... but I couldn't do it. Stunt double!"
The Road Within (2014)
An overwhelming number of people who watch the beautiful people on the big and small screens feel the pressure to look like those they see on film. It might seem impossible that anyone on the screen has the same issues, but The Road Within allowed Kravitz the chance to open up about her own struggles with self esteem and an eating disorder.
Kravitz played Marie, a girl who finds herself in a clinic looking for a balance between controlling everything in her life and fixing her problems. "She is a really strong young woman and because she's so strong, she just wants to control everything," Kravitz told Nylon. "Food is part of that for her. It's amazing to play a really strong character that also has a weakness."
Kravitz lost an incredible amount of weight for the role, and by the time filming started, she weighed only 90 pounds. Even though she says she tried to do it in a healthy way, it left her lightheaded, weak, and exhausted. More than that, it took her back to a place she had been years before. Beginning when she was 13, she struggled with an eating disorder, too, one that was in part from a desire to compare herself to all the beautiful people who traveled in her family's circle. "It was really, really bad in high school," she told People. "When I was 16, 17, 18, it was at its worst and it trickled into my early 20s. I think it's important for people to hear that people within the industry feel that, too," she added. "I will always compare myself to the beautiful blond bombshell with huge boobs. It's the name of the game."
Kravitz spoke candidly about what she was feeling, and what it took to be able to overcome her problems. She says that when people began complimenting her on her weight loss and when that went in complete opposition to what she was making herself feel, she knew she had to break the cycle. Worst of all? When she got so weak that she lost her voice and couldn't sing. "I love to sing, and I was realizing the way I had treated my body and all that hatred I had toward my body for so long was now affecting what I loved about my body, which was singing. And you can't really get away with treating yourself badly without consequences."
Mad Max: Fury Road (2015)
It wasn't until 2015 that the long-awaited new installment of the Mad Max movies finally hit the big screen, and in addition to Max himself and Charlize Theron's Furiosa, the other stars of the movie were the five brides rescued from Immortan Joe and spirited away across the wasteland. None of the brides look anything like they do outside of the film, all dirty, disheveled, and in various states of panic. Kravitz — without her signature long hair — played Toast the Knowing, and has said that it was unlike any other experience she'd had so far.
That was, in large part, due to her fairly non-traditional role. "I think she understands the world the most," Kravitz told CBR. "These girls have been sheltered and taken care of. I think she understands it's a kill-or-be-killed world, and she's ready for that. I think she would leave the girls if she had to. She chopped her hair off. She is a true member of the Wasteland." She also says that her short hair wasn't originally in the plan until George Miller saw a picture of her with short hair, and they decided that the backstory of the character was that she had cut it off herself, in an attempt to make herself less feminine and less desirable.
When it came time to film action sequences that were done more as practical effects than special ones, she says that there was a strange sort of effect they had on her. "It's kind of funny: after we wrapped, you're kind of like, 'I didn't see anything explode today. That feels weird. And I'm finally back in New York, I'm like in a taxi and I'm like, 'So is anything going to flip over and light on fire or what?'"
Her modeling career
Getty Images
Kravitz made her modeling debut at Paris Fashion Week in 2016, and Dazed Digital reported on what turned into a star-studded display that ended Alexander Wang's three-year stint at Cristobal Balenciaga's fashion house. While it was her first time on the runway, it wasn't her first time modeling for Wang; you might recognize her from earlier campaigns, too.
Her list of modeling work is as impressive as it is long, and you've likely seen her anywhere from the cover of Teen Vogue to Elle. In fall of 2015, she was the face of an Alexis Bittar's campaign, and in 2016 she and her mother, Lisa Bonet, were chosen to be a part of Calvin Klein's 2016 Watches + Jewelry Campaign.
When it comes to sporting all the hottest fashions and wearing all the latest designer clothing, though, Kravitz admits that even though she's known for her style, it's more about the item than any name or label. When friend — and clothing designer — Alexander Wang interviewed her for Teen Vogue, she said, "People are shocked that I know so little about designers. I know the big ones because my grandmother wore them, or they've been around forever. I know you because you're my best friend, but I don't know much about the fashion world except for when I like something, I like it." When Wang called her style 'cool,' she responded: "Whatever that means. Everyone is looking at everyone else to see what's cool. So it's just all about a level of confidence. When anyone sets out to be cool it becomes contrived. Cool just means, 'I agree with this in this moment.'"
Fantastic Beasts and Where to Find Them (2016)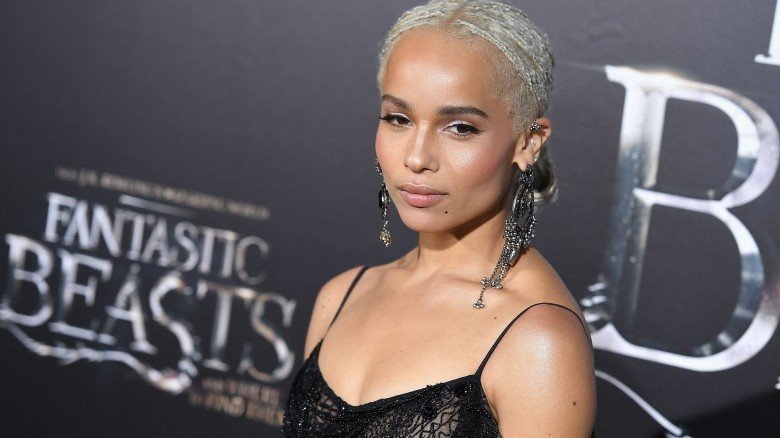 Getty Images
Harry Potter fans likely couldn't wait to get back in the theaters for Fantastic Beasts and Where to Find Them, and in a blink-or-you-miss-it moment was Kravitz, posing in a photo at the very end of the film. It was a teaser for a bigger role in sequels, where she plays Leta Lestrange. Cinema Blend gave a little more insight into just how important she was going to be, with director David Yates saying, "She's quite complicated, and damaged, and confused, and Newt is absolutely still in love with her, so she has a kind of power over him, and she, yeah, she's a kind of tragic figure, so we will see a bit more of her in the second movie."
Kravitz is all about not being typecast, and this role means she's adding something else to her repertoire: an English accent. She spoke with Variety about the audition process, saying, "It wasn't too long ... I went there [to London] and worked with Eddie. I was nervous, especially doing a British accent in front of these English people. They were very welcoming. I think that it helped me feel confident enough."
Lolawolf
Given the amount of musical talent that runs in her family, it's not surprising that Kravitz has it, too. Lolawolf — named for Kravitz's younger siblings, Lola and Nakoa-Wolf Momoa — isn't just a hobby that she somehow finds time for between movies, either. Their first album, Calm Down, was released in October 2014, and within the month they were opening for acts like Miley Cyrus and Lily Allen. Finding themselves performing in front of 20,000 people was a bit mind-blowing, but according to the trio's interview with Rolling Stone, the terrifying pressure didn't phase any of them in the end. "For the kind of music that we're making, you want to feel good," she told Rolling Stone. "You want to feel ballsy. You want to feel that cocky, fun thing."
Kravitz is only a third of the band, with Jimmy Giannopoulos and James Levy rounding out the roster. They're not just band members, either. Kravitz says that while acting might be a job and work, making music with them is what she chooses to do with her free time. "When I'm with these guys, it's like coming home. When I'm with these guys and when we're on tour, it feels like vacation because these are my best buds. We get to go around the world and do what we like to do."
And that's not a bad way to live your life at all.