Starbucks' Fall Drinks For Anyone Sick Of Pumpkin Spice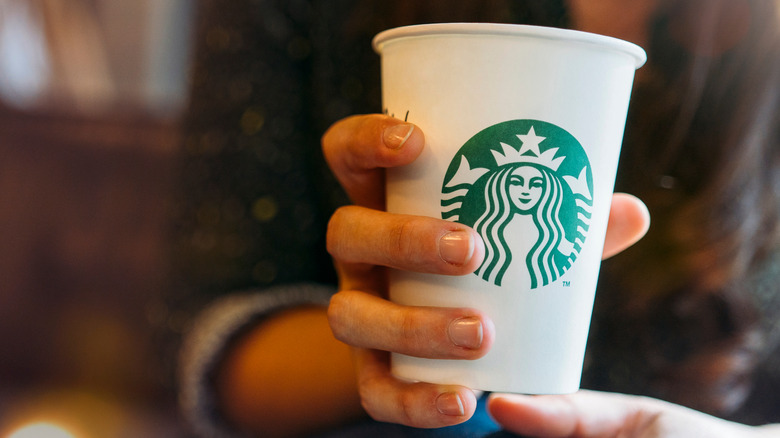 Manu Padilla/Shutterstock
When fall arrives, many Starbucks coffee lovers start looking forward to their favorite pumpkin spice drinks. In addition to the Pumpkin Spice Latte, the coffee chain's website notes that other pumpkin offerings include Pumpkin Cream Cold Brew, Pumpkin Cream Cheese Muffins, and Pumpkin Scones.
There was even a personality quiz, the Pumpkin Love O' Meter, where people could find out just how much they love this seasonal flavor.
But what about the people who aren't obsessed with Pumpkin Spice Lattes? (Yes, there are a few out there!) After all, as stated by Vox, this drink has led to "discussions about capitalism, seasonal creep, and the meaning of 'basic,'" and it has been called "an unctuous, pungent, saccharine brown liquid, equal parts dairy and diabetes, served in paper cups and guzzled down by the liter" (via Vox). Never fear, though, non-pumpkin fans, as there are plenty of other fall drinks at Starbucks to enjoy!
There is a new flavor on Starbucks' fall menu
Fall drinks are all about warm spices and flavors, and the Starbucks menu always offers up a variety of hot, cold, and blended options. For instance, when it comes to cold drinks, there is the Salted Caramel Cream Cold Brew, the Iced Cinnamon Dolce Latte, and a Honey Almondmilk choice, available as a Cold Brew, Nitro Cold Brew, Flat White, and Iced Flat White.
A go-to pick for a hot coffee would be the Cinnamon Dolce Latte, with its steamed milk, flavored syrup, sweetened whipped cream, and a cinnamon dolce topping.
Unfortunately, the Salted Caramel Mocha will not be around this year, but some good news is that it is being replaced by an all-new drink: the Apple Crisp Macchiato. An anonymous Starbucks barista told Let's Eat Cake, "It's built similar to a Caramel Macchiato in the fact that it's light on the syrup and topped with espresso shots and drizzle ... I really hope that it becomes a new fall favorite!"