Cheaper Alternatives To Creme De La Mer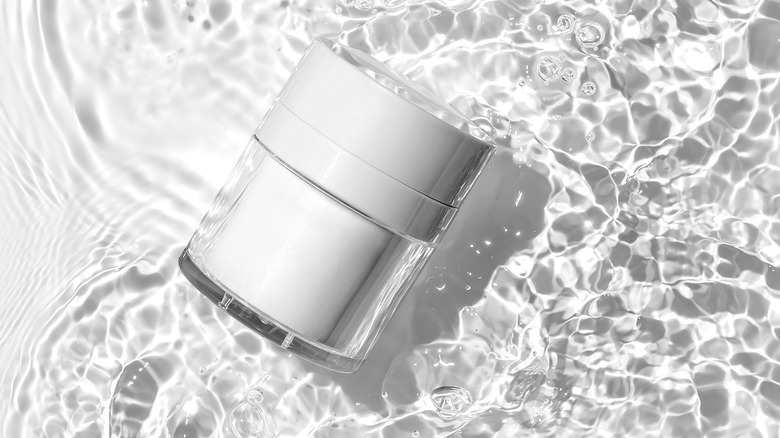 imagehub/Shutterstock
We may receive a commission on purchases made from links.
Many skincare aficionados are aware — La Mer products come with one of the heftiest price tags out there. La Mer is a cosmetics brand owned by Estee Lauder, and was founded by scientist Dr. Max Huber after he suffered burns in a lab accident and wanted to transform the look of his skin (via Estee Lauder). As of today, his hard work has surely paid off.
Perhaps their most well-known product is the Crème de La Mer Moisturizing Cream, an intense facial lotion formulated for dry skin that supposedly helps reduce wrinkles. Their claim to fame, and what makes this product unique, is their use of seaweed in their ingredients. Seaweed in moisturizers improve elasticity and have been proven to deliver ultimate hydration through water binding (via YouTube). That, and the cream's extensive fermentation process, which includes them playing sound waves to what they call the "miracle broth" (via The Cut), helps them justify the price tag (to them, at least).
Although many claim this product works wonders, at $95 for just the mini half-ounce size, it is simply just not worth a whole paycheck for some. However, don't fret, because there are many similar rich moisturizers out there that'll meet your skincare needs without breaking the bank.
Mid-level cheaper alternatives to Crème de la Mer
If you can't get your mind off the useful ingredient seaweed but don't want to splurge on La Mer, there are other products that use seaweed as well. The Mario Badescu Seaweed Night Cream comes in at $22 for a 1 oz. jar (in comparison to $190 for the La Mer version of the same size!) and is formulated with seaweed, marine extract, and collagen. Like La Mer, it is also non-greasy and won't clog your pores. To use, put it on at night (on either combination, oily, or sensitive skin) to reveal a radiant complexion in the morning.
The Youth to the People Adaptogen Deep Moisture Cream is best for dry skin types, and at $18 for the 1/2 oz. and $58 for the 2 oz. size, you're really getting a bang for your buck. Like La Mer, it is formulated with plants, but this time it comes with Ashwagandha, a shrub which soothes and reduces external inflammation (via L'Officiel), and Reishi, a mushroom which helps reduce redness, detoxifies, and promotes anti-aging (via Byrdie). And for those who have sensitive skin, this cream is also fragrance-free.
Luxury -- yet still cheaper -- alternatives to Crème de la Mer
Although not exactly cheap but still far from La Mer price range is the Tatcha Dewy Skin Cream, which also includes plant-based ingredients. At $68 for 1.7 oz. and $20 for 0.34 oz., this heavy moisturizer is ideal for skin types that need a strong boost of hydration. Like many Tatcha products, it is formulated with Japanese purple rice and algae to help capture water and protect against stress for ultimate radiance and luminosity to the skin. Its other botanical extracts promote brightness while improving elasticity, plumping out fine lines.
Another brand that is still luxury but not quite up there with La Mer is Algenist. Their clever name comes from the fact that their products include algae as a main ingredient, which has been proven to soften fine lines and tone the skin (via The Zoe Report). Their Genius Ultimate Anti Aging Cream is $75 for 1 oz. and $112 for a 2 oz. jar. It can work with any skin type, while being vegan and free of parabens.