What Cher Really Looks Like Underneath All That Makeup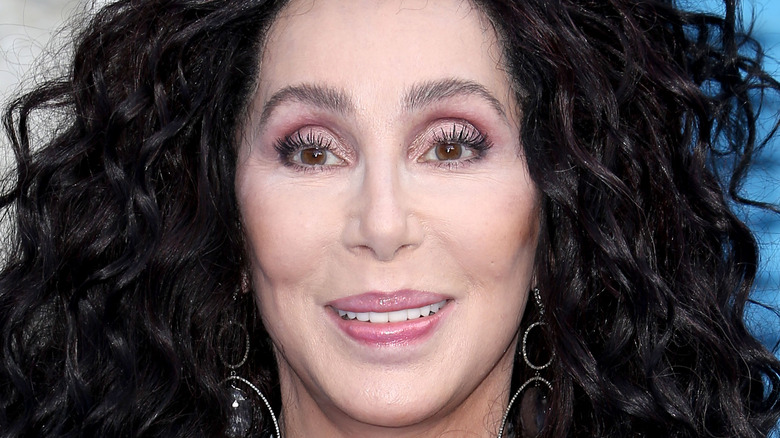 Cubankite/Shutterstock
Cher is one of the most iconic pop stars in music history. With a career that started in the 1970s and never died down, the singer and actress is a force like no other (per Rolling Stone). She was discovered by her former husband, Sonny Bono, and the rest is history.
Aside from being a cultural icon, Cher is also a trailblazer when it comes to beauty and fashion. Cher once said, "I would do exactly what I wanted to, no matter what. I mean ... People can say I dressed like a fool, I don't have good taste. It's not about good or bad clothes; it's about freedom." when asked about her out of the box beauty and fashion choices (per Into The Gloss). She has never been afraid to experiment with bold hair, makeup, and fashion looks (via WWD). While she has begun to tone down her look over the last several years, she is still a beauty icon.
She doesn't wear makeup out anymore
You may be surprised to hear that Cher rarely wears makeup when going out anymore. While we're used to seeing her done up when she's performing or making a public appearance on the red carpet, she is less likely to put on a full face of glam before doing her daily routine these days.
On her changing makeup regimen, she told Interview, "I stopped wearing makeup to go out. And I know that I really like to wear makeup, but I also want to be able to not have to. I started wearing less makeup on stage, too. I used to go for an hour and put makeup on. Now I don't. I still want to look really attractive and I still like to get dressed up, but it's a terrible thing to know that you have to look a certain way for people to like you."
Whether she's sporting a fresh face or full glam, Cher looks incredible! While her looks are often a topic of conversation, she stresses that her talents are what keep people coming back for more. "You don't pay bucks to stand and look at someone. They've got to deliver something," she told The Guardian, "And I've worked my whole life to keep my strength in my body. There are 20-year-old girls who can't do what I do."