Twitter Is Losing It Over Rudy Giuliani's Restaurant Antics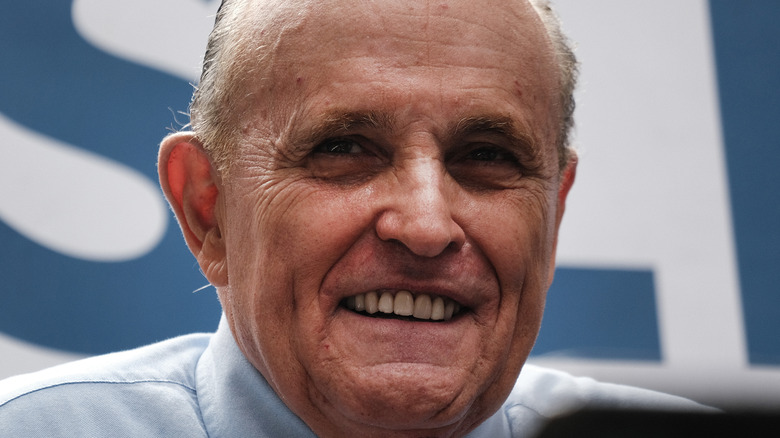 Spencer Platt/Getty Images
Many non-New Yorkers likely first became aware of Rudy Giuliani after the chaos of September 11, 2001 when, as the mayor of New York City, he became the living symbol of a broken city struggling to rise from the ashes of a deadly attack. He even became affectionally known as "America's Mayor" at the time (via Rolling Stone).
Fast forward to 2020, when Giuliani took on the mantle of claiming election fraud on behalf of his client, former President Donald Trump. That claim, which was debunked and thrown out of different courts at the state level across the country, saw Giuliani at various events, including the now infamous Four Seasons Landscaping press conference. The claim also resulted in the suspension of Giuliani's license to practice law in New York state. 
It is this latest incarnation of Rudy Giuliani that we now see on social media, from the wildly mocked image of hair dye dripping down his face, to a brand-new video posted to Twitter that has people appalled (Independent).
Twitter was there for Giuliani's latest quasi-public appearance
The video, which has racked up one million views since it was posted, captures the former mayor as he is seated at a restaurant at JFK Airport ... shaving! Giuliani is oblivious to the people around him as he shaves his face with an electric razor. It didn't take long for Twitter users to weigh in on what they just saw.
"He's probably homeless and just took a shower in the bathroom sink," one tweeted.
"I've seen people doing some gross stuff on the @LIRR [Long Island Rail Road], but this is gross. Wouldn't expect anything less from 'America's Mayor' ... wrote another.
Another wrote, "Huh? I thought Rudy was in eastern Europe, negotiating terms with an autocratic in a country that doesn't have extradition agreements with the U.S. But maybe he's come back to get his stuff."
Another user asked people to cut Rudy some slack, saying, "Give the man a break. He's come a long way since we saw him in the winter with shoe polish dripping off his face. At least this is sort of what normal guys do, albeit in private."
One Twitter user appeared unsurprised by Giulani's airport restaurant antics, "As far as I'm concerned, that's one of the least disgusting things I've ever seen Rudy do. And I'm from New York City ..."
But as a restaurant worker pointed out, Giuliani's behavior didn't sit too far outside the norm: "Working in a restaurant you see it all: fingernail/toe clippings, people painting their nails at the table (even used nail polish remover), people changing babies diapers ON the table. One lovely mom shoved a used diaper into an empty pint glass."