The Heartbreaking Death Of Soap Star Michael Nader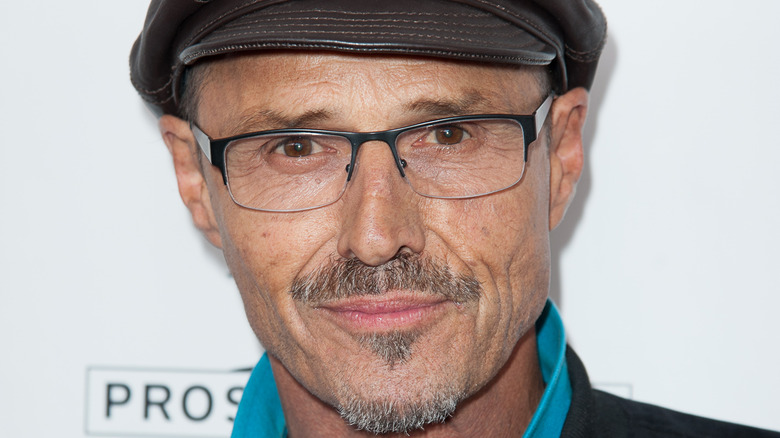 Dave Kotinsky/Getty Images
Michael Nader, the actor who thrilled both primetime and daytime soap fans for years, has died of cancer at the age of 76, according to Michael Fairman TV. The star, who brought Dex Dexter to life on "Dynasty" in the 1980s and Dimitri Marrick to life on "All My Children" died with his wife by his side on August 23, 2021.
"With heavy heart, I'm sharing the news of the passing of my beloved, Michael. We had 18 wonderful years together with the many dogs we fostered and adopted," Nader's wife, Jodi Lester said in a statement. "Recently, Michael was so thrilled to reconnect with his friends from the cast of 'Dynasty' during Emma Samms virtual event to help raise funds for Long-Covid research. Michael was working on a book about his life and addiction at the time of his death. He was a beautiful and fascinating man with many talents and skills. I will miss him forever."
Michael Nader goes from primetime guest star to soap opera superstar
Michael Nader began his acting career in the 1960s with small parts in movies and on TV, appearing in "Beach Blanket Bingo" and also the TV series "Gidget. He eventually moved to New York and landed a role on his first daytime soap opera, "As the World Turns," as Kevin Thompson in 1978. However, primetime soaps came calling in the 1980s and Nader starred as Alexi Theophilus on the short-lived primetime drama "Bare Essence" before landing the role of Dex on "Dynasty" in 1983 where he starred opposite Joan Collins and remained until the series left the airwaves in 1989 (via IMDB).
Soon after, Nader landed the part of Enzio Bonnatti in the Jackie Collins mini-series "Lucky Chances" with daytime soap star Vincent Irizarry in 1990. The next year, Nader headed back to New York to play the mysterious and dashing Dimitri Marrick on "All My Children." His pairing with Susan Lucci's Erica Kane made Dimitri a popular leading man and he entertained daytime audiences for more than 10 years. He even made an appearance on the 2013 "All My Children" revival that streamed on Hulu and aired on OWN. He even teamed up with Susan Lucci again for the mini-series "Lady Mobster," according to SoapHub.com.
Nader is survived by wife, Jodie, his sister Stephanie, daughter Lindsay, and granddaughter Juniper.