The Real Reason Jackie Kennedy Didn't Like To Eat In Public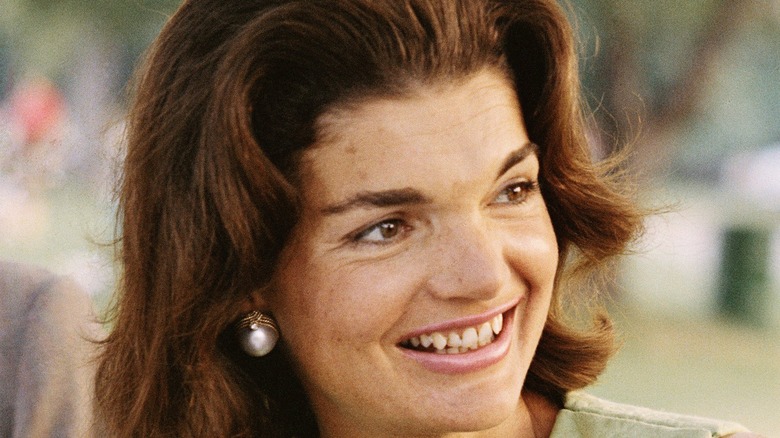 Michael Ochs Archives/Getty Images
Jacqueline Kennedy Onassis, also known to the world as Jackie Kennedy or just Jackie, was the epitome of grace and glamour with an air of mysteriousness always surrounding her. She tried her best to stay out of the public eye, but when the paparazzi would catch a glimpse of the former first lady and snap a pic, she'd usually be donning sunglasses and a scarf. Privacy was the name of the game for President John F. Kennedy's widow and the mother of his two children.
During her brief time in the White House, she made many public appearances and did her duties, but she craved privacy after her husband's assassination, which was a worldwide public event that also centered on her as she was sitting next to JFK when he was killed. As her life became more guarded, Jackie herself became more guarded, but she allowed herself a little more freedom with eating — that is, as long as it was out of the public eye.
Jackie Kennedy was proud of her slim self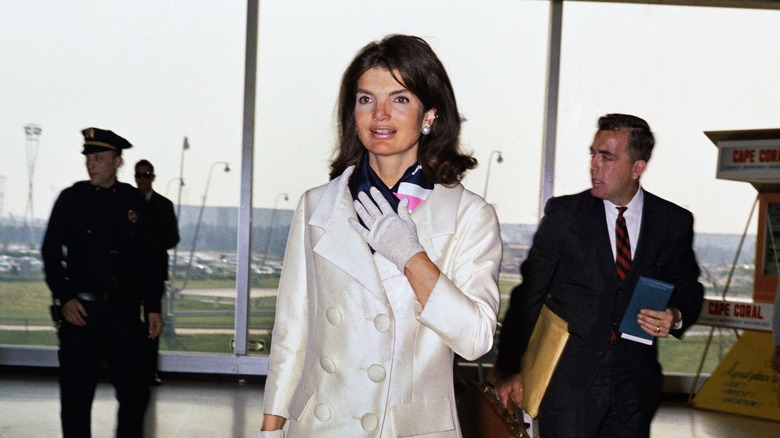 Michael Ochs Archives/Getty Images
One thing that was hard not to notice about Jackie Kennedy was her petite stature and svelte figure. According to the book "Jackie's Girl: My Life With The Kennedy Family," author Kathy McKeon, who used to work for the Kennedys, wrote that Jackie ate extremely light meals like boiled eggs, cottage cheese, fresh fruit, salad, chicken, and veggies (via People). McKeon claimed that after JFK was killed, she didn't seem to want to eat much at all, writing: "She never had much of an appetite, and the toll of the horror she survived was plain to see on her painfully thin frame." 
However, by 1968, when Kennedy married Greek shipping magnate Aristotle Onassis (via Biography), she decided she was ready to indulge a bit and enjoyed cocktail hours at home before heading out for the evening. Her other indulgences, however, occurred when most people couldn't see. After all, she had to retain that image she projected to the world who only saw a small wisp of a woman.
"Sometimes we'd crash into each other at night in the kitchen pantry," McKeon wrote. "She didn't put on the light because she didn't want anyone to know she was in there!" (via Mercury News). One time, McKeon even found her indulging in one of the world's most popular classic desserts. "She was eating ice cream out of the container with a big spoon," McKeon wrote. "Not a teaspoon but a big spoon!"