What Hayley Williams Really Looks Like Underneath All That Makeup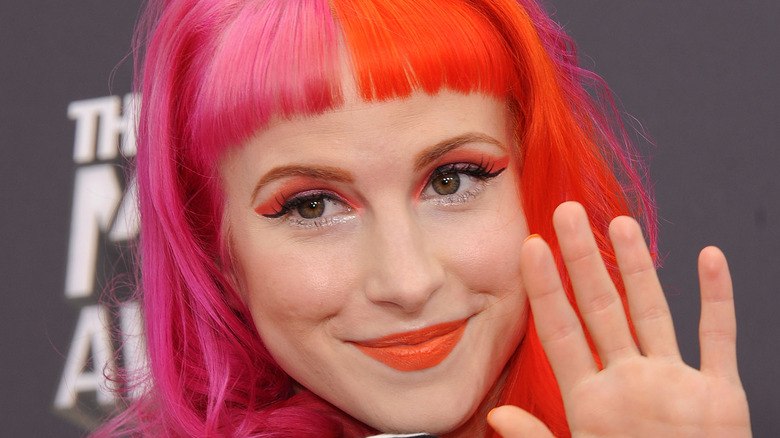 DFree/Shutterstock
Hayley Williams has taken the world by storm with her band, Paramore. The pop-punk band hit the music scene in 2005 and has continued to be a staple ever since (via All Music). While Williams has found success as the front woman of the band, she has also become a beauty and fashion icon. Whether she was rocking bright orange hair and winged eyeliner or platinum locks and rainbow eyeshadow, her look has always made a statement (via Nylon).
Williams has taken her style to the next level by creating her own hair dye line to help her fans get their own bright hair color of their dreams. Her line, Good Dye Young, even features a product called hair makeup. Clearly, Williams loves to wear makeup, rock a fun hair color, and stand out amongst the crowd. However, you may be surprised to know that Williams doesn't always need to have a full face of glam on. She even went all-natural on her "Petals for Armor" album cover (via Williams on Twitter).
Hayley Williams is transitioning to a more neutral look
Everyone is familiar with Hayley William's bright-colored looks. However, her makeup artist, Brian O'Connor, told Allure that they are enjoying giving her a more natural look. "Everyone's known Hayley for being loud and bright — whether it's her outfits or her hair or her makeup. For me, it was fun to do a really simple, clean, kind of muted, not-in-your-face sort of look," O'Connor said of Williams' look. "I love the crazy, grungy, out there stuff, but I like when she let me do really beauty stuff because it's a little bit out of her comfort zone. To me, that's fun."
Williams' looks have transformed over time. When she was a teenager, she wasn't big on makeup, but after she discovered her love for wearing it, she couldn't stop. She told Alternative Press, "I'd even go on camera without makeup some days! But then I went to Japan with the guys, I started to fall in love with makeup — and about two years later, my skin went nuts." Her skin troubles led her to use more clean beauty products. Now that she has clearer skin, she is more comfortable sporting bare skin.
Now, a simple scroll through her Instagram will show you her growth when it comes to posing with no makeup on. With or without makeup, Williams looks fab!