Celebs You'd Be Surprised To Know Wear Wigs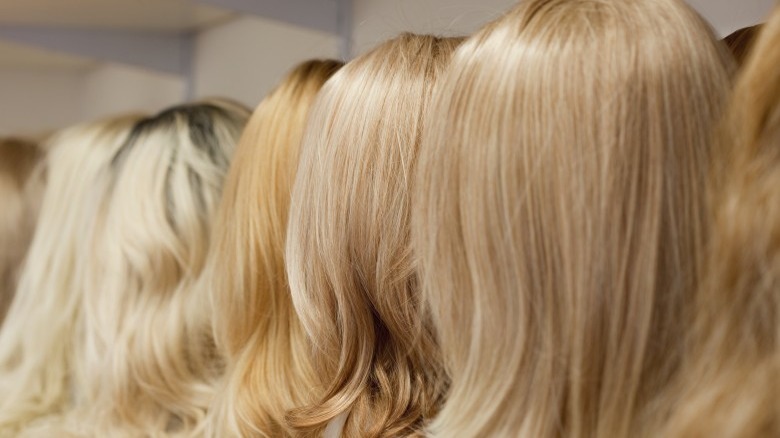 Shutterstock
Celebrities are always looking for fresh ways to stay one step ahead of fashion trends. What was once a last-ditch effort to hide a balding head has now become the leading accessory to hit the red carpet — wigs.
Young stars like Kylie Jenner and Zendaya are wearing wigs — not to hide bald spots or damaged hair, but rather to debut innovative and disposable looks. Using faux hair as self-expression is front-and-center, as celebrities showcase hair in a multitude of styles and colors. Wigs have become the mark of a bold and edgy take on personal style. Here are ten celebrities push fashion boundaries with the help of wigs.
Kylie Jenner
Perhaps no one is more daring and bold with wigs than makeup mogul and social influencer Kylie Jenner. She kicks off this list for her innovative use of faux hair. She has featured various trends — short bobs, high ponytails, and cornrows to name a few. Not one to shy away from color, Jenner has also been photographed wearing neon green, teal, and fuschia wigs.
Jenner apparently discovered her wig inspiration on Instagram. Her hair stylist, Tokyo Stylez, told Allure, "Kylie reached out to me because she'd seen my work on Instagram, and she started to send me pictures of looks that she wanted to re-create." With her experimental approach and tendency to switch up styles, Jenner keeps her fans anxiously wondering what her hair will look like next on the red carpet.
Kim Kardashian West
Following in her younger sister's footsteps, Kim Kardashian West has also experimented with wigs, borrowing Kylie's wig man, Tokyo Stylez. For husband Kanye West's fashion show in February of 2016, Kardashian West arrived sporting long, blonde locks. Kardashian West later admitted in a post on her website that she was actually wearing a wig. "I brought the platinum back! I looooveeee being a blonde, and this time I can change it up if I want, because — thanks to Tokyo Stylez — it's just a wig!" With so much of their lives spent in the public eye, it is no wonder that the Kardashian/Jenner clan are utilizing wigs to change up their looks as often as inspired.
Rihanna
Tokyo Stylez has an impressive resume. Besides working with Kardashian/Jenner crew, he has also styled singer Rihanna, most notably for an editorial spread for Tush magazine. Given his incredible talent and notable client list, Stylez is often given creative freedom in his work. He spoke to MTV, saying, "When [Yusef Williams, hairstylist] calls for [Rihanna], things tend to stop and I get on their request right away. Their whole team is great and gave me a lot of creative control. They let me do me, and that's always fun."
Given Stylez's incredible talent, it is no surprise that he has a lot of creative freedom. For the Tush photo spread, he created a long, silvery wig. Rihanna rocked the wig throughout the editorial, a nod to both Stylez's genius and her own fearless style.
Nicki Minaj
Nicki Minaj started her career trajectory wearing elaborate, candy-colored wigs. Her colorful looks helped introduce her as a confident, new artist, paving her individual path through the music industry. As her career has evolved, so has her style. In 2017, she has been photographed in more subdued looks. She even has started showcasing her natural hair, but wigs are still in rotation.
Minaj's hairstylist, Oscar James, spoke to Cosmopolitan about her more refined look, "She wanted a more toned-down look and I think that's why she reached out [to Tyra Banks]. So, I created that wavy, super-blonde hair with dark roots — the wig. I created that to take her in a little more natural direction, but still bold because she's always been known for a little edge." Minaj is a great example of a celebrity who can rock an outrageous, multi-color wig one day and a softer, more natural wig the next.
Katy Perry
Katy Perry had fans wondering how she was pulling off various blonde looks earlier this year. In January 2017, she stepped out in blonde locks with brownish roots. Later that same week she attended the Grammys wearing a shorter, platinum blonde look only to surface again with her longer, brownish roots style. How did she go from a short style back to longer locks in such a short span of time?
Perry shared her fashion secret on Snapchat — a picture of a blonde wig. Perry has been known to rock gem colored hues, but she also appreciates a more natural look. Her hair stylist, Shon Hyungsun Ju told Refinery29, "Katy is a client that constantly challenges me creatively. Her wigs are always unique, but need to look as realistic as possible- there's no retouching on the red carpet." A staple on the red carpet, it is no surprise that Perry experiments equally with polished and outrageous hair styles.
Dolly Parton
Getty Images
Many young celebrities are embracing wigs as it provides the flexibility to create new and memorable red carpet looks. The trend, however, is not necessarily a new idea. Iconic singer Dolly Parton revealed that her signature blonde look is, in fact, a wig. She started using wigs after experiencing hair damage from dyeing and teasing her natural hair. Looking to simplify her process, she turned to wigs.
Parton told Hallmark Channel in 2016, "I used to try to keep my own hair teased as big as I like it, and having the bleach and all of that, it just broke off. I thought 'Why am I going through all that? Why don't I just wear wigs? That way, I never have a bad hair day! I have a big hair day, but not a bad hair day.'" Younger stars cycle through various styles, but Parton has kept to her signature hairdo. She chooses between three different wigs, depending on the volume she wants to achieve with her hair.
Sia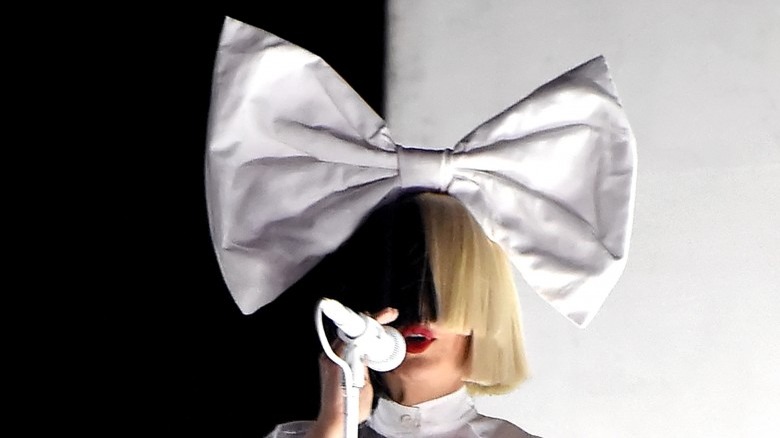 Getty Images
Most celebrities use wigs to change up their style and protect their hair from damage caused by over-styling. Singer Sia uses a wig for a different reason — privacy. She is known for performing and walking the red carpet in a shoulder length blonde and black wig. The wig covers her full face, masking her identity from the public.
With major hits such as Chandelier and Cheap Thrills, Sia has been thrust into the public eye more in recent years, despite a long career as a singer. On The Late Late Show With James Corden's viral series Carpool Karaoke, she explained, "I don't wear this unless there's cameras around. I only wear this to try and maintain a modicum of privacy." Though style is not the number one priority for her, the wig has evolved to become a signature fashion statement for Sia, while also succeeding in protecting her privacy.
Lady Gaga
Lady Gaga is an example of another celebrity using wigs as a protective shield from personal pain. Lady Gaga never shies from controversial looks, perhaps most famously her dress made entirely of meat. While it's not exactly shocking that she would use wigs as accessories, what's surprising is the reason behind it. For Gaga, wigs have provided her with a sense of security, particularly when going through difficult times.
In 2014, Gaga admitted during a performance at the iTunes Festival (via Grazia), that she had experienced "some really tough times" and she explained to her fans that she has used "wigs and make-up to cover up the pain." In a demonstration of triumphant liberation, Gaga took off her wig on stage to reveal her natural hair underneath. It is this mix of vulnerability and audacity that make her one of the world's most celebrated artists.
Keke Palmer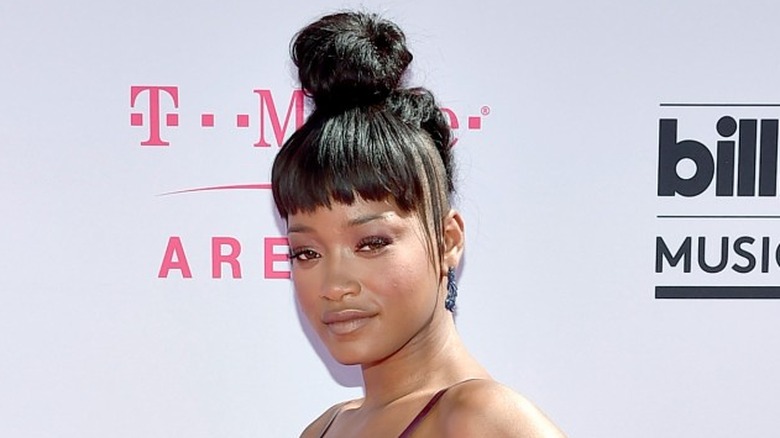 Getty Images
Actress Keke Palmer is a serial wig user, changing up her hairstyle as frequently as multiple times in a week. For Palmer, wigs represent a way to feature her extroverted personality, as someone who loves to experiment with fashion. She told People in 2016, "I think I do [change it often] because I'm always exploring the different layers, and to me, changing my hair style helps me represent that bold attitude in an extroverted fashion. I just love not being afraid to be me." She encourages her fans to try wigs, emphasizing that they are risk free. She said, "Try a wig. It's not your hair and it's easy to fix!" With this endorsement, Palmer highlights the biggest advantage of wigs — they are temporary.
Zendaya
Actress and singer Zendaya has also openly admitted to modeling wigs at various events. Zendaya has walked the red carpet in a short pixie do, slicked back hair, and a bowl cut bob. These various styles reflect Zendaya's fun, fresh approach to the red carpet. With her ever-changing hair styles, Zendaya decided to share her secret with fans. She posted a video on Instagram saying, "So many people get stressed out every time I wear a different hairstyle on the red carpet, it's called a wig people — W-I-G — say it with me now, 'wig.'" At just 20 years of age and with a huge fan base, Zendaya has a huge influence.
Will wigs expand beyond the red carpet?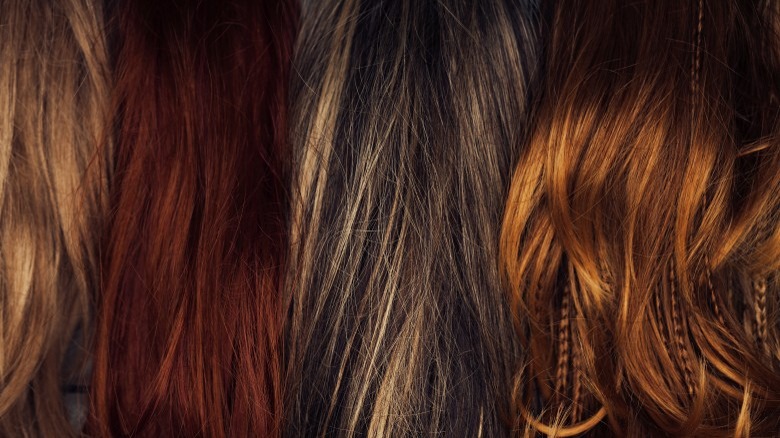 Shutterstock
With so many major celebrities and social influencers utilizing faux hair, it seems that wigs will continue to be a mainstay on the red carpet. Their ease of use allows celebrities to experiment with new looks without the major investment of a cut or color. As celebrities are often on the forefront of trends, wigs may move from the red carpet to the sidewalks, as more women embrace this versatile and fun accessory.