What Gwen Stefani Really Looks Like Underneath All That Makeup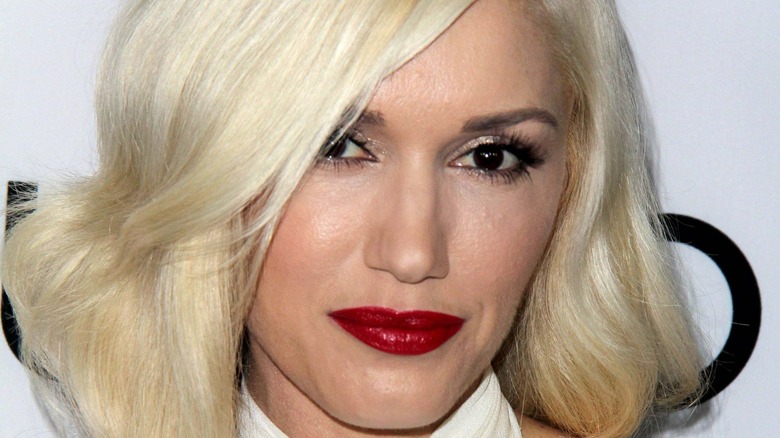 Kathy Hutchins/Shutterstock
Gwen Stefani has enjoyed several different incarnations in Hollywood. From fronting legendary ska band No Doubt to launching her own solo pop career, judging on "The Voice," and marrying country star Blake Shelton, Stefani has proven her staying power many times over. However, although the ultimate California girl is worlds away from her punk beginnings, if there's one thing that remains consistent with Stefani, it's her style. She's been an icon since the 90s thanks to knowing exactly what suits her. 
In particular, Stefani has made ice-blonde hair and a red lip her calling cards, and, frankly, nobody does either of them better. Speaking to Marie Claire UK, the former No Doubt front-woman shared, "I love red lipstick so much because it feels like such a classic but it's still so personal. There are so many different ways to wear it." She's also been known to rock some thick eyeliner and the coolest 90s hairstyle of all, space buns. 
However, after stripping it all down, Stefani somehow looks even better. 
Gwen Stefani's natural beauty is undeniable
Gwen Stefani is known for her ultra-glam looks, but the singer made a case for going completely natural in a stunning makeup-free selfie shared to Instagram. With tousled hair and remarkably clear skin, the "Voice" fan favorite looked decades younger than she actually is, and followers took note in the comments. "More beautiful au natural for real," wrote one, while another gushed, "love the no make up look luv," and a third quipped simply, "Much better without makeup!" 
Although we'd all love to know what her secret is, Stefani reckons it's just being happy. "I look back ... at pictures of when I first started kissing Blake, and I look the best I've ever looked in my life in those photos. Love must look good on me," she told the Daily Telegraph. 
Stefani takes it as a compliment that people think she's aging beautifully, though she admitted to feeling pressure because of it, too. As for her skincare routine, it's pretty low-key. "I don't have a huge routine, but I wash my face with some cleanser that takes makeup off. I just recently started using these pads from a dermatologist that takes more makeup off," Stefani revealed to InStyle. The former No Doubt star also admitted, "I think about [when I was on tour] on a bus, trying to wash my face in that little sink. That's what I did forever!" Clearly, it didn't do much damage at all to her flawless complexion.