How Peloton Is A Pipeline To Becoming An Influencer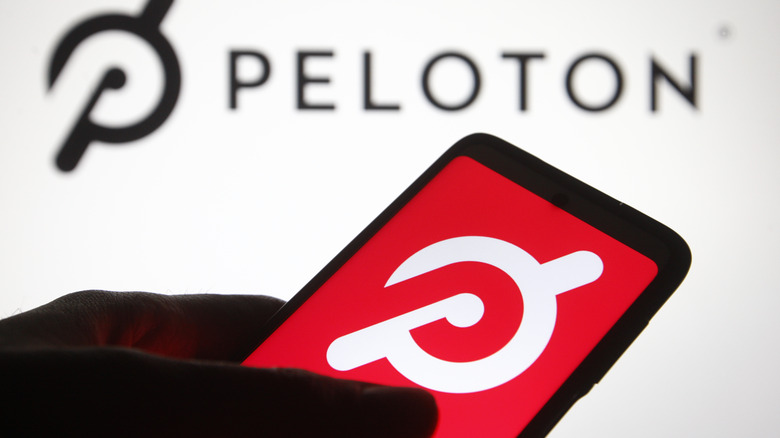 viewimage/Shutterstock
When you click play on a Peloton workout, whether on the company's signature spin bike or on the floor ready for strength training, you will more often than not hear the instructors say, "What's up Peloton?" with the word Peloton referring to the many people exercising together either live or on-demand throughout the world. You will also hear them call you "fam" as Peloton feels like a family — and has been also called a cult, but not in literal terms.
Founded in 2012, Peloton sells spin bikes and treadmills, as well as weights, fitness apparel, and digital memberships to take on-demand classes, according to Investopedia. It also employs a business model that takes world-class fitness instructors and turns them into stars — and that's because of their personalities. The instructors make you feel empowered, confident, and like a friend while also giving you an incredible and challenging workout. They also have created quite a social media following, helping them become influencers. For example, Tunde Oyeneyin has partnered with CVS Beauty, often offering makeup tutorials on her Instagram account. Other Peloton instructors have likewise created and promoted their own brands.
Peloton instructors offer a peek into their lives
According to BuzzFeed, one of the most appealing aspects of Peloton is getting to know the instructors who offer small life lessons and stories during a workout. You can hear about Christine D'Ercole's experience as a bike messenger and how it brought her to a life of competitive cycling and instruction. You can also be inspired by her mantra, "I Can, I Will, I Do." She even uses her influencer status to sell apparel with that mantra on her own website.
In the summer of 2021, social media followers were treated to first looks at weddings and engagements. D'ercole became engaged to boyfriend Brian Hicks, and British Peloton instructors Ben Alldis and Leanne Hainsby became engaged to one another on a trip to Spain. The piece de resistance was Ally Love and her wedding, as Love got married while inviting her fellow instructors and her followers to her big day. Instructors attended in person, and members of the online Peloton family got to attend virtually via Instagram (via BuzzFeed).
COVID-19 and quarantine boosted Peloton's influencer status
When Americans were stuck at home and gyms began closing as the coronavirus pandemic began, Peloton's influence took off. According to the Times Square Investment Journal, Peloton instructors saw a massive increase in Instagram followers. Between March and September of 2020, Kendall Toole's follower count grew by 172%, Alex Toussaint's grew by 142%, and Cody Rigby's grew by 136%.
In fact, when the once-anonymous fitness instructors first signed on to teach for Peloton, they were promised that shot at fame they may have been looking for in music and dance. According to The New York Times, Rigsby was a dancer who performed with Katy Perry before he arrived at Peloton, while Jess King was a dancer.
King relayed to The New York Times how Peloton founder and CEO John Foley offered her the job. "He looked right at me and said, 'We're going to make you a celebrity.' And I said, 'Yeah, sign me up.' That was the sole motivating reason to do it."