Of All Madonna's Blunders, This Stands Above The Rest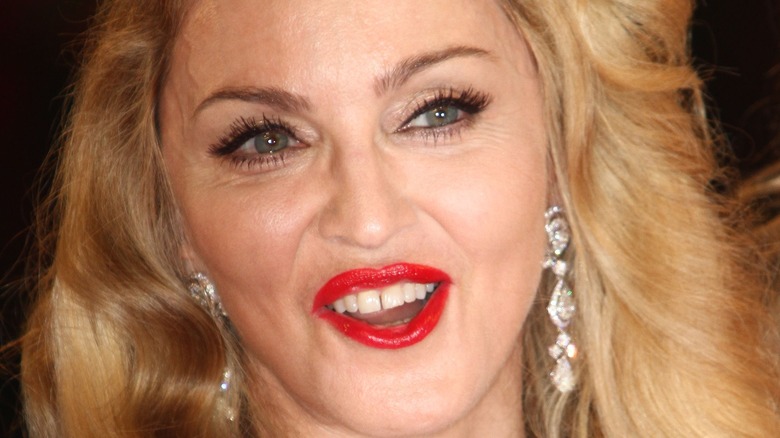 Denis Makarenko/Shutterstock
Madonna knows how to surprise an audience — in fact, she's practically made a living off of it. From the controversial "Like a Prayer" music video that cost her an advertising deal with Pepsi, to the vaguely pornographic "Justify my Love," which was famously banned from MTV in 1990, the pop icon is no stranger to being in the hot seat, and she has certainly never let the thought of a little bit of backlash ruffle her feathers (via Billboard).
With high risk comes high reward, but there have been times when Madonna truly missed the mark. Like when her classic "Papa Don't Preach" started being used by pro-life groups to pressure young, unmarried teens into keeping their pregnancies, or when she "rubbed the Puerto Rican flag on her crotch" at a 1993 concert in San Juan (via Refinery29). There's shock value and then there's downright cringe — and Madonna crossed that line on stage at Coachella 2015.
Madonna kissed Drake on stage, to his shock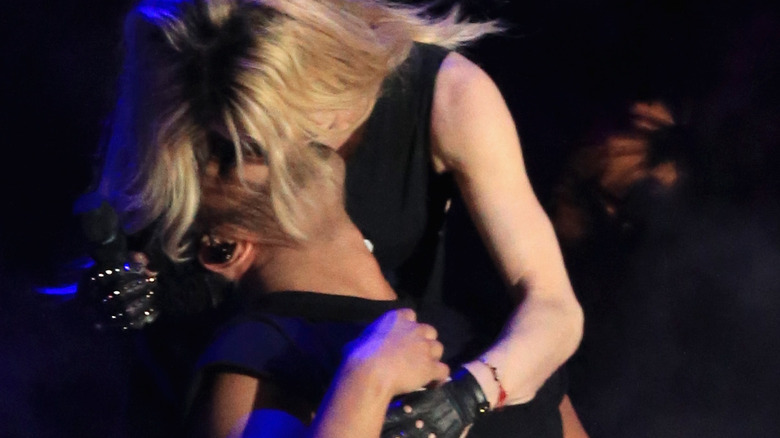 Christopher Polk/Getty Images
Everyone remembers this one. On the closing day of Coachella, April 12, 2015, Canadian rap icon Drake was joined onstage by Madonna after he performed his hit song named after her (via NME). Madonna then performed her track "Human Nature," while Drake remained on stage. In a bizarre twist, as Madonna finished her song she approached Drake, who was seated on stage, tilted his head back, and kissed him for several seconds.
What made the whole thing worse — and it takes a lot to make kissing someone half your age in front of millions of people totally unscripted worse — Drake appeared to gag after the kiss, sitting up and dramatically grabbing at his mouth and looking around in confusion after (via ABC News). To make everything weirder, the pop icon stood up and said "I'm Madonna" before leaving Drake to look around the stage in confusion asking himself "what the f*** just happened?" According to Cosmopolitan, Drake later said that his adverse reaction to the kiss wasn't because of Madonna, but rather because of his surprise at the amount of lip gloss she had on ... sure.