The Top 10 Lip Balms With SPF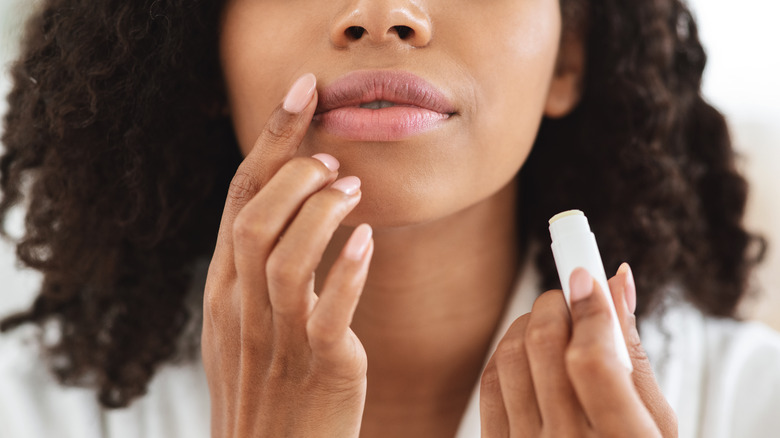 Prostock-studio/Shutterstock
We may receive a commission on purchases made from links.
Despite understanding the need for daily SPF, there's often one area that gets neglected: our lips. But the fact is, according to Harper's Bazaar, the skin on your lips is actually more at risk of sun damage due to how much thinner and more delicate it is than the skin on the rest of your face.
Tsippora Shainhouse, a board-certified dermatologist, told Prevention that "SPF is important on your lips, even in the winter" and explained how "Lips have thin skin with very little melanin, so they have minimal innate protection from aging and damaging UV rays."
It's easy to forget that our lips are constantly exposed to the sun, which can put them at risk of sunburn and associated pre-cancerous skin cells, which is why taking the time to protect your lips from sun damage is just as important as protecting the rest of your body (via Prevention). Dr. Shainhouse also explains that "Lip skin is also at risk for developing melanoma, a potentially lethal form of skin cancer".
According to Harper's Bazaar, the solution to keeping your pout protected is simple: treat yourself to a good lip balm.
What are the best budget-friendly lip balms with SPF?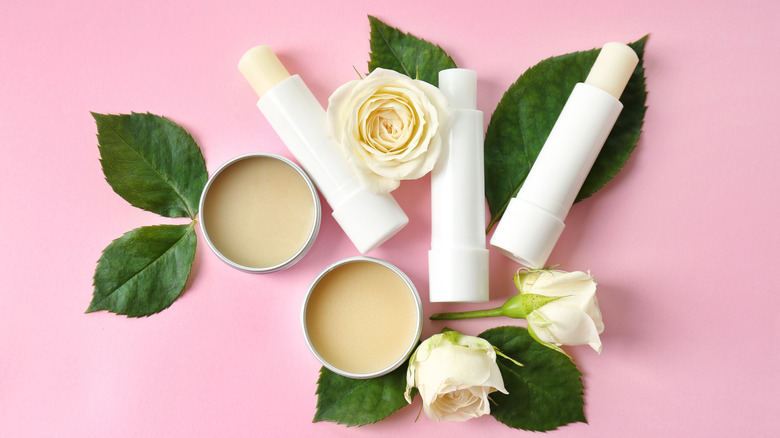 New Africa/Shutterstock
As per Allure, Sun Bum Sunscreen Lip Balm SPF 30 is a great budget-friendly lip balm. Think of it as the adult version of the kids' Lip Smacker lip balm. It's juicy and comes in flavors such as mango, watermelon, key lime, and pineapple, and it also offers a strong hit of SPF 30.
Another budget-friendly balm is Eos Ultra SPF 30 Lip Balm; made with a mineral-based formula that reflects the sun instead of absorbing it like most SPF products do, this product is designed to leave lips feeling soft and moisturized. Best of all, it's resistant to water — and sweat! — for up to 80 minutes and comes in fruity watermelon or creamy coconut.
As per Byrdie, for just $4 a tube, Aquaphor Lip Protectant and Sunscreen SPF 30 is an absolute bargain. It's packed full of shea butter, glycerin, and beeswax to offer the ultimate hydration boost alongside a healthy dose of SPF 30 protection. This lip balm is fragrance-free and preservative-free and is designed with sensitive skin in mind. Another Byrdie recommendation, the Carmex Classic Medicated Lip Balm SPF 15, is a great low-cost choice. It costs just $5 a tube and it contains the original Carmex formula. Allure also recommends Australian Gold SPF 30 Lip Balm, which is rich in Kakadu plum and is also packed full of deeply hydrating ingredients such as coconut, sunflower seed, and olive oil.
Which are the best high-end lip balms with SPF?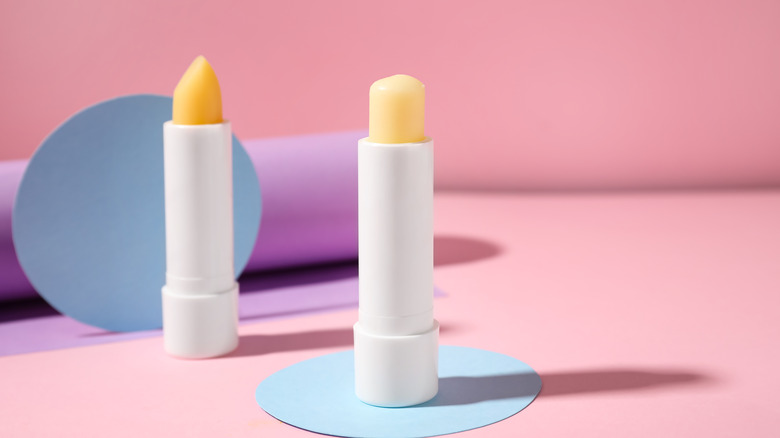 New Africa/Shutterstock
According to Allure, when it comes to "SPF-spiked" high-end lip balms, Supergoop Play Lip Shield SPF 30 is a great option. Made with coconut, avocado, and grapeseed oil, this antioxidant-rich formula glides smoothly onto lips and has fantastic staying power.
Colorescience's Lip Shine SPF 35 is another contender for Allure's list. Offering a lip gloss that boasts high-shine potential combined with SPF protection, this is a great product that combines both style and function. Kiehl's Butterstick Lip Treatment SPF 30 is another great choice for a lip balm with SPF. Made with lemon butter that's rich in antioxidants, this deeply nourishing lip balm offers fantastic levels of UVA and UVB protection and is available in a range of tinted versions if you fancy adding a little color to your pout.
A Byrdie recommendation, Nudist Lip Butter SPF 15, is a fantastic natural choice of lip balm with SPF protection. Packed full of a variety of different organic oils all offering intense levels of hydration along with all-natural sun protection (think: non-micronized mineral zinc), this lip balm is available in a clear version as well as two tinted ones. Lastly, at $65 the Cle de Peau UV Protection Lip Treatment is a total splurge, but with an ingredient list that mimics an expensive moisturizer, it's easy to see why the price is so high (via Byrdie). 
So go ahead and lather your lips with one of these top-notch products to keep them looking luscious and sunburn-free.