Everything You Need To Know About The Allure Beauty Box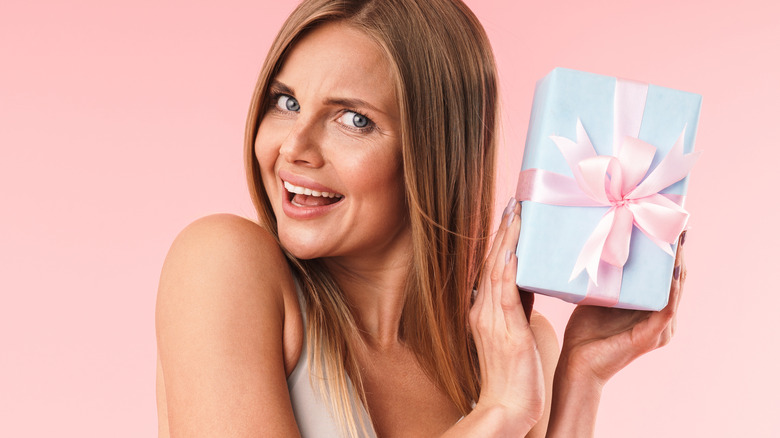 Dean Drobot/Shutterstock
We may receive a commission on purchases made from links.
Since 1991, Allure has been one of the most trusted names in the beauty world. From their beauty tips and tricks to their thorough product reviews, over 4 million monthly readers flock to Allure for some of the best insight on makeup, skincare, and more, according to Conde Nast. So when it comes to their famous monthly beauty boxes, why wouldn't you value the opinion of their expert editors?
The Allure Beauty Box is a monthly subscription service that gives you at least six makeup and skincare products (with a guaranteed minimum of three being full-size) delivered straight to your door, at a value of over one hundred dollars. You can choose between $23 for a one month subscription, $65 for three months, or $250 for an entire year. With the year-long subscription, you get a free "mega bundle," which is 16 products valued at over $250. All new members get a free "mystery gift" valued at over $15, and have access to member only discounts and events.
The Allure Beauty Box offers some of the best-researched products out there, and past boxes have included brands such as Kate Sommerville and Akar. This August, Allure is offering their highest-value beauty box yet. But what will you get if you sign up today? Keep scrolling to find out.
These are the sample sizes in Allure's new Beauty Box
While many of Allure's past boxes have been centered around makeup, August's box is focused mainly on skincare to achieve a summertime glow and dewy look that has been the ultimate 2021 trend. One product included in the box for new members, the Haruharu Wonder Black Rice Hyaluronic Toner (pictured above), should be used after cleansing. "I'm met with immediate hydration and dewiness," Associate Beauty Director Sarah Kinonen told Allure after applying the product nightly.
The Mediheal N.M.F Intensive Hydrating Mask is also part of the special box and is a cotton mask that stays in place and takes seconds to apply. "The hyaluronic acid-infused formula left my parched skin plump and refreshed. I also noticed a bit of brightening, thanks to exfoliating willow bark," Dianna Mazzone, Senior Beauty Editor at Allure, said.
Lastly, The Eau Thermale Avène Thermal Spring Water is a facial mist from the thermal spring water of Avene, France. The mineral and fragrance free formula is soothing for those who have sensitive skin. "I often reach for it when I hit an afternoon slump. It instantly refreshes my makeup — and my mood — and quickly makes me look dewy," Kinonen said.
Allure's Beauty Box comes with these full-size items
New members are in for a treat if they sign up for Allure's new beauty box. The first full-size item on the list is the U Beauty Resurfacing Compound, which typically sells for $148. According to Allure, it's perfect for those suffering from hyperpigmentation and are looking to get that glass skin effect that has been all the rage lately. "After a few days my complexion was looking all around brighter," Allure Commerce Editor Nykia Spradley said.
New members will also receive the 111Skin Y Theorem Day Cream (typically $270). This rich moisturizer will keep your skin smooth and hydrated, without clogging pores. "My complexion felt as hydrated in the evening as it did when I massaged this 111Skin cream on after breakfast," Allure Beauty Assistant Michella Ore detailed. The unique Beautaniq Beauty Blush Serum ($16) comes in the raspberry shade Magenta Sky, and its light formula can be used on the lips as well. "[It] brightens my eyes while creating a dreamy, lifted effect," Devon Abelman, a beauty editor for Allure, noted. Finally, the Eye Am Resilient Metallic Bronze Eyeliner from RealHer ($16) comes in a buildable, reflective brown shade that doesn't budge. 
This month's luxurious products will keep you looking fresh, and are apparently worth the value. But what's in store for the next box? Allure reports that you'll receive Sunday Riley's Light Hearted Sunscreen, but you'll have to subscribe to find out the rest!