What 'Heather' Means On TikTok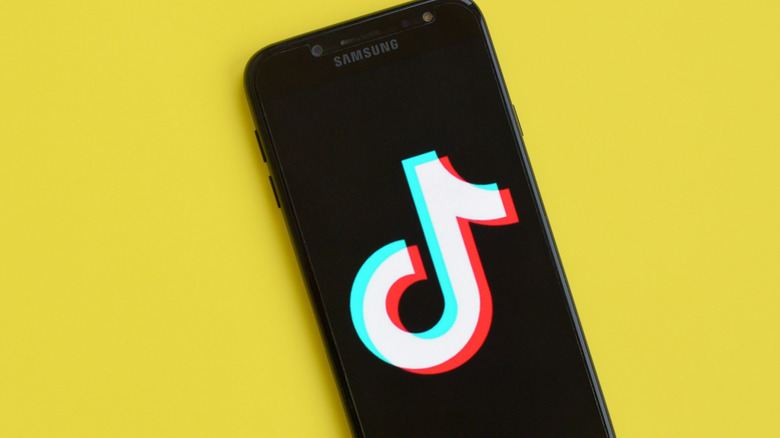 Mehaniq/Shutterstock
TikTok has become as famous for the slang of its users as it is for its videos of lip-syncing and transformations. If you think that "stan" is short for Stanley, or "iykyk" means the cat has walked across your keyboard, then you're probably not a regular user. (USA Today explains that the terms mean "big fan" and "if you know, you know," respectively.) Another popular TikTok term is "Heather," which, as it turns out, is one of the bigger compliments you can pay someone.
While we get to the real meaning behind the slang term, let's look back at the definition of the moniker as a name for someone. The heather is a perennial plant that produces lovely pink and purple blooms each year. Native to Scotland, the plant is used in everything from baskets and brooms to a potent ale, per Oh Baby! Names). The name reached its height of popularity in the 1970s, when Americans became more eco-aware and the homey prairie look was in.
Though "Heather" has taken a back seat to other botanical names like Lily, Ivy, Violet, and Rose, now that it's part of TikTok vocabulary, it seems like Gen Z has brought the name back into vogue. Let's dive into the origins — and the actual meaning — of the TikTok phrase.
The term 'Heather' has a long history
On TikTok, a "Heather" is "the perfect girl everyone wants or wants to be," according to My News Desk. She's the one who has it all together (or at least seems to), always looks amazing, and who attracts people without even trying.
The term is said to originate from the song "Heather" by Conan Gray. The 2020 hit is about a guy who dumped his previous flame in favor of a girl named... you guessed it. On the chorus, the narrator repeatedly sighs, "Wish I was Heather," as Gray sings about how he both hates Heather but can't help but be charmed by her too. Gray himself said in an interview with VMan that the song is based on a crush he had in high school that went unrequited. The object of his affection was already involved a girl named Heather, whom Gray described as "easily lovable — inside and out."
Ironically, the name "Heather" was synonymous with popularity long before today's TikTok users were even born. The name first drew attention via the 1988 cult classic movie "Heathers," starring Winona Ryder, Shannen Doherty and Christian Slater. The dark comedy centers on high-schooler Veronica (Ryder), who joins the A-list mean-girl clique in which the other three members are all named Heather. Slater plays a new guy in school who lures Veronica into getting revenge on the Heathers and other popular kids. The film was reinvented as a Broadway musical in 2014, and is now enjoying a popular revival in London's West End.