The Heartbreaking Death Of Pink's Father, Jim Moore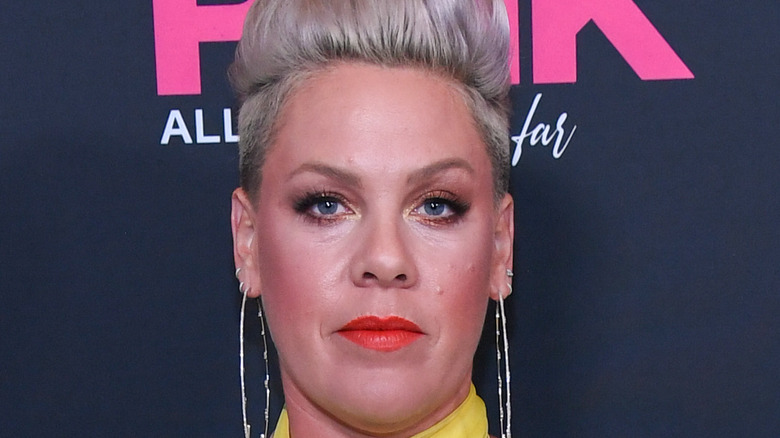 Kevin Mazur/Getty Images
On Aug. 26, 2021, singer Pink's biggest supporter, her father, Jim Moore, died after battling prostate cancer, according to Page Six. The following day, Pink took to Instagram to commemorate the special relationship that she shared with her dad, writing, "Til forever," alongside photos of herself and her father. 
Pink (or Alecia Beth Moore, which is her real name) revealed that her father, a Vietnam War veteran, had gone through his second round of treatment for prostate cancer in an Instagram post in July 2020. "[H]ere he is, my Dad, scared and in pain sitting with the love of his life, our Grace, and what's he doing???? Smiling. Cracking jokes. Making everyone else feel better. He's already back to his old tricks ten hours later, talking about napalm and snipers and viruses and blood puddles. ... oh, Dad. How amazing it is to watch you whistle through Hell," Pink wrote.
Upon learning the news of his death, many of Pink's friends took to the comments section in her Instagram post to give their condolences to the singer. "Worst pain 😢😢 love you," author Jen Pastiloff, who is friends with Pink, wrote in the comments section. "Reno 911!" star Kerri Kenney-Silver also commented on Pink's Instagram post, saying, "I loved him so."
Pink has always enjoyed a close relationship with her father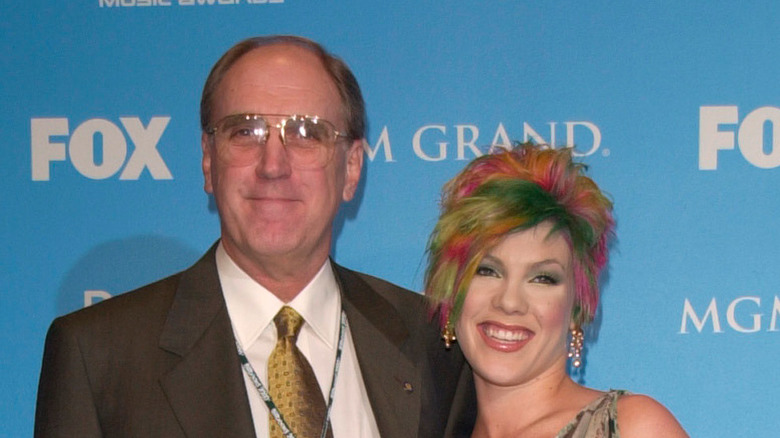 Featureflash Photo Agency/Shutterstock
In June 2018, Pink shared a story to her Instagram that, at least for her, accurately symbolized the close relationship she had with her father, Jim Moore. In the post, Pink detailed the time in which she called on her father to rescue her from a tough situation that she faced in New York directly following her very public breakup with her current husband, Carey Hart. After encountering an unfriendly paparazzo on the street outside of her hotel room, Pink rushed back into her room and immediately called her father for support, who hopped on a train to go comfort her. 
"He has been my person all of my life. He has fought monsters in my closet, and monsters that posed as principals in school buildings, you name it. He has taken on the world for and with me, no questions asked. He made me feel important. He made me think I was worth loving," Pink said in the Instagram post.
As it turns out, her father was just as grateful for their relationship. In 2000, Moore told the Philadelphia City Paper that he was incredibly proud of his daughter and the career that she had built for herself. "Nothing's better than and wilder than seeing her do this," Moore told the paper, per Page Six. "She said she was going to do it as a kid and she meant it."