Inside Ed Asner's Relationship With Mary Tyler Moore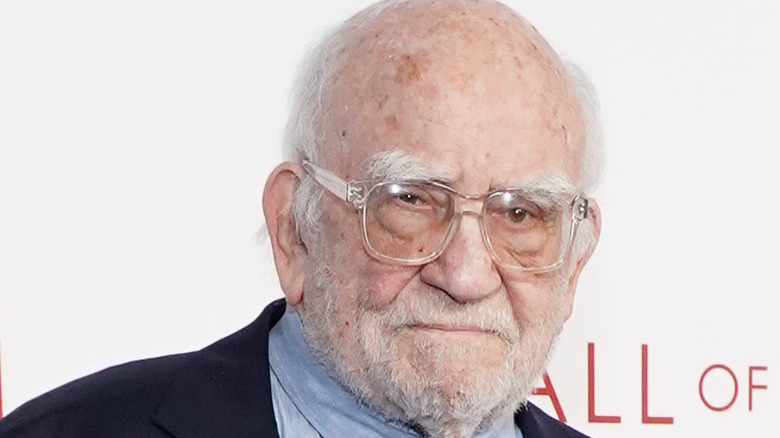 Rachel Luna/Getty Images
From the moment Mary Tyler Moore first met Ed Asner on "The Mary Tyler Moore Show," viewers knew there was something special there. Looking for a job at a small Minneapolis TV news station, Mary Richards held her own as Asner's Lou Grant lobbed inappropriate personal questions at her. Then he delivered the line that fans will remember forever (as seen here on YouTube): "You know what? You've got spunk...I hate spunk!"
Now the world has lost both TV icons with the sad news of Asner's death at age 91 on August 29. His children made an announcement via his Twitter account: "We are sorry to say that our beloved patriarch passed away this morning peacefully. Words cannot express the sadness we feel. With a kiss on your head- Goodnight dad. We love you."
The chemistry between Moore and Asner carried through in real life, with the actors maintaining a close friendship far beyond the show's seven-year run. When Moore died in 2017, Asner eulogized her in an interview with TV Insider. "I knew from the start that Mary was tip-top – something special, as an actor and a boss," he said. As one of the show's producers, she was respected as the "queen" who got things done without having to raise her voice.
Ed Asner saw the 'serious' side of Mary Tyler Moore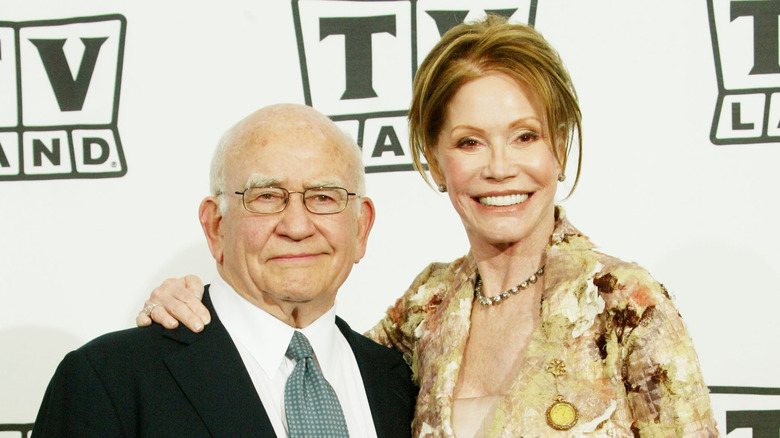 Frederick M. Brown/Getty Images
"The Mary Tyler Moore Show" was a groundbreaking sitcom for its time. In 1970, it was rare to see a woman on TV pursuing a career and getting by just fine without a man. Looking back, Asner said, "Did I realize that she was becoming a feminist icon?" At the time, I thought we were doing a cute little show ... But when the accolades started coming in for her being a leader, Mary was happy to accept them" (via TV Insider).
Behind the scenes, though, Moore had struggles Mary Richards never could have imagined. In addition to living with type 1 diabetes, she was twice divorced and secretly had issues with drinking. Asner told People that he didn't think she ever got truly sober: "I think after the show ... some nights she would have a martini or two martinis and that was it." She also lived through every mother's worst nightmare in 1980 when her only child, son Richie, died of a self-inflicted gunshot wound that may have been accidental (via Fox News).
Asner told TV Insider that he and Moore were both "serious" people, despite their comic reputations. " I always felt that she could be cryptic," he said. "There was a secrecy, and darkness, to her. I'm not sure why, but it's like she wasn't destined for happiness. And she deserved it more than anybody." 
"Lou and Mary" always attended show reunions, and Moore passed away shortly after attending her final one. Asner said he never truly felt closure for the loss of his dear friend, even after the memorial service. "It wasn't enough," he said.