The Surprising Kids' Show You Forgot Ed Asner Starred In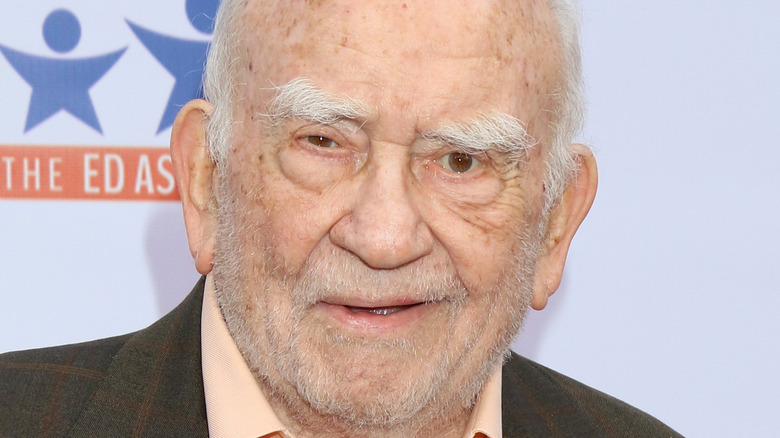 Kathy Hutchins/Shutterstock
"Actor, author, activist, warm, lovable, gruff, lefty, patriot are just a few of the words that would best describe me," Ed Asner wrote in his Twitter profile. Of course, he was all of that and more, and his death on August 29 at age 91 left a huge hole in the entertainment world. 
Asner made his fame as the gritty newsroom director Lou Grant in "The Mary Tyler Moore Show," a role he repeated in the spinoff "Lou Grant." His other credits include the miniseries "Roots" and "Rich Man, Poor Man," the film "Elf," and guest appearances on popular shows such as "Modern Family," "Cobra Kai," "Law and Order: SVU" and "Dead to Me" (via People). He earned the most Emmy Awards of any male performer, as well as five Golden Globe Awards.
The actor's impact was felt offscreen as the president of the Screen Actors Guild, where he passionately fought for better pay and working conditions for members (via Variety). He also cofounded the Ed Asner Family Center, a California-based organization providing enrichment courses and mental health services to neurodivergent individuals and their families.
Asner will also be warmly remembered for all the performances in which audiences never saw his face – including one you might have forgotten. 
Ed Asner voiced a police officer on an offbeat superhero cartoon
Ed Asner was almost as well known for his voice-acting work as for his appearances onscreen. One of his best-known roles was Carl Fredricksen in Pixar's "Up." He also lent his distinctive growl to a host of other movies and TV shows, including "SpongeBob SquarePants," "American Dad!," "The Simpsons," and "Teen Titans Go!" One of his last projects was a Pixar short sequel to "Up" called "Dug Days" (via Behind the Voice Actors). Almost every one of those roles played off Asner's rep as the crusty older man with a tender heart. 
Cult-favorite fans also know that Asner was a regular on "Freakazoid!", the daytime Warner Bros. cartoon that ran from 1995 to 1997. (via IMDb) Asner voiced Sgt. Mike Cosgrove, a friend of the zany blue-skinned superhero played by Paul Rugg. Cosgrove would interrupt Freakazoid in the middle of his crimefighting to invite him to a trivial activity like getting a mint or visiting the Great Hall of Spackle. Only after the two had their fill of spackle and mints would Cosgrove casually remind Freakazoid that oh, by the way, the criminals were still at large. If Freakazoid needed help, the sergeant could stop anyone in their tracks simply by saying, "Cut it out!" (via Freakapedia)
Not every actor would take on such a goofy role – or make it work so perfectly. The fact that Asner did both is a tribute to his talents.