Why Prince Harry And Meghan Markle Are Searching For A New Brand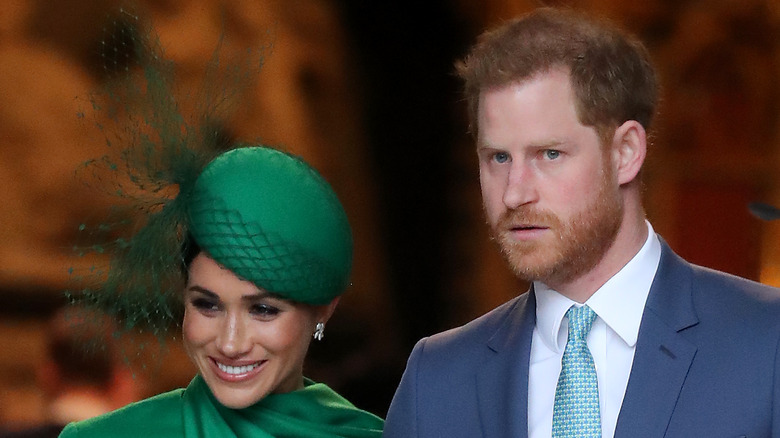 Chris Jackson/Getty Images
Since their explosive tell-all interview with Oprah Winfrey, Prince Harry and Meghan Markle have often been a large part of the global news cycle. In their tell-all interview, Prince Harry and Markle ruffled quite a few royal feathers after alleging that the royal family had been concerned about the color of the son's skin before he was born, per In Touch Weekly. Additionally, a few statements made about Prince William and Kate Middleton have created a rift between the siblings that have largely dominated the news cycle since their tell-all interview in March.
A recent report by the Daily Beast speaks of the upcoming publication of a new chapter in the paperback edition of a Prince Harry and Markle biography, "Finding Freedom," which was originally published in 2020. According to the Daily Beast, leaked previews of this new chapter hint at the fact that it will contain more criticism about the royal family. In these leaked previews, Prince William is said to be still at odds with his brother over their tell-all interview with Winfrey. Additionally, it appears as though the royal family was relieved that Markle didn't attend Prince Phillip's funeral because they were worried that she would create a spectacle of sorts at the somber event. The Daily Beast also revealed that Prince Harry and Markle were nearly ready to name the person who made the racist comments about their son, Archie (though they apparently didn't, in the end).
Prince Harry and Meghan Markle are attempting to change their public image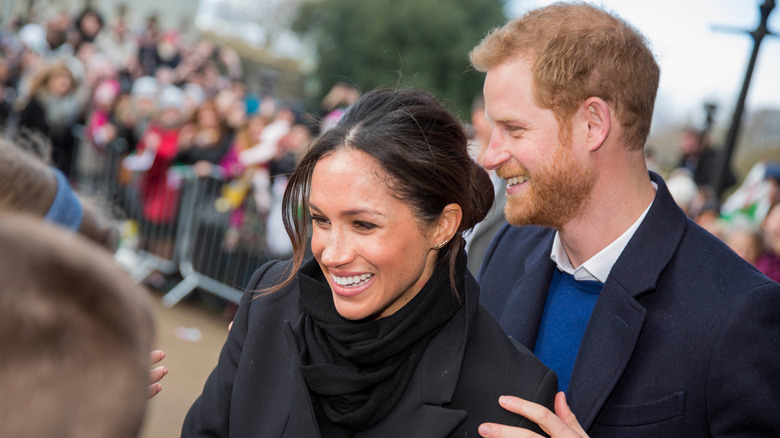 ComposedPix/Shutterstock
Despite the fact that Prince Harry and Meghan Markle have launched a number of charitable initiatives since leaving their royal duties behind, the couple seems to only make the news because of their rift with the royal family. Since establishing their Archewell charity organization in April of 2020, Prince Harry and Markle have donated their time and money to several causes related to mental health resources, national COVID-19 vaccination efforts, and other support systems for women and minorities, per Us Weekly. Just earlier this month, in honor of her 40th birthday, Markle launched the 40x40 charitable endeavor which encouraged women to mentor a woman heading back into the workforce for at least 40 minutes. Markle was able to recruit celebrities like Priyanka Chopra, Kerry Washington, Adele, and Hillary Clinton to help her promote this charitable action, according to Entertainment Online.
While Prince Harry and Markle have worked hard to move their brand, or public image, away from simply spilling secrets about their time with the royal family, the Daily Beast reports that the news cycle's adoration and appreciation for their ongoing feud of sorts with the royal family might make it hard for them to change their brand. Despite the fact that they can achieve relevancy far easier by spilling royal secrets, it appears as though Prince Harry and Markle are attempting to build a new brand for themselves that strictly focuses on their charitable endeavors. Will they succeed in altering their public image from one of royal scandal to charitable celebrities? Time will tell.