Why Jen Psaki Is In The Doghouse Over The Bidens' German Shepherd Major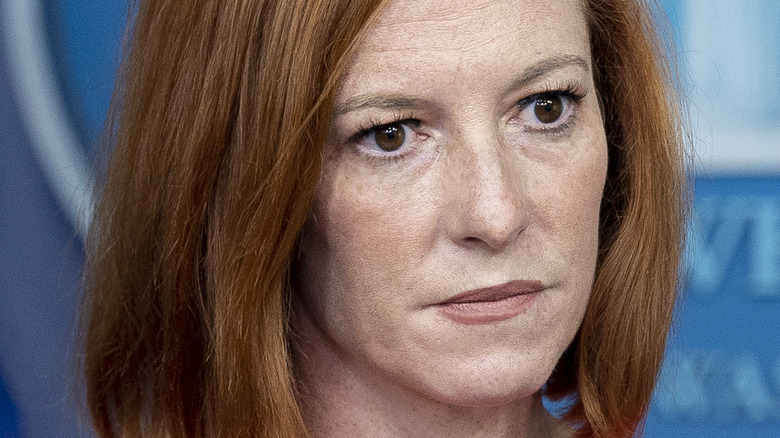 Bloomberg/Getty Images
When Joe Biden and wife Jill first moved into the White House on January 20, 2021, it was big news that dogs would be living in the president's home once again, as the former president, Donald J. Trump, did not have pets. It was also the first time that a shelter dog would be living there. German Shepherds Champ and Major Biden joined the new president and first lady on January 25. Champ had been with the family since 2008, and Major was a fairly new arrival, having been adopted from a shelter in 2018 (via CNN).
However, soon after the dogs moved into the White House, stories about Major began emerging. In March, Major was involved in a "biting incident," according to CNN. At the time, the White House press secretary explained what happened. "[Champ and Major] are still getting acclimated and accustomed to their surroundings and new people," Jen Psaki said. "And on Monday, the first family's younger dog, Major, was surprised by an unfamiliar person and reacted in a way that resulted in a minor injury to the individual."
CNN reported that the individual was a Secret Service agent, and the White House medical team treated the injury. Soon after, Champ and Major were sent back to the Biden home in Delaware, but the president told ABC News that the trip was pre-planned prior to the incident. Now, new White House emails reveal more to the story.
Jen Psaki doesn't fully answer questions about Major Biden
On June 19, 2021, Major Biden lost his companion when 13-year-old Champ Biden died (via The Washington Post), but that hasn't stopped the German Shepherd from coming under fire about his White House behavior. The conservative group Judicial Watch recently released emails from the Secret Service stating that Major had bitten Secret Service agents each day between March 1 and March 8, "causing damage to attire or bruising/punctures to the skin." The incidents had been described as "nipping" in March.
At the August 27, 2021 White House press briefing, a New York Post reporter asked Jen Psaki about the report, noting that if the White House couldn't be transparent about the behavior of the president's dog, how can Americans expect transparency on other issues? Psaki addressed the incidents with the dog and transparency about his citation, but did not discuss the issue of the press and citizens expecting transparency on other topics.
"As we've stated previously, Major has had some challenges adjusting to life in the White House," Psaki said (via The Independent). "He has been receiving additional training as well as spending some time in Delaware where the environment is more familiar to him and he is more comfortable. I don't have any additional specifics but I think that speaks to where Major is located, to be fully transparent in your ongoing interest in the dog."