Why Madonna's Super Bowl Performance Was So Special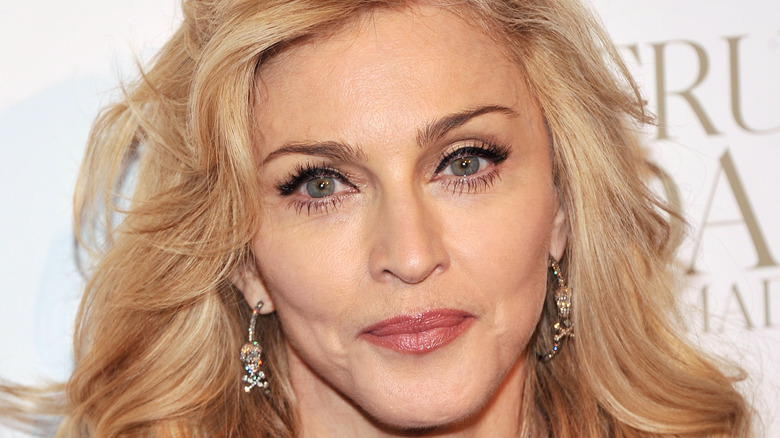 Stephen Lovekin/Getty Images
Getting to perform at the Super Bowl is often a highlight of a musician's career — an honor given to only the world's biggest stars. In fact, the Super Bowl halftime show regularly eclipses the game itself, and whichever teams happen to be playing. An important prerequisite to asking a musician to play at the Super Bowl is the knowledge that they are, above all else, a performer. And who else does one think of when they hear the word performer than the material girl herself, Madonna?
Throughout her decades-long career, Madonna has always known how to start a conversation, be it with her music videos, her live performances, or even her love life. In fact, Madonna helped turn MTV's first-ever 1984 Video Music Awards into a can't-miss event when she sang "Like A Virgin" and writhed around onstage in a wedding dress (via Biography). It became an indelible moment in pop culture and there would be many more memorable Madonna performances in the years to come (via Retro Pop).
Given Madonna's commitment to spectacle — and the fact that she first burst onto the scene in the 1980s — it's almost surprising that she wasn't asked to headline a Super Bowl until 2012 (via The Guardian). Of course, once she did, she made certain it was a memorable event.
A half-time show to remember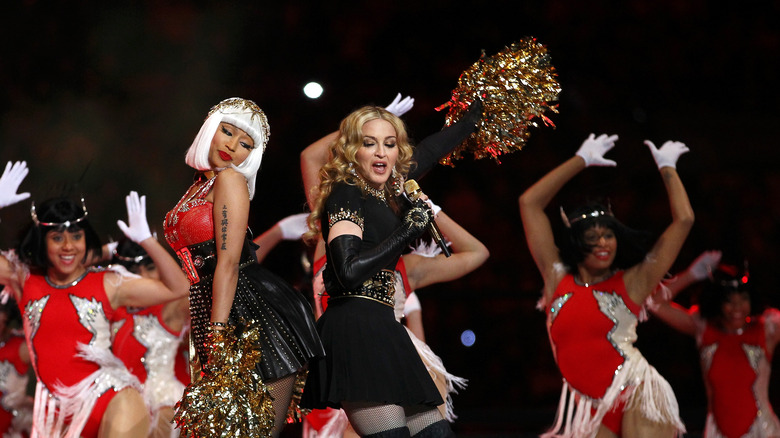 Al Bello/Getty Images
When Madonna took the stage at Lucas Oil Stadium in Indianapolis during Super Bowl XLVI, she became the first female Super Bowl headliner in sixteen years — since Diana Ross' performance in 1996 (via NFL). Per Billboard, at the time, Madonna was promoting her new album MDNA, yet she still took time to sing some of her classics like "Open Your Heart," "Express Yourself," "Vogue," and "Like a Prayer."
Like any big Super Bowl show, Madonna called upon special guests to perform with her; M.I.A. and Nicki Minaj joined Madonna onstage for their song "Give Me All Your Luvin," and Cee Lo Green and duo LMFAO performed alongside her as well (via Access Online).
The half-time show drew 114 million viewers — more people than tuned in to watch the game — and at that point, was the most-watched Super Bowl halftime show ever (via E! Online). And while Madonna has never been a stranger to controversy, it was actually M.I.A who garnered the most ire when she flashed her middle finger (via Entertainment Weekly).
Madonna wasn't thrilled, and calling it "such a teenage, irrelevant thing to do," but given that Madonna once tried to convince MTV to let her bring a real, live Bengal tiger onstage with her, hopefully she later came to understand that doing something "teenage" or "irrelevant" is half the fun.