The Safest Face Washes To Use During Pregnancy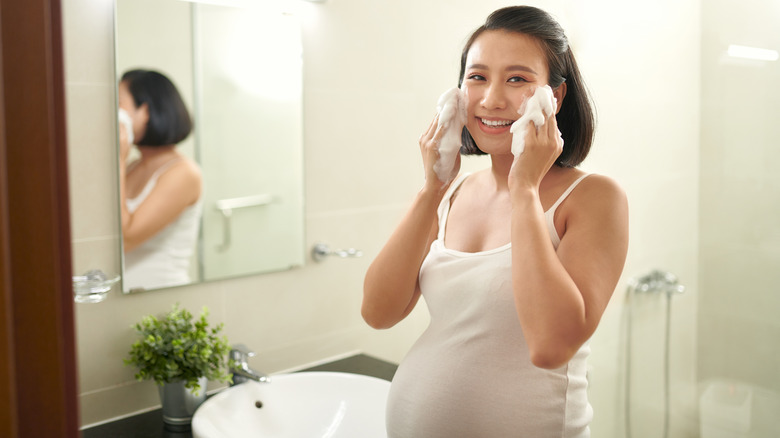 Makistock/Shutterstock
We may receive a commission on purchases made from links.
There's no doubt that pregnancy causes a lot of changes in your body, especially to your skin. Baby Center reported that even people with clear skin note breakouts during pregnancy as a result of fluctuating estrogen levels, which means finding a good face wash to treat this is extra important. However, many may not know that ingredients commonly found in face washes are harmful for pregnant people to use and are recommended to be avoided by doctors and dermatologists alike. Ingredients such as retinol, hydroquinone, and hydroxy acids are advised to be used with caution, especially during the first trimester, but many choose to stay away from them all together to be extra careful.
Don't misinterpret this, just because you're pregnant doesn't mean you should skip using a face cleanser during your routine. But what options do pregnant individuals have to take their face off at the end of the day? Keep reading to find out.
Face cleansers that are safe for the baby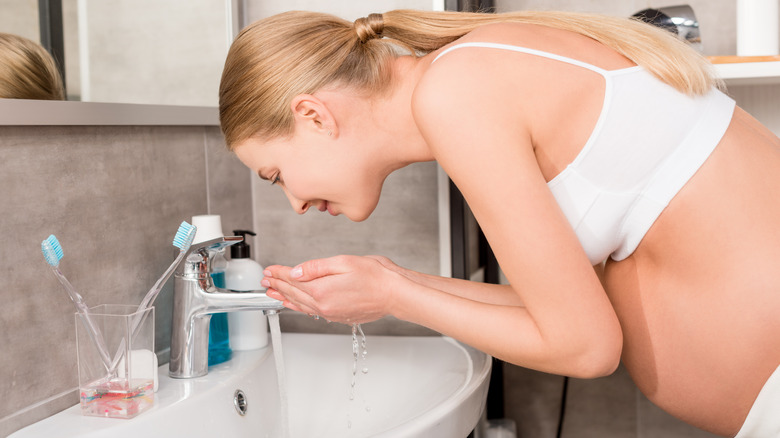 LightField Studios/Shutterstock
One of the classic brands, Cetaphil's Gentle Skin Cleanser ($15.99) is fragrance free, and its non-foaming formula is known to be super gentle and ideal for sensitive skin, which makes it optimal to use during pregnancy. It helps with dryness, irritation, skin toughness and tightness, and even helps strengthen the skin's barrier, according to the official Cetaphil website.
Burt's Bees Refreshing Foaming Face Cleanser with Cucumber and Mint ($9.99) is not only dermatologist tested, it is hypoallergenic and formulated with 99% natural ingredients. Free of harsh elements such as parabens, phthalates, petrolatum, and SLS, this face wash is also formulated with cucumber and mint, which will leave you with a refreshed feeling after use without stripping your skin. This product can be used any time during the day, so be sure to utilize its nourishing properties on the regular.
A bit on the pricier side, but still totally worth it — especially if you're expecting — is the Tata Harper's Regenerating Face Cleanser ($86). It's ideal for oily and combo skin, which tends to increase during pregnancy. This particular cleanser can exfoliate properly without the use of salicylic acid, thanks to the handy willow bark extract, according to Scary Mommy.